NBC News' Chief Foreign Correspondent Richard Engel traveled to Nepal in April in the aftermath of an earthquake that killed more than 8,000 people, destroyed millions of homes and devastated one of the world's poorest countries. Among the dead were 19 people at base camp on Mount Everest, attempting to climb the world's highest peak. In "Avalanche," a special edition of Dateline, Engel and team tell the harrowing stories of some of climbers who survived the quake — and others who did not. "Avalanche" airs at 7 p.m. ET/6 p.m. CT on Sunday on NBC.
The first thing I learned about Nepal was how well people there responded to calamity.
Only moments after we landed in Kathmandu to cover the devastation caused by the April 25 earthquake, a powerful aftershock rocked the airport. People scrambled out of the building, fearing it would collapse, including the border official who was just about to stamp my passport.
The passengers huddled near a column and hoped for the best. The aftershock, magnitude 6.7, eventually passed and, luckily, the terminal building did not come crashing down. Everyone returned to their posts, and the official handed me back my freshly stamped passport with a wary smile. Welcome to Nepal.
Outside of Kathmandu airport, past long lines of people desperately trying to leave the country, we found a city living out on the streets. Parks, parking lots, plazas — every free inch of land had become a makeshift home for a family desperate to avoid spending another night under a building that might collapse. It was a remarkable sight.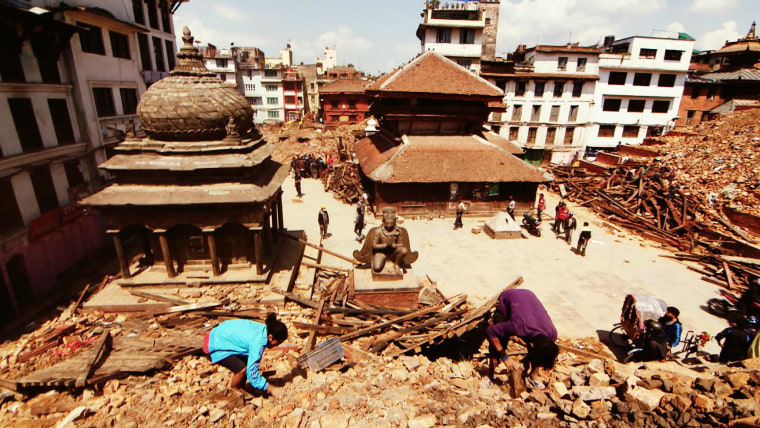 The earthquake killed thousands of people. People were still digging though the piles of rubble and pulling out bodies (often) and survivors (rarely). Aftershocks were coming every 20 minutes or so. Most of them were small, but some were just big enough to frighten people into thinking another big quake was beginning. The cellphone system was down. Many of the government buildings were closed and many of the government officials had abandoned their posts to be with their families. And yet, there was no violence as far as I could see and no panic, just a determination to survive.
We covered the story of what happened in Nepal one tragedy at a time. We climbed on a mound of brick and steel where a temple once stood with a woman who was digging through the rubble with her bare hands looking for survivors. "This is my place," she said when we asked her why she was there; "these are my people."
We met Kaiser Kaser, a bespectacled, articulate 13-year-old who told us he was scared. "People are running for their lives," he said, but all the while he was calm and polite.
Under a makeshift canopy at a monastery, we met the orphans of the Kids Shangrila Home who lost the only home they had. Their stories, each and every one of them, were enormous tragedies. But none of them could capture the entirety of the tragedy. Every time, I was amazed and deeply impressed by the quiet resilience of the people of Nepal. As journalists we felt welcome. They were happy we were there telling their stories.
Then, we started seeing images of the aftermath of an avalanche that the earthquake caused at the base of Mount Everest. The details were hard to understand from a distance, so we decided to head up the mountain and find out for ourselves what had happened. What we found was a tragedy within a tragedy.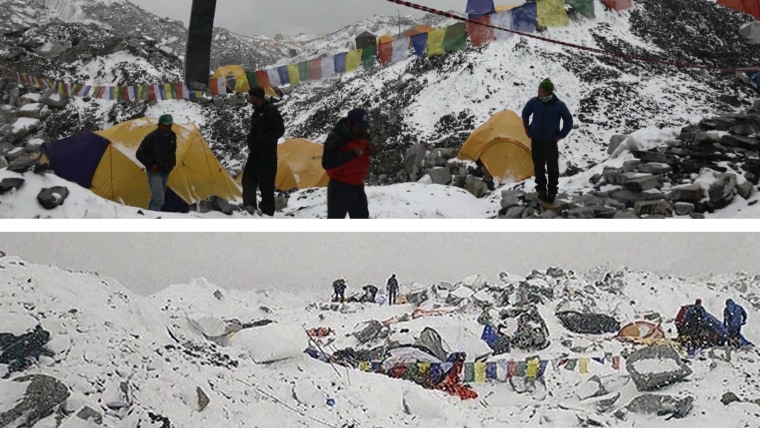 Nineteen people were killed at Everest base camp when giant clumps of ice came crashing down from a mountain nearby. We decided to focus on the story of one group of climbers, the Madison group, and we spent a couple of weeks finding out what happened to them when the ground shook and the ice fell.
The story is as dramatic as it is tragic. Everest base camp, elevation 17,598 feet, sits on the great Khumbu glacier. Most of the time, the camp is empty. In fact, most of the time, there is not camp at all. But for a few short weeks every year, a tent city appears on the glacier and hundreds, sometimes thousands of climbers, along with their support teams, gather there along with and hikers who just want to see Everest up close. The avalanche struck at the worst time and at the worst spot, sending a deadly blast wave of wind, ice and snow directly through the middle of the camp. The Madison team's tents were swept away and two of their members were injured. The team's "doc," a physician's assistant from New Jersey, was killed.
Eve Girawong was, by all accounts, a beloved member of the team. She never intended to climb to the summit of Everest, and her death, in the relative safety of base camp, came as a shock to her teammates. But even as we delved deeper into the details of what happened that day at base camp, neither we nor the climbers we were interviewing could stop thinking about the wider tragedy that had struck Nepal.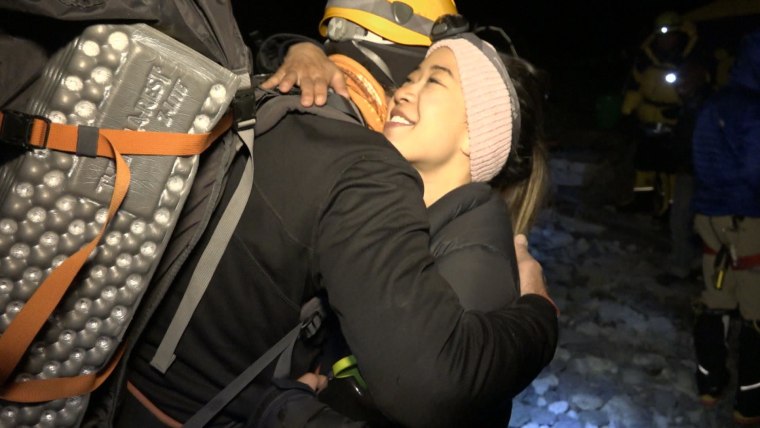 The earthquake, strangely, connected forever the lives of climbers from the richest nations on Earth with those of Nepalese villagers. Girawong's family chose to honor her memory by collecting donations for International Medical Corps, an aid organization which is providing medical assistance in Nepal. Other members of the team have been raising money for other relief organizations. Some plan to travel back and deliver the money to villagers themselves. As one of the climbers, Haley Ercanbrack, told us: "This isn't about me. This is about a disaster, a whole country." Ercnbrack, who is raising funds for Nepal aid in Arizona where she lives, says she would like to use her experience to raise awareness to the suffering in Nepal.
The earthquake, which killed more than 8,000 people and left thousands injured, is still killing people two months later. That's because in Nepal, one of the poorest countries in the world, the infrastructure that was destroyed will not be replaced anytime soon. The World Health organization estimates that 2.8 million people have been made homeless. These people have been living in makeshift shelters, often with limited access to toilets or to fresh water, for more than two months. And now that the rainy season has arrived, Nepal needs all the help it can get.