SAN JUAN, Puerto Rico — Hurricane Maria brought with it a breaking point for hundreds of Puerto Ricans, causing many to leave or plan to leave. But for some on the island, now is no time to head for the exits.
"I feel a personal commitment to help and be part of the solution," Dr. Miguel Campos Esteve, director of interventional cardiology at Hospital Pavia Santurce in San Juan, said. "It's not the time to bail out."
Esteve said rebuilding Puerto Rico is going to be a big undertaking that will require as much help as possible, including his.
"I think we owe a lot to this island, and to the best of our abilities, we need to be part of the solution," he said. "I think if the professional component on the island were to leave, then we would be doing a disservice to the public who needs us. I'm certainly staying."
At a clinical research center in San Juan, Dr. Gregorio Cortes is doing the same.
"Things are going to get better," said Cortes, 39, a father of two. "I've grown in recession and I've established my business in a recession, so this is a little bit harder than that, but I don't have any doubt that we are going to make it."
By staying, Cortes is able to keep patients on schedule with medications. He has several refrigerators stocked with insulin at one of his two offices (the other closed after the hurricane). Some is for his clinical trial participants, but also for those in need.
"We're going to be providing services to patients here in Puerto Rico that they need," he said. "A lot of people are suffering, and that's my major concern right now."
Related: Puerto Rico's Hospitals Still In Triage Mode 2 Weeks After Maria
On Friday, a drain clogged by hurricane debris was further strained by heavy afternoon rains, leading to flooding in the kitchen of Cortes' clinic.
Even as he worked to stop the water from spreading, Cortes said he was choosing to stay "to be proud to do something" for Puerto Rico.
"And to do something to improve the conditions of the place that you're living in and that you want your kids to grow in," he added. "I don't know if my kids will choose to live here, but in case they do, I'm going to make it better for them."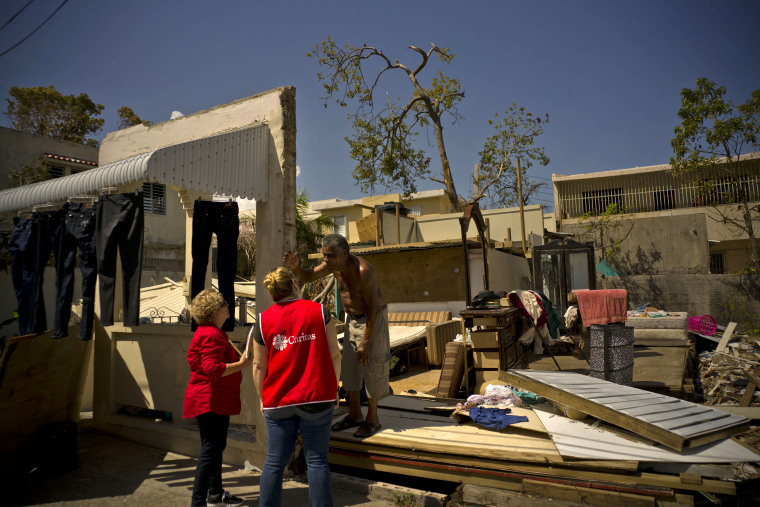 Three weeks after Hurricane Maria blasted the island, about 40 percent of its residents lack potable water and 85 percent are without power, according to the Federal Emergency Management Agency and Puerto Rican government.
Maria's destruction, which killed at least 43 people, followed a sideswipe from Hurricane Irma on Sept. 6 that did some damage in parts of Puerto Rico. Just two years ago, the island suffered its worst drought in decades.
All the extreme weather exacerbated the financial crisis that has gripped Puerto Rico for years and forced island residents to endure austerity measures, including increases in utility bills, work furloughs, shuttered schools and university budget cuts, among other measures.
Related: Puerto Rico's Economic Recovery May Now Take More Than a Decade
After Hurricane Maria, Angel Alicea, who works with Cortes as a nurse and research coordinator, said he was leaving the island.
Alicea, who was born and raised in Connecticut and has been living in Puerto Rico since 2001, said there "were too many factors" to deal with after the storm.
"It's completely frustrating because I love Puerto Rico," he said.
"We were doing great — I started here with him," he said of Cortes and the clinical research center, GCM Medical Group. "It was just me and him."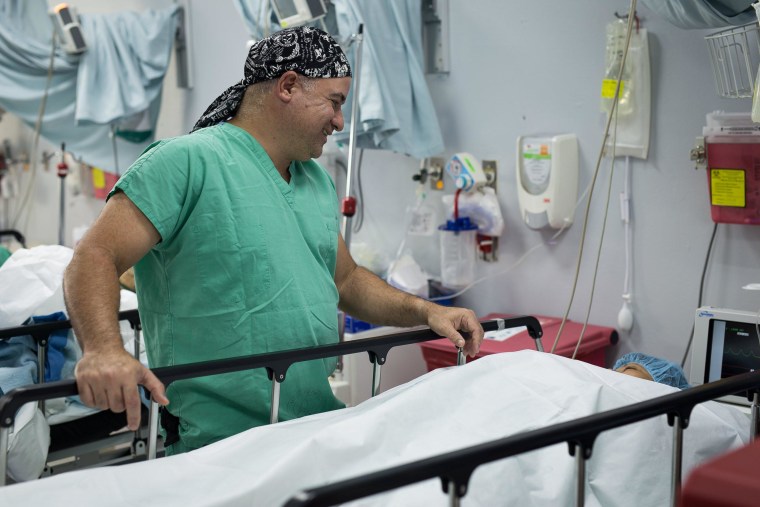 The center conducts clinical trials of medical treatments and medications. For accuracy in data, they have to be sure participants take their medications and follow other protocols on a strict schedule. Variations can affect research results.
But when people are without electricity and water, lack gasoline to get to the center or their road to the center is blocked by trees, keeping up with schedules can be difficult.
"Doing what we're doing, I don't see a future. There are too many variables that are out of our control," Alicea said. "I told him wherever you go, I'll be right there, but this is not stable."
Puerto Rico's population hit a peak of 3.8 million in 2004, but it has since dropped to about 3.4. million, according to Pew Research Center. Before Hurricane Maria, Pew projected it would drop to about 3 million by 2050.
Related: Across U.S., Mainland Puerto Ricans Rally, Mobilize to Help Hurricane's Victims
Rep. Darren Soto, a Democrat and the first Floridian of Puerto Rican descent elected to Congress, said he expects a majority of Puerto Ricans will stay on the island.
About 10 percent to 15 percent were probably already looking "to make the jump" this year before Hurricane Maria because of the fiscal crisis, he said. Many of them have been moving to Florida.
"This is going to accelerate the issue," Soto told NBC News in Washington.
Anticipating an influx after the hurricane, the state of Florida has opened three disaster relief centers to help displaced Puerto Rican families with everything from getting new identification to finding jobs and housing.
A large concentration of Puerto Ricans has already arrived in Central Florida, according to Orlando International Airport's disaster relief center. Seventy-nine people were there the day it opened. By Oct. 8, that number had jumped to 412. In total, 1,635 people have gone to the center for help.
The relief center at Miami International Airport is averaging about 100 people per day and has already seen a total of 600 people since it opened last Tuesday.
Related: Mass Exodus From Puerto Rico Feared After Hurricane and Debt Crisis
"It's picking up because they're getting the word out as well," said Jeremy Hurd from the Region 7 All Hazards Incident Management Team.
Omar Pantoja's grandmother will soon be among those in the exodus to Florida, but he said he has no plans to leave.
Pantoja, 38, was recently working with a crew to clean up downed trees, branches and leaves in the streets surrounding the University of Puerto Rico's Río Piedras campus. He also has a night security job.
He said while the temptation to move to the mainland exists, he won't go. He used to live in Connecticut, but didn't like it.
"The bills were too high," he said Friday.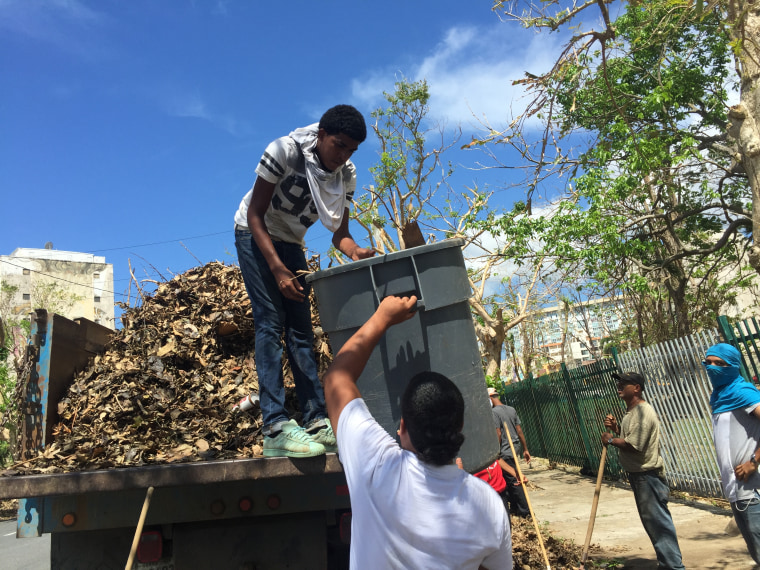 A fellow worker on the cleanup crew, Joshua Jimenez, 19, also said he wouldn't leave.
He was pushing a broom along the curb to clear leaves and helping to unload buckets of the debris into a pickup last Friday. Jimenez said he had to be part of helping to clean up Puerto Rico.
He previously lived in Miami, but it wasn't for him, Jimenez said.
"I'd leave now because we don't have power, we don't have anything. I would go, but I'm not going now," he said in Spanish. "I got a job in a hardware store, and I can buy what I need,"
Dr. Fernando La Petina, head of cardiology at Hospital Pavia Santurce, moved back to Puerto Rico in 2000. Maria was his first hurricane experience, and it left him a little shaken, but he's not packing it in yet.
La Petina said his wife would like to go because she's concerned about the island's future and what it holds for their two daughters. But it's not easy for him to make that leap.
"My heart's with Puerto Rico," he said.
Suzanne Gamboa and Daniella Silva reported from San Juan. Carmen Sesin reported from Miami.