Hurricane season starts in exactly two weeks, prompting worries that the island — still in recovery mode from Hurricane Maria — is not ready to face another storm season.
On Tuesday, several members of the Power 4 Puerto Rico coalition, comprised of several nonprofits and advocacy groups issued a warning to the federal government, concerned that much of the island's existing challenges after Hurricane Maria will repeat themselves in the event of another hurricane.
Throughout the eight months after Hurricane Maria, there have been issues surrounding FEMA's recovery efforts, including questions about botched meal contracts, delayed emergency response and the high numbers of denied aid applications to rebuild homes.
"One thing is evident at the core of the response," said Ana Maria Archila, co-executive director at the Center for Popular Democracy and a part of the Power 4 Puerto Rico coalition. "There is a crisis of democracy. The federal government is acting as if the people of Puerto Rico are not constituents."
The U.S. Army Corps of Engineers is ending their power restoration mission in Puerto Rico on May 18. Currently, there are still nearly 20,000 customers living without electricity and three major blackouts have struck residents just this year.
During a recent Energy and Natural Resources Committee hearing about Puerto Rico's electric grid, Sen. Martin Heinrich, D-N.M., questioned FEMA's decision. "If there are over 20,000 Puerto Rican American citizens still without power, is your mission really accomplished?"
"Our mission as assigned by FEMA is," replied Charles Alexander, director of contingency operations and homeland security at the U.S. Army Corps of Engineers. Heinrich answered he didn't "imagine a scenario" where 20,000 Texas or Florida residents would be without power "and FEMA would make that decision."
Critics have also questioned the federal government's funding and the disbursement of the money available in the island.
Aside from FEMA's operational costs and other aid such as the Transitional Shelter Program, which houses displaced Puerto Ricans, Congress has allocated at least $18.9 billion for the U.S. territory. Of that, the island has received a little over $1 billion, according to an analysis from the Center for Puerto Rican Studies at Hunter College.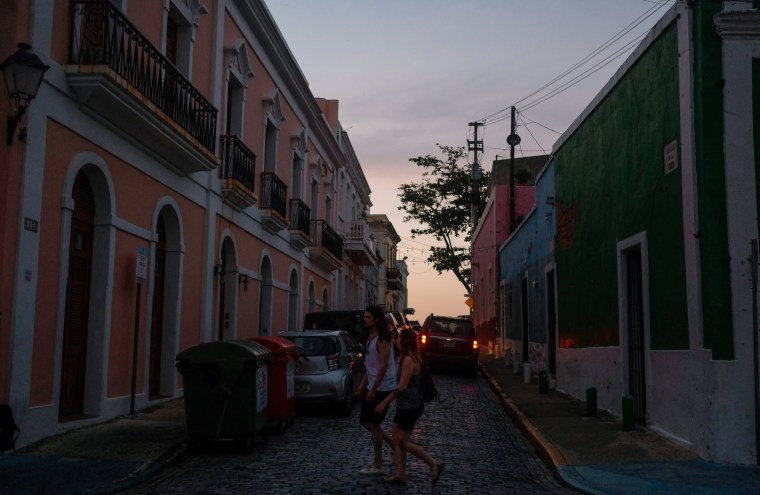 Rep. Darren Soto, D-Fla., noted that Hurricane Maria has left approximately $90 billion in damages.
"We see only that $1 billion is for rebuilding the grid," Soto said. "No surprise, we still see blackouts and people without power."
Puerto Rico's power grid, which was deficient before the storm, has not been fully restored nor updated. The 155 mph winds from Maria brought down the entire grid and the electrical system's collapse prompted the world's second-longest blackout.
The island's debt-ridden and bankrupt power company had to activate a contingency plan that consisted of reducing power to energy reserves that handle generation failures, like the one that took place on Feb. 12 in northern Puerto Rico, in order to survive the disaster while avoiding running out of cash.
During and after the storm, Puerto Rico saw the collapse of its communications system and delays in services and emergency response. The delays affected rescue missions as well as food and medical deliveries; it even affected the ability to call government helplines such as Línea PAS, a government-run suicide helpline, at a time when the island saw a 29 percent increase in suicides cases reported to Puerto Rico's Department of Health.
Puerto Rican officials have stated they have learned from these mistakes.
Ahead of a next catastrophe, local officials have said that police stations, emergency management centers, fire stations and hospital crews are equipped with 100-watt radios in order to communicate during a futuree emergency. Local authorities will also be significantly increasing the amount of stocked supplies and expand storage space to house 12 times more water, 7 times more food and 130 emergency generators in towns across the island.
One of the biggest lessons from Hurricane Maria was the key role of local nonprofits and community groups, which acted like first responders when Puerto Rico's government could not reach nor communicate with vast sectors of the island.
Frankie Miranda, senior vice president of the Hispanic Federation, which is part of the Power 4 Puerto Rico coalition, said on Tuesday that his organization and others have been working with local groups to put contingency plans in place ahead of a future storm.
"If something happens on June 1st, they will be the ones to respond," said Miranda, referring to local community groups.
In the U.S., Archila said that groups in the Power 4 Puerto Rico coalition are mobilizing Puerto Ricans in different states to put pressure on their government representatives.
"Elected officials who represent Puerto Rican communities in the U.S. should feel the heat," Archila said. "They are not paying attention, and we're working hard to change that."