OROCOVIS, Puerto Rico — When Hurricane Maria brought down the island's four-decades-old electrical grid last year, Alberto Castillo knew he had to figure out a way to power his elementary school.
For children living through post-storm devastation, the school, deep in the mountains of the Matrullas community in Orocovis, was a lifeline for those in kindergarten through eighth grade.
"We needed kids to at least have access to warm food and cold water," said Castillo, the principal of the S.U. Matrullas public school. Tired of waiting months for power, Castillo installed solar panels and micro-grids that now power 90 percent of the school — the first in the island powered this way.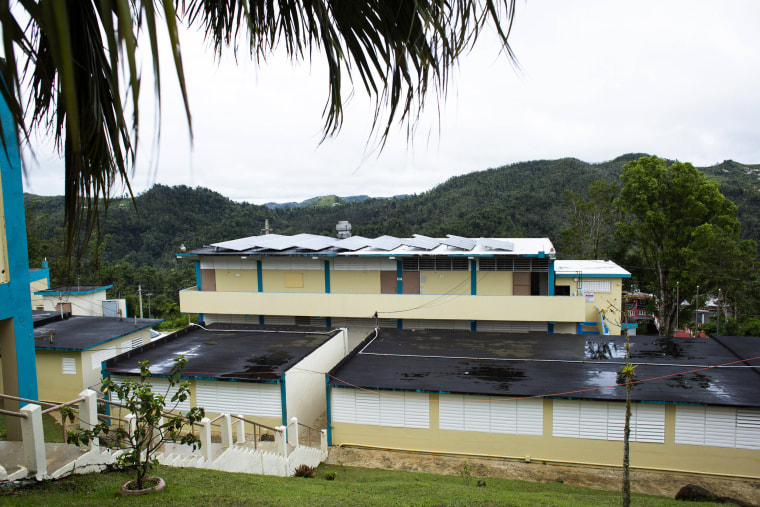 Castillo's successful efforts to find a solution in anticipation of future hurricanes is a bright spot in what feels like a slow, frustrating process for millions of Puerto Ricans still grappling with damaged homes, denials of aid from FEMA and unresolved insurance claims.
Families are reeling from the loss of nearly 3,000 lives in the deadliest U.S.-based natural disaster in 100 years, which has come to define a sad turning point in the island's history.
Over 200,000 Puerto Ricans left for the mainland, at least temporarily, and the island incurred about $90 billion in damages.
The recovery has been dogged with questions about both the federal and local government's response and the added challenges due to Puerto Rico's territorial status, its crippling debt and the ensuing federal oversight, which has slowed down funding for recovery and strategic planning.
The Federal Emergency Management Agency (FEMA) acknowledged agency failures in areas such as staffing and coordination in an after-action report. While the federal government has announced historic funding for the island in the area of housing, the funds are yet to be disbursed.
The hurricane's aftermath has boosted several opportunities for much-needed innovation in areas such as energy and urban planning. Yet recovery efforts continue to feel very much like unfinished business.
Still waiting
Every time Ramón A. Paez Marte, 44, looks at his home's patched-up roof and broken door, he's reminded of Hurricane Maria's power.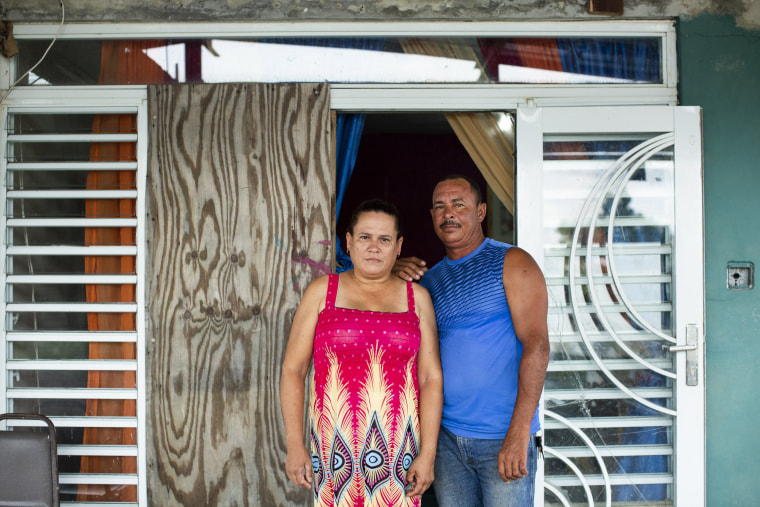 In his neighborhood in the town of Canóvanas, Paez Marte knows of at least seven people who died in the hurricane's aftermath. One of them sticks out in his mind. He was a young man in his 30s who had been part of a group of neighbors rescuing elderly residents who were stranded in homes without access to food, medicine and water.
"He didn't even last one month," Paez Marte said of the young man. "He had a wound and when he dove into the flood waters trying to help people, I guess it caught a really bad infection and they couldn't cure it."
A year after the Sept. 20, 2017 storm, living conditions are not back to normal for Paez Marte and many of his neighbors like Dulce Moreta Díaz, 53, who lives next door.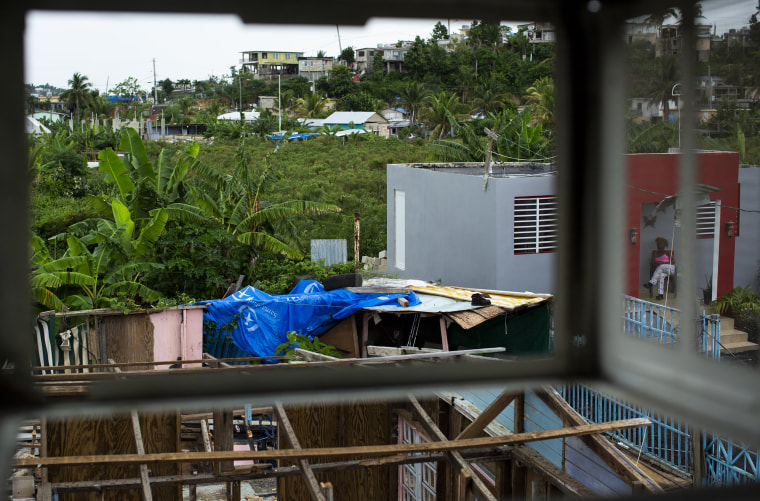 Moreta Díaz lost everything after 6 feet of water flooded her home of 13 years, constructed mostly out of wood and a tin roof. The only parts left standing are a bedroom and a bathroom, the only two parts of the house made out of concrete.
"I cannot forget that image when I came by and saw all the houses destroyed, but the big thing for me was when I arrived here," Moreta Díaz said. "There was nothing ... Everything was gone."
Canóvanas has the third-worst housing damages on the island, according to FEMA. And yet, it is one of the towns with the largest number of housing units with unattended needs, according to municipal documents.
"Some houses here still have blue tarps and the people that live there still haven't been able to return to their homes," said Paez Marte. "Others don't even have the blue tarps anymore because it's been so long and the winds and the sun damages them."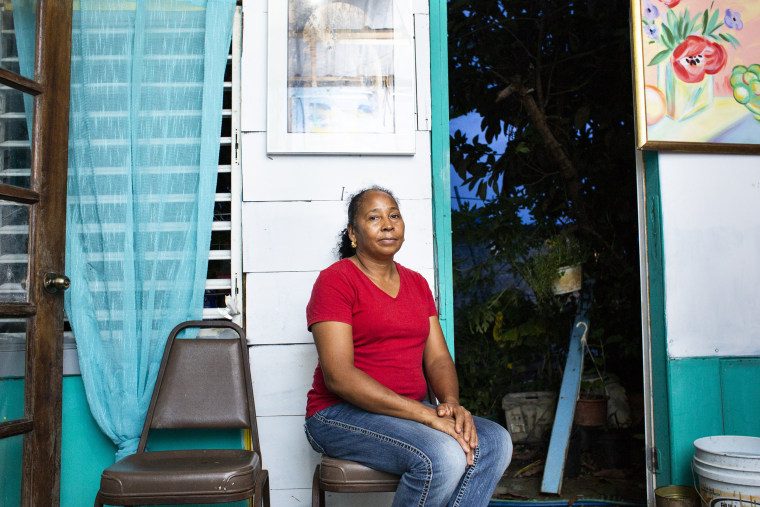 Rebuilding their homes has been a struggle for Paez Marte and Moreta Díaz. Getting federal aid to do repairs has been nearly impossible, Paez Marte said.
FEMA denied nearly half of the applications from hundreds of thousands of Puerto Ricans, including Paez Marte and Moreta Díaz. Many families in poorer and unincorporated areas lacked property titles and couldn't meet FEMA's criteria for eligibility.
Both have appealed FEMA's decision to deny them housing repair aid and are still waiting for a response, though Paez Marte fears his chances of getting a different answer are slim; FEMA's appeal denial rate for Puerto Rico is 74.76 percent.
In a statement to NBC News, FEMA spokesperson Juan A. Rosado-Reynes said, "That percent is in line with appeal denial rates of other current open disasters, including Texas (77 percent) and Florida (74 percent)."
For Paez Marte, those numbers are a small consolation.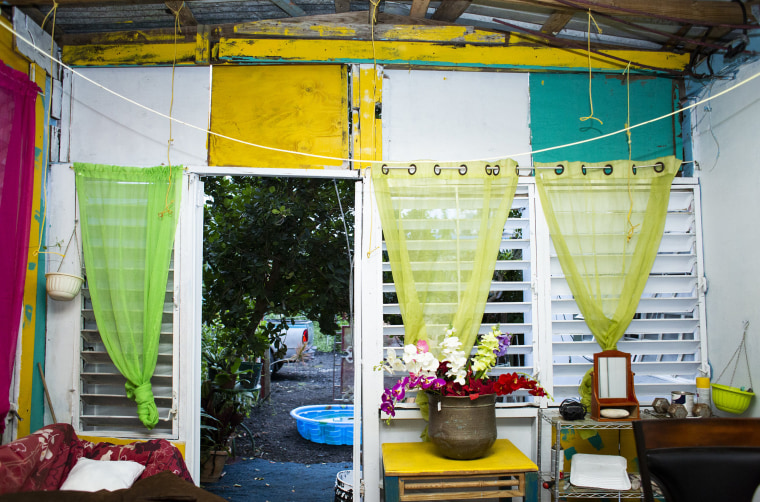 "It is embarrassing that we're still in this situation," he told NBC News.
The Puerto Rico Builders Association, an industry group, estimates that about 55 percent of the island's infrastructure was informally built, including 700,000 houses and commercial buildings.
In order to fill some gaps, the U.S. Department of Housing and Urban Development (HUD) approved $1.5 billion through the Community Development Block Grant-Disaster Recovery Program for post-disaster programs focused on home reparations and reconstruction, including vouchers and individual housing assistance.
The town of Canóvanas put in for funds, and though it was assigned an amount, it is still waiting, according to a municipal official.
HUD granted Puerto Rico an additional $18.5 billion, the largest single amount of disaster recovery assistance awarded in the agency's history, to rebuild homes to withstand the next storm.
But those funds are a long way off; island officials have to submit their plans and await federal approval.
Repairs amid hopes for reimagined system
It took the power authority 11 months to restore electricity to most of the island. Still, families living in the smaller islands of Vieques and Culebra have no power.
Vickie Michaud, who helps rebuild homes in Vieques through the nonprofit organization Hope Builders, has met many people who have been living without power for over a year.
"Gregorio is 82 years old, he's blind, he's a veteran. He's squatting in a house that's somebody had abandoned. There's no running water, there's no electricity," she said. "He deserves to have a home."
It was inevitable that the powerful hurricane would knock down power, but the island's outdated electrical grid made repairs even harder. The government-owned utility, grappling with bankruptcy, had not modernized its systems in over 40 years.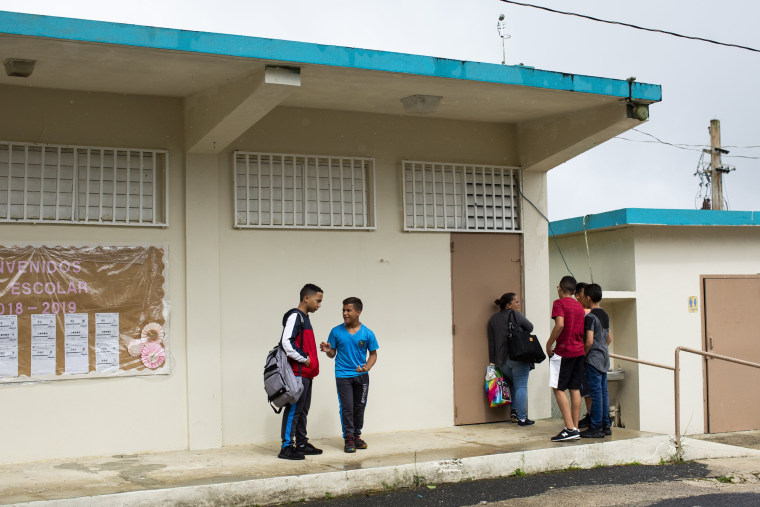 Eighty percent of Puerto Rico's energy comes from imported oil; customers pay nearly double the rates in the U.S. for unreliable service that regularly results in blackouts. For years, entities such as the New York Federal Reserve recommended a more efficient, modern system that includes energy alternatives.
After Maria, many residents think it's time to get it done.
"Puerto Rico should be transitioning toward renewable energy because we had so, so, so many problems with the electrical service and we've seen already that it is still not reliable," said Castillo.
So far, scaling up community-based renewable energy projects has been a slow process.
Adam Gentner is the director of business development and Latin American expansion at Sonnen, a U.S.-based "smart energy" company that donated the micro-grids that power S.U. Matrullas and eight other community spaces in the island. He's concerned that the government is not prioritizing renewable energy in their disaster recovery plan that outlines how they'll use federal community grants; instead the government said they would add them in the future.
"If they don't look into solar energy, it would be a missed opportunity," Gentner told NBC News.
There are few details of the new plan to privatize the island's power authority. However, residents like Castillo are hopeful that privatization will eventually push half the island into renewable energy mechanisms or micro-grids and lower energy costs to customers.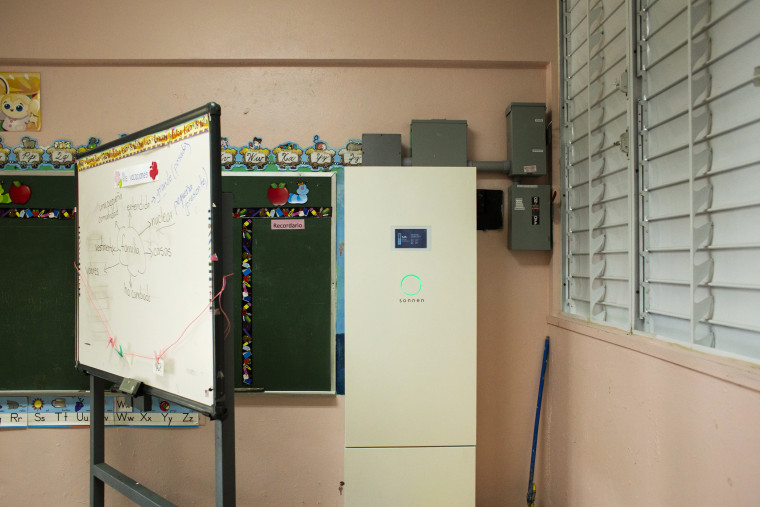 Carlos Mercader, executive director of the Puerto Rico Federal Affairs Administration, said in a press release, "Our goal is that in five years 40 percent of our energy is generated from renewable sources, such as wind and solar."
Even though public officials have thrown around the idea of prioritizing places like Vieques for new renewable energy installations, the municipality's current electrical infrastructure can't withstand another hurricane.
"We don't have proper electricity, we're run by generators. The wind is going to blow and then we're out again," said Michaud. "We're not prepared at all for the next one."
Improving urban and economic development
In August, over 60 community organizers, nonprofit leaders, urban planners and experts from across the island came together at the headquarters of Espacios Abiertos — a nonprofit that promotes government transparency and accountability — to discuss the drafts of the government's long-term economic and disaster recovery plan, which laid out a 12-to-24 month recovery strategy. Federal agencies require that the island crafts these plans in order to disburse federal funds.
Deepak Lamba-Nieves, research director at the Center for a New Economy (CNE), a nonpartisan think tank, described what was at stake: the need to recover quickly but in a responsible, well-planned manner that helps build a resilient infrastructure against future disasters like Maria.
But Puerto Rico's territorial status — it's not a U.S. state — and the fact that it's under federal oversight due to its fiscal crisis makes the process much more complicated, and frustratingly slow.
Federico Del Monte, vice president of the Puerto Rican Planning Society, was in attendance.
"How can we think about rebuilding when all of us here agree that we need to redesign our country?" said Del Monte. "That document talks about rebuilding what we had. But is that what we want?"
A lawyer in the room instantly shouted: "No! We need to improve it because hurricanes are going to keep coming!"
The government estimates that the infrastructural transformation they strive for could cost nearly $130 billion; this includes upgrading the electrical infrastructure and modernizing telecommunications and water systems.
Although the island's government expects that some of these projects will be financed with the help of federal money, experts agree that Puerto Rico needs other sources of revenue to afford long-term reconstruction efforts at a time when the island struggles with paying a public debt of more than $72 billion.
One way to do it is by prioritizing island-based companies when issuing recovery-related contracts, said Lamba-Nieves.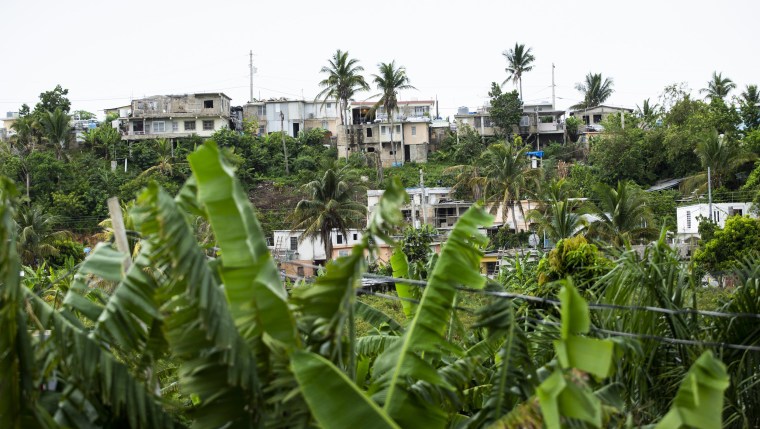 However, CNE experts found that most of the reconstruction-related contracts issued by Puerto Rico with already-disbursed federal funds since Hurricane Maria made landfall have been to mainland-based companies.
"How can a reconstruction generate an activity of local economic development if the majority of these reconstruction contracts are being granted to foreign companies?" Lamba-Nieves said. "It's true that they can hire people in the island, but still most of the revenue will go outside of Puerto Rico."
Only $500 million in federal funds have gone to Puerto Rico-based contractors, while $4.5 billion have gone to U.S.-based companies. "The difference is abysmal," Lamba-Nieves said.
While some federal funds have been disbursed, towns like Canóvanas are still waiting for their share of federal grants; with the money, they hope to build and repair 300 housing units and put solar energy systems in place.
A year after Hurricane Maria, Canóvanas and other municipalities have not received these funds.
Amid the government's delays, Paez Marte decided to patch up his own roof with construction materials donated by a local group.
"It's time for us to keep fighting, moving forward, and hope that we don't get another hurricane," Paez Marte said.
FOLLOW NBC LATINO ON FACEBOOK, TWITTER AND INSTAGRAM.