NFL Network suspended Pro Football Hall of Famer Marshall Faulk and two other former National Football League players as analysts on Monday after they and a former network executive were alleged to have sexually harassed a female colleague.
Faulk and fellow on-air analysts Ike Taylor and Heath Evans, along with former executive producer Eric Weinberger and former network analysts Donovan McNabb, Warren Sapp, and Eric Davis, were named in an updated lawsuit against NFL Enterprises by Jami Cantor, a former wardrobe stylist for the network. The amended complaint was first reported by Bloomberg News.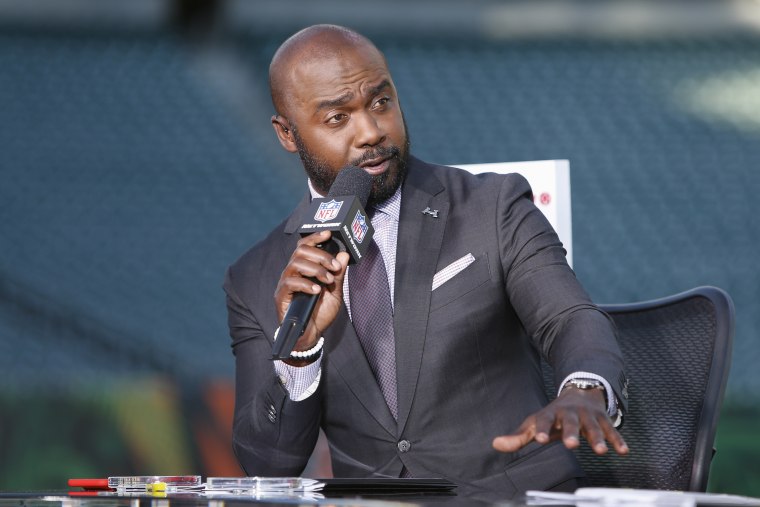 None of the seven is named as a respondent in the lawsuit, which was originally filed in October in Los Angeles County Superior Court. The original complaint alleged inappropriate actions by 50 people whom it identified only as John Does 1-50.
The amended complaint accuses Faulk and Evans of having groped Cantor while she was at the network, while it accuses Taylor and McNabb of having sent her sexually inappropriate communications.
The communications from Taylor allegedly included video of him masturbating, while the alleged communications from McNabb, who now works for BeIN Sports and ESPN Radio, were text only, according to the complaint.
The complaint alleges that Sapp, who was fired from the network after he was arrested on charges of assault and soliciting a prostitute in 2015, made inappropriate sexual remarks and sent Cantor sex toys as Christmas gifts. The criminal charges charges against Sapp were dismissed.
It alleges that Davis, who now works for Fox Sports 1, groped Cantor and made sexually explicit remarks to her.
Alex Riethmiller, a spokesman for NFL Network, told NBC News in a statement Monday night: "Marshall Faulk, Ike Taylor, and Heath Evans have been suspended from their duties at NFL Network pending an investigation into these allegations."
Weinberger left NFL Network in 2015 to become president of Bill Simmons Media Group, publisher of the sports website The Ringer. The amended complaint accuses Weinberger of both having touched Cantor inappropriately and having sent her sexually inappropriate communications.
Related: The growing list of men accused of sexual misconduct
A spokesperson for The Ringer told NBC News: "These are very serious and disturbing allegations that we were made aware of today. We are placing Eric on leave indefinitely until we have a better understanding of what transpired during his time at the NFL, and we will conduct our own internal investigation."
NBC News reached out to Faulk, Taylor, Evans, McNabb, Weinberger and Davis for their responses to the allegations, but had not received any replies. NBC News was still attempting to reach Sapp for a comment.
The original suit alleges that Cantor was fired in October 2016 after having falsely been accused of stealing clothes from a network employee.
The suit seeks unspecified damages for wrongful termination, sexual harassment, retaliation, defamation and age discrimination, alleging that the person who was hired to replace Cantor is 21 years younger than she.
Related: Mario Batali steps away from 'The Chew,' businesses after misconduct allegations
Faulk, 47, a running back for the Indianapolis Colts and the then-St. Louis Rams for 12 seasons, was inducted into the Hall of Fame in 2011. He rushed for 12,279 yards, 11th most in NFL history.
Evans, 38, played for four NFL teams as a running back, winning the Super Bowl with the New Orleans Saints after the 2009 season.
Taylor, 37, won two Super Bowls in a 12-year career as a cornerback with the Pittsburgh Steelers.
Sapp, 44, played 13 seasons as a defensive tackle for the Tampa Bay Buccaneers and the Oakland Raiders, winning the Super Bowl with Tampa Bay after the 2002 season, He was inducted into the Hall of Fame in 2013.
McNabb, 41, played 11 years as a quarterback for the Philadelphia Eagles, the Washington Redskins and the Minnesota Vikings. He led the Eagles to the Super Bowl after the 2004 season, which was won by the New England Patriots.
Davis, 49, played 13 seasons as a defensive back for four teams, most notably the San Francisco 49ers, with whom he won the Super Bowl after the 1994 season.