Samantha Power, U.S. ambassador to the U.N., said Friday that whoever shot down Malaysia Airlines flight 17 over the Ukraine "must be brought to justice."
But how likely is it that anyone will be compelled to appear in a courtroom and answer for the death of 298 passengers and crew?
It could happen, say experts in international law -- but maybe not in an international court, or in a criminal trial. The experts said the task could be made more difficult by the high bar for proving a war crimes case, and by Russia's power.
The prime suspects in the shootdown are the Russian separatists who control much of eastern Ukraine, and the Russian government, which has supplied them with arms.
President Obama said Friday that the missile that brought down the plane was launched from a separatist-controlled area of Ukraine, and accused the Russian government of supplying "anti-aircraft weapons" to the insurgents. Ambassador Power was even more specific. She said that separatists were seen with an SA-11 surface-to-air battery close to the area where the plane went down, and suggested that Russian forces might have helped operate the weapon.
"Because of the technical complexity of the SA-11, it is unlikely that the separatists could effectively operate the system without assistance from knowledgeable personnel," said Power. "Thus we cannot rule out technical assistance from Russian personnel."
Related
In Lieu of Evidence, Propaganda War Rages Over Jet Shootdown
The only way to hold the Russian government itself accountable for the deaths of the airline passengers would be a civil action in a U.N. court called the International Court of Justice (ICJ). One state can bring an action against another state at the ICJ, and Russia is a member of the ICJ. If Russia were found liable, it would probably have to pay millions of dollars to the victims and their families.
"There are a great many terrorism treaties that could apply, which most countries have ratified," said Ruth Wedgwood, a professor of international law at Johns Hopkins School of Advanced International Studies.
Criminal charges against specific separatists or Russian officials in an international court would be a very different matter.
Follow NBC News Investigations on Twitter and Facebook.
Actions that are deemed war crimes, genocide or crimes against humanity can be prosecuted in the International Criminal Court (ICC), a U.N.-sanctioned court that, like the ICJ, is based in the Netherlands. The ICC has issued 27 arrest warrants, including a warrant for the arrest of Sudan's president for alleged crimes in Darfur.
Alex Whiting, a professor of international law at Harvard Law School, told NBC News he felt it would be hard to bring a criminal case in the ICC against Russian officials, because prosecutors would need to establish that the shooters knew they were firing at a passenger plane.
International prosecutions for war crimes, like those of former Liberian president Charles Taylor and former Serbian president Slobodan Milosevic, have also tended to be for a series of actions carried out over a long period of time, rather than for a single incident.
"An ICC case is not impossible, but it is unlikely for both procedural and substantive reasons," said Rebecca Hamilton, an expert in international law who teaches at Columbia Law School.
Other experts, however, thought it might be possible to bring a criminal case against specific defendants in the ICC. Wedgwood said that if Russia supplied the weapons and "knew how they were going to be used," the nation or its leaders could be held liable.
"Shooting down an airplane is an act of war," said Wedgwood. "At a minimum, it's an act of international terror."
Jurisdiction could still present a problem, said Wedgwood, because "there's no international criminal court that has automatic jurisdiction over Russia."
Russia is not a member of the ICC. The U.N. Security Council could still refer a criminal case to the ICC -- but Russia is a member of the Security Council and has veto power.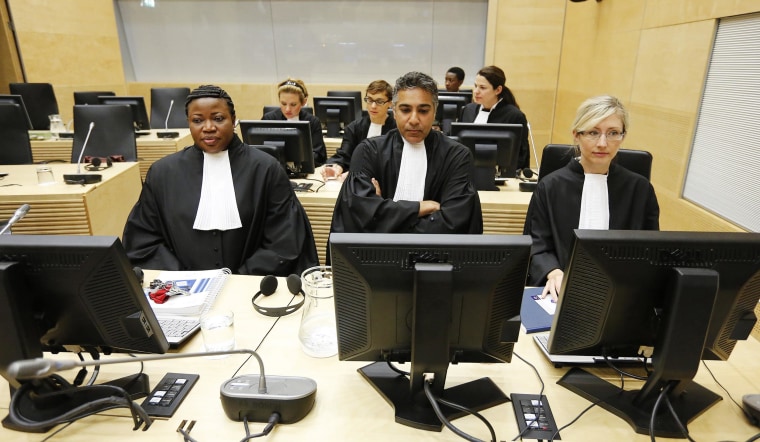 ICC prosecutors, however, can initiate cases on their own. Malaysia and the Ukraine could also allow an ICC prosecutor to take the case. Like Russia, neither Malaysia or the Ukraine is an ICC member, but either nation could still accept temporary jurisdiction from the ICC for the purposes of investigating the shootdown. Ukraine already accepted ICC jurisdiction from late 2013 through April 2014 in a separate case.
If any individual perpetrators are to be held criminally responsible, said experts, that would be most likely to happen on a smaller stage. Experts said bringing a criminal case in various national legal systems could prove easier than launching a prosecution in an international criminal court.
Hamilton said "a number of jurisdictions" whose nationals were killed in the incident could prosecute the alleged killers. Hamilton said Ukrainian authorities would have the first opportunity, but that the Netherlands –- which lost nearly 200 people –- could prosecute, as could Malaysia and Australia.
Whiting agreed that prosecution in Ukraine's legal system would be "a far more likely outcome than a referral to the ICC."
The difficulty in any criminal prosecution, however, whether national or international, would be in finding and arresting the perpetrators.
"It's hard to catch people," said Wedgwood.