As Washington lawmakers investigate how Russia exploited social media to influence the 2016 presidential election, Apple CEO Tim Cook says the tech giants have something much greater to be concerned about.
And it affects everyone.
"I don't believe that the big issue are ads from foreign government. I believe that's like .1 percent of the issue," Cook told NBC Nightly News anchor Lester Holt in an exclusive interview that aired Wednesday night.
"The bigger issue is that some of these tools are used to divide people, to manipulate people, to get fake news to people in broad numbers, and so, to influence their thinking," Cook said. "And this, to me, is the No. 1 through 10 issue."
In an interview from Apple's sprawling new Cupertino, California, headquarters, Cook also spoke about customers' privacy in the age of the internet as well as the release Friday of the iPhone X, the latest incarnation of the company's flagship product.
Related: Google, Facebook, Twitter and Russia: A Timeline on the '16 Election
Apple's Silicon Valley peers remained in the spotlight Wednesday as members of the House Intelligence Committee grilled representatives from Facebook, Twitter and Google for their inability to prevent Russia from exposing millions of Americans to ads meant to undermine last year's election.
On Tuesday, Senators hammered them as well. Sen. Al Franken, D-Minn., asked Facebook how it could "not make the connection that electoral ads paid for in rubles were coming from Russia? How could you not connect those two dots?"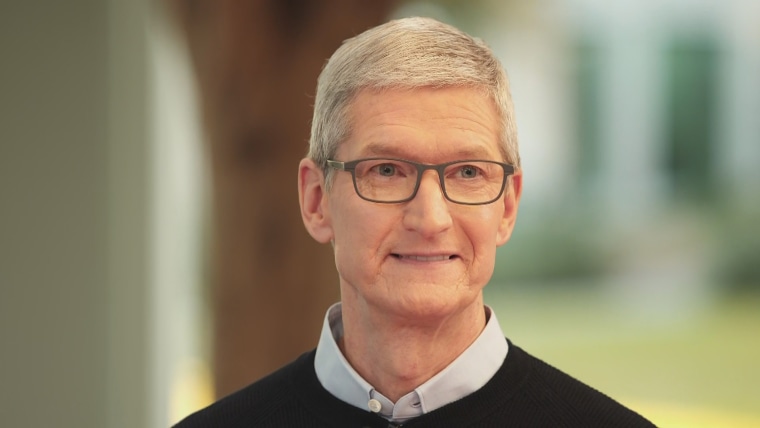 A Facebook rep said the ads bought by "bad actors" were a small percentage, but that "any amount was too much."
An estimated 126 million Americans — about one-third of the country's population — received Russian-backed content on Facebook during the 2016 campaign, according to the company.
The tech giants told lawmakers that steps were installed to prevent such meddling again, including the shutting down of suspect accounts.
Cook, in his interview with Holt, said the social media companies have "learned along the way a lot" since the election.
"We'll probably learn more in those hearings as to the particulars. But I do think that technology itself doesn't want to be good. It doesn't want to be anything," Cook said. "It's up to the creator of the technology and the user of the technology to make it good."
Cook, who took the helm of Apple in 2011, said it's especially important for companies to build trust with their customers, especially at a time when personal data can easily be hacked or used online.
While there's been much hype surrounding the iPhone X's facial-recognition technology used as one way to unlock a phone, Cook said people shouldn't worry that Apple is surreptitiously collecting data.
"We have a chip in here where the image of your face is stored and encrypted. And so, Apple doesn't have that," Cook said. "Your device has that."
Last year, Apple took a stand in favor of privacy by fiercely opposing a court order to unlock the iPhone used by one of the San Bernardino shooters. Cook in an email to employees accused the federal government of an "overreach" that could potentially breach the privacy of millions of customers.
Cook told Holt that if he had to, "I would make the same decision today."