Sam Romero said that it was while working on the 2014 campaign of Wendy Davis, an abortion-rights supporter running for Texas governor, that she decided to open up about having had an abortion at 23. But Romero, now 28, who identifies as queer, said that being out about both her sexual orientation and having had an abortion has brought her to an uncomfortable realization.
"When I talk about my abortion, people assume I'm straight. When I talk about being queer, people don't imagine that I've had an abortion before," she told NBC News. "It's been hard to live with both identities in a way that I feel other people can understand."
Romero, who said she has had both male and female sexual partners, stressed, "I'm not disqualified from being queer because I've had an abortion."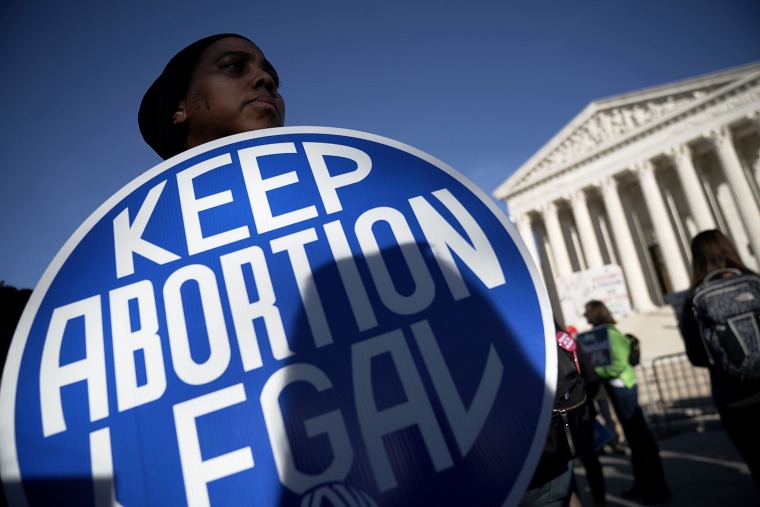 Forty-five years after the Supreme Court handed down Roe v. Wade, the landmark decision legalizing abortion, LGBTQ people and their advocates say abortion is still thought of as something that only affects heterosexual people. This misconception, they say, leads to very real barriers.
"Conversations around reproductive health and justice have historically left out people who identify as LGBTQ. I think the conversations have been very heteronormative," Dr. Lin-Fan Wang, a physician at the Mazzoni Center, an LGBTQ health center in Philadelphia, said.
"This is a population that does need access to these types of services and has a hard time in accessing these services in a way that is affirming to their gender and sexual orientation," Wang added.
BARRIERS TO ACCESS
Since Roe v. Wade, states have enacted more than 1,000 abortion restrictions, according to the Guttmacher Institute, a research and policy organization. And President Donald Trump has sought to further restrict access with a number of measures — from January's executive order blocking foreign aid for family planning services to last week's announcement of a new "religious freedom" division in the Health Department that would protect providers who refuse to provide care that conflicts with their religious beliefs.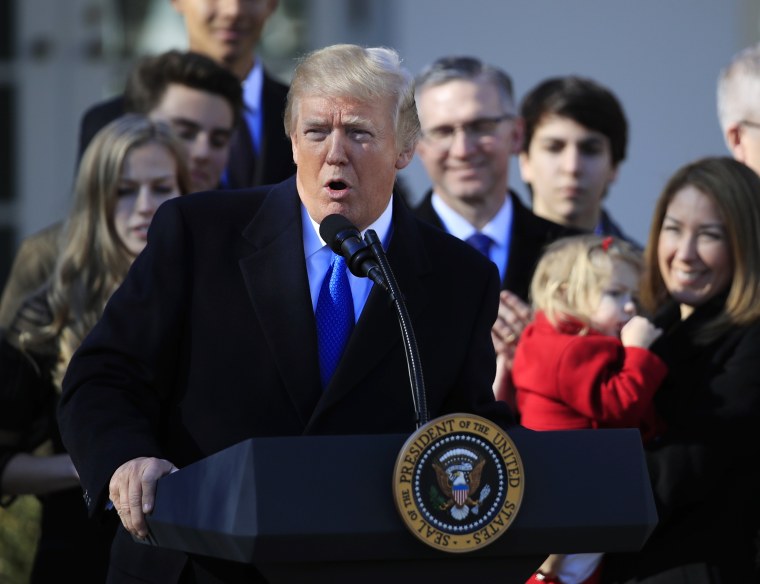 "The state of access to reproductive health care and abortion is dismal," Jessica González-Rojas, executive director of the National Latina Institute for Reproductive Health, said. But for some communities, including LGBTQ people, people of color and immigrants, "their ability to access abortion services is not on equitable footing."
In addition to misconceptions about LGBTQ people and their reproductive health care needs, financial barriers and a broader lack of affirming health care add to the barriers they face when seeking access to an abortion.
FINANCIAL BARRIERS
To pay for her abortion, Romero used money that she had been saving up to move in with her then-boyfriend. "Everything I saved went towards my abortion," she said. "I don't know what I would have done if I didn't have the money."
Without insurance coverage, an abortion can cost hundreds of dollars depending on the trimester, according to the Guttmacher Institute. In 2012, the organization found the median cost of an abortion was approximately $500.
Since 1976, using federal funds to pay for the procedure has been barred, except in cases of rape, incest or when a pregnant woman's life is in danger. This is particularly challenging for low-income people seeking an abortion.
"An example we've been fighting for years is the Hyde Amendment, which bars coverage for abortion for anyone who uses Medicaid," González-Rojas said. "It shouldn't matter how much money is in your pocket or what zip code you live in."
Given the patchwork of state-level laws governing the procedure, those seeking the procedure who live in areas with very few clinics that provide abortion services may have to take time off from work and travel far from home, according to Elizabeth Clark, director of health media at the Planned Parenthood Federation of America. The costs may make it financially out of reach for many people.
While people of all sexual orientations and gender identities may struggle to pay for their health care needs, LGBTQ people face higher rates of poverty and unemployment, according to recent studies. A 2013 study by the Williams Institute at the UCLA School of Law found "14.1% of lesbian couples and 7.7% of gay male couples receive food stamps, compared to 6.5% of different-sex married couples." And according to a 2015 report from the National Center for Transgender Equality, transgender people are approximately three times as likely to be unemployed as the general population.
Cazembe Murphy Jackson, a nonbinary trans man, said he had to borrow money and take out a payday loan to come up with $300 to pay for his abortion. A student at the time, Jackson said he got pregnant after being sexually assaulted.
"It took me a year to pay off," he told NBC News. "I had to go through a lot to afford the abortion."
More than a decade after the procedure, Jackson said he is now facing financial hurdles as he tries to access reproductive health care to start a family. His employment has been "up and down," he said, which in turn means his access to insurance has been inconsistent.
LGBTQ-AFFIRMING HEALTH CARE
When LGBTQ people are able to access health care, it still may not be affirming of their gender identity or sexual orientation. In a report released last week, the Center for American Progress, a left-leaning public policy and research organization, found "LGBTQ people face disturbing rates of health care discrimination." The types of discrimination cited in the report included the refusal of a health care worker to recognize a patient's same-sex partner and the purposeful misgendering of a patient.
Dr. Wang also noted that LGBTQ people may be subjected to inaccurate assumptions about their relationships or sexual practices when seeking reproductive care.
"There's an assumption that anyone who comes in for those services are straight or have relationships with opposite-sex partners when we know there's huge variation in a person's sexual orientation or gender identity," Dr. Wang said.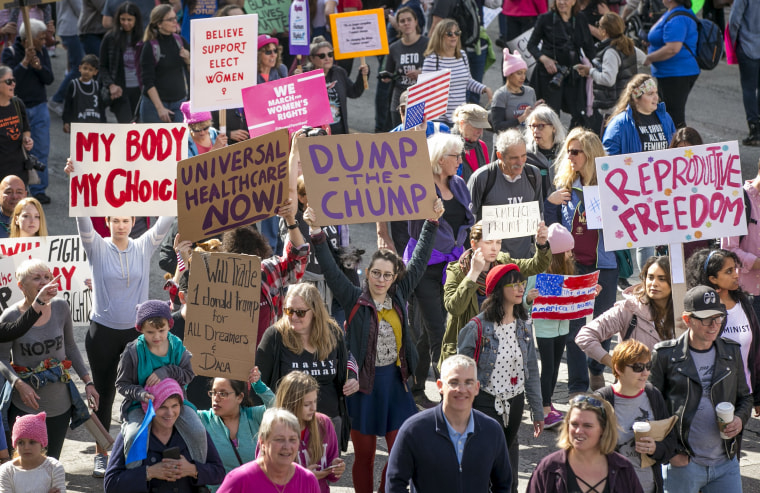 Though Jackson was ultimately able to have an abortion, as he sought out the procedure he said he was asked if he was "the person that was actually having the abortion."
"There is always this kind of frontloading of explaining who I am and that it's me that needs the care," Jackson said. "There's always the fight for the correct pronouns and names to be used. They are just extra triggers on top of an already triggering experience."
The dearth of education about LGBTQ patients in medical school and other programs leads to few opportunities for formal training, according to Wang. "So you have health care providers out there who may not have the skills or knowledge about how to be welcoming to queer and trans people," she said.
Romero said she fears nonaffirming health care could keep LGBTQ people from going to the doctor in the first place, and it appears this fear is warranted.
According to the Center for American Progress' report, "Discrimination played a role in preventing a significant number of LGBTQ people from seeking care." A survey the organization conducted in 2017 found 8 percent of all LGBTQ people and 22 percent of transgender people "avoided or postponed needed medical care because of disrespect or discrimination from health care staff."
CONNECTION BETWEEN ROE V. WADE & LGBTQ RIGHTS
While advocates say LGBTQ people encounter unique hurdles to accessing the rights guaranteed by Roe v. Wade, they also point to the links between the movements for LGBTQ equality and abortion rights.
Both advocate for "bodily autonomy, self-determination and choosing the family of your choice without government intrusion," Candace Bond-Theriault, policy counsel for reproductive rights, health and justice at the National LGBTQ Task Force, said.
In the legal fight for LGBTQ people, she added, cases have even relied on language similar to that of Roe v. Wade.
"I want to make it clear that when this administration says they're coming for Roe," she said, "that should be a dog whistle for LGBTQ rights."