Ishem Sanchez and his husband, Stéphane, are expecting the birth of their baby girl any day now. After four years of navigating the complex surrogacy process, it seemed everything was finally in place — until the COVID-19 pandemic turned the world upside down.
The couple lives in Paris, but they don't know if they'll be allowed to leave France in time for the birth of their daughter in the United States next month, or when they will be able to take her home.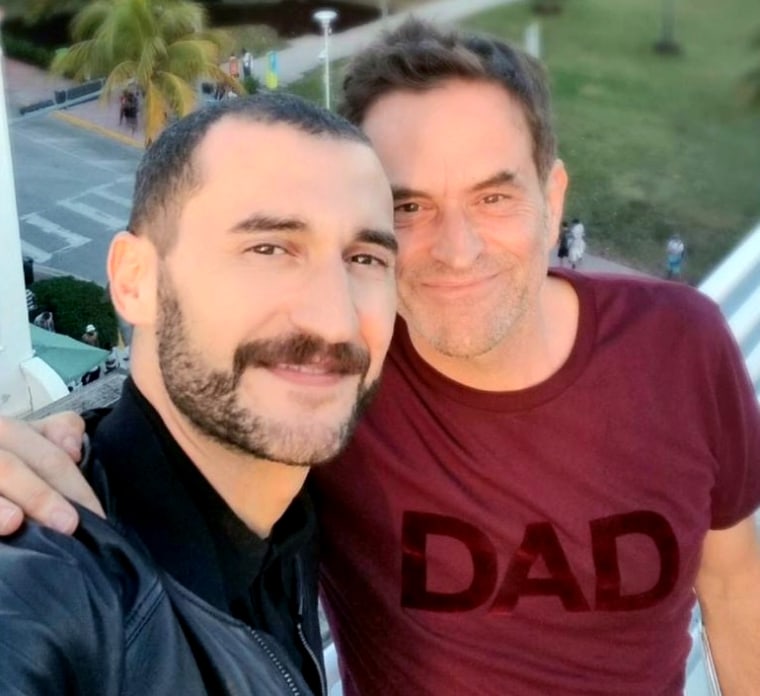 "We are so anxious," said Sanchez. "We keep hoping every day something will change and we'll be able to be there."
The men are working with a gestational surrogate, a woman who is paid to carry a baby that is not biologically hers. The baby is conceived from a donor egg and the sperm of one of the intended parents.
The U.S. is the only country in the world that allows this (in 47 states) without onerous legal requirements or restrictions based on marital status or sexual orientation. Experts estimate around 2,000 singles and couples come to the U.S. each year to pursue gestational surrogacy.
Surrogacy in some less developed countries is legal and less expensive, like Ukraine. However, it presents many risks, especially for same-sex couples, such as trouble taking the baby out of the country. These international restrictions take a financial and logistical toll on gay people, who disproportionately rely on surrogacy for family building. Gay people from Europe, Australia and elsewhere who desire to have a child via surrogate and who can overcome these challenges routinely turn to the U.S., mostly without incident.
But COVID-19 has created a host of hurdles and unanswered questions.
On March 14, President Donald Trump issued a travel ban that barred all noncitizens from entering the U.S. The ban exempted noncitizens with children living here who are under 21 and unmarried.
But what about parents who are expecting children here? So far, the State Department, which enforces the ban, doesn't consider them to be exempt.
"Someone at the State Department has interpreted this exception to apply only once the child is born. It's possible they aren't aware of the surrogacy issue," said Stan Brenner, a surrogacy attorney who represents the Sanchez family. "I know of many intended parents stuck in this situation."
In a statement emailed to NBC News, a State Department official cited the department's authority to determine when to grant visa exceptions, and indicated visas for surrogate parents are deemed routine, not emergency.
"We carefully evaluate every request for emergency visa services and as resources allow, embassies and consulates will continue to provide emergency and mission critical visa services," the statement read. "We will resume routine visa services as soon as possible but are unable to provide a specific date at this time."
Denied boarding
Stéphane and Ishem Sanchez are working with a surrogate in Orlando, Florida, who is due to deliver their daughter in late April. On March 16, France announced restrictions on travel out of the country, effective the next day at noon. The couple rushed to Charles de Gaulle airport the morning of the 17th to try and fly out before noon. They presented to immigration officials a pre-birth order signed by a U.S. judge recognizing the two men as the legal parents of the child their surrogate is carrying and cited the U.S. travel exemption for parents.
But they were denied boarding. A passport control supervisor said he'd see if he could help them, and they waited all day at the airport, to no avail. They decided to try again the next day, but as they were headed to the airport at 5 a.m., the supervisor emailed to say they'd have to take their case to the U.S. embassy in Paris. More bad news came later that day. Their surrogate told them her OB-GYN expects to induce labor early due to complications.
They felt hopeful when they managed to get an expedited appointment for a travel visa interview at the embassy two days later.
"It was very quick. We explained everything, showed the documents. It seemed to go smoothly," Sanchez said. "We felt very confident."
But then another crushing email came — denied again. They were told to reapply after their daughter was born.
"It was devastating. We've waited all our lives for this moment, and now we can't get there for the birth," said Sanchez. "We don't really know when we'll be able to go."
Who takes care of the baby?
Surrogacy contracts are clear that the surrogate is not the legal mother of the child, and she is not expected or legally obligated to take care of the baby. Without the legal parents present, couples have to scramble to find someone stateside to step in.
"If the parents can't get there, then you have to find someone to take temporary guardianship, like a friend or relative," Brenner explained. "There can be emergency medical decisions, financial decisions, let alone caring for the baby. It should be the parents doing all of that."
Melissa Brisman is an attorney who runs the surrogacy agency Reproductive Possibilities. She said that informal surveys in the industry find that up to 200 international couples are currently affected by travel restrictions. She's had to turn to charitable organizations that look after babies with no one to care for them, usually awaiting adoption, something she's never had to do in her 21-year career.
"When a blanket rule is made quickly, you get all these unanticipated problems," she said. "These babies have parents ready to take care of them. It doesn't have to be this way."
It's possible that once the baby is born, Stéphane and Ishem Sanchez could get to Florida quickly, but travel restrictions in response to the virus are changing rapidly. There could be quarantine orders in place that delay them.
Racing against new restrictions
John and his husband, who reside in Prague, the capital of the Czech Republic, are expecting a baby boy on April 11 via their surrogate in Minnesota. John — who asked not to use his full name since he's still asking for help from the government — is a U.S. citizen, but his husband is not.
The travel ban has an exemption for spouses of U.S. citizens, but border agents did not let John's husband board a flight from Amsterdam to the U.S., even though he had his marriage certificate with him. Afraid of getting stuck in Amsterdam, he went back to Prague on March 14 in hopes of sorting out a visa. Two days later, the Czech government issued a mandatory quarantine.
Now, as John waits in Minneapolis for the couple's first child to arrive, he is working with both governments to get his husband a special travel visa. But he faces the prospect of caring for the baby and then bringing him home to Prague without his husband.
"There's very little hope of him being here for the birth," John said. "Everyone is in a tough spot right now, and we just got unlucky."
Brisman, who doesn't represent John, said that someone like him could be waiting a long time to get home. In order to fly internationally, the baby needs a U.S. passport. Normally, Brisman is able to get her clients an expedited appointment and the family flies out in less than three weeks. Now, passport agencies are directed only to expedite for life-or-death emergencies, making the process around four months.
According to Brisman, this delay can cost parents around $20,000, on top of the over $100,000 cost of surrogacy, which she said is often much — or all — of their savings.
"Everyone has worked hard for this and spent so much money. It's supposed to be a happy time, a joyous event," she said. "Instead, we're all just trying to find a way to bring families home."