Lebanon's best-known pop band, Mashrou' Leila, is facing death threats from local Christian groups who say one of its songs is "blasphemous."
Each summer, Byblos — the 7,000-year-old city in Lebanon that gave birth to the modern alphabet — plays host to the Byblos International Festival, which lights up a massive amphitheater on the shores of the Mediterranean Sea with performances by major artists; Elton John, Lana Del Rey and Jethro Tull have all recently played there.
Mashrou' Leila, whose frontman Hamed Sinno is gay, has played the festival twice — once in 2010 and again in 2016.
But leading up to this year's scheduled Aug. 9 performance, the band is facing the threat of violence over its song "Djin," first released in 2015.
As of Wednesday, it is unclear whether or not the band will perform the show in the face of continued threats.
In a statement posted on social media, Mashrou' Leila noted that it had played all over Lebanon in the past and said it was "odd that there's been a backlash to one of those songs now, knowing that it doesn't actually try to offend anyone, or their value systems."
"We are not on some sort of mission to arbitrarily blaspheme and disrespect people's religious symbols," the band wrote.
'SOLDIERS OF THE LORD'
Lebanese LGBTQ advocate Georges Azzi said the harassment campaign was sparked by an article Sinno shared on Facebook that included an image of pop star Madonna superimposed on the Virgin Mary, which sparked anger among some Lebanese Christians.
On a long-running Facebook group called "Soldiers of the Lord," where users share Christian-themed memes in Arabic, members noticed the Virgin Mary post and began to organize against Mashrou' Leila's upcoming Byblos concert.
According to the Lebanese news portal Naharnet, the Facebook group contained violent threats. Naji Hayek, an official with the political party of president Michel Aoun, posted on Facebook that he would "vow to commit to the clash that would happen if they come to Byblos."
"Whoever violates Christian sacraments must have his head broken," Hayek wrote.
On Sunday, a lawyer associated with Christian groups in Byblos filed a complaint with the public prosecutor that called for authorities to prosecute Mashrou' Leila for insulting a religion, inciting sectarianism, and for "spreading and promoting homosexuality," all of which are illegal under the Lebanese penal code, according to Amnesty international.
How will the government react? Will we protect this international touristic festival or will they let things happen and completely ignore what's happening and it's up to us to solve our issues.
Georges Azzi
In a statement shared Monday, the Maronite Catholic Eparchy of Jbeil (the Arabic name for Byblos) called for the concert's cancellation and said most of the band's songs "violate religious values" and it was not becoming for Byblos to host concerts "that are directly at odds with Christian faith."
Azzi wondered whether the Lebanese Interior Ministry would move to protect the concert in the face of the organized threats.
"How will the government react?" Azzi asked. "Will we protect this international touristic festival or will they let things happen and completely ignore what's happening and it's up to us to solve our issues."
Amnesty International's Middle East director of research, Lynn Maalouf, called for the Ministry of Interior to protect the concert and said the authorities "have a responsibility to take the necessary measures to ensure the band is protected from this spiteful campaign, and to ensure that the concert not be canceled for security considerations."
"The Lebanese authorities should stand by the band and demonstrate its commitment towards the right to freedom of expression and prevent advocacy of hatred and discrimination," Maalouf said.
Hala Saghbini, media adviser to the Lebanese Interior Ministry, told NBC News that guitarist Firas Abou Fakher and drummer Carl Gerges, the two band members currently in Beirut, were detained Wednesday and "were released."
"The [General Directorate of State Security] listened to them and released them after they deleted all things related to religion from their account on Facebook," Saghbini said. "If they decide to do the concert, then our duty in the ministry is to assure security."
Nagi Baz, a spokesperson for the Byblos International Festival, said they are "working with authorities to move things forward."
"Mashrou Leila played their first major gig at Byblos Festival in 2010 as headliners when they still were architecture students at American University of Beirut," Baz wrote in a statement. "They played Byblos again on 5 August 2016 and did perform Djinn, released in 2015. They have been performing this song since in many other festivals in Lebanon (Baalbek, Ehden, Amchit Festivals)."
Baz did not respond to additional questions seeking confirmation of whether the concert would go on as planned.
CENSORED ACROSS THE ARAB WORLD
For a decade, Mashrou' Leila has packed concert venues across the Arab world with irreverent songs that touch upon many of the issues facing Arab youth today: unemployment, political violence, religious extremism and even homophobia. Sinno's outspoken advocacy for LGBTQ people across the Arabic language media has won both fans and enemies as the band's profile has risen.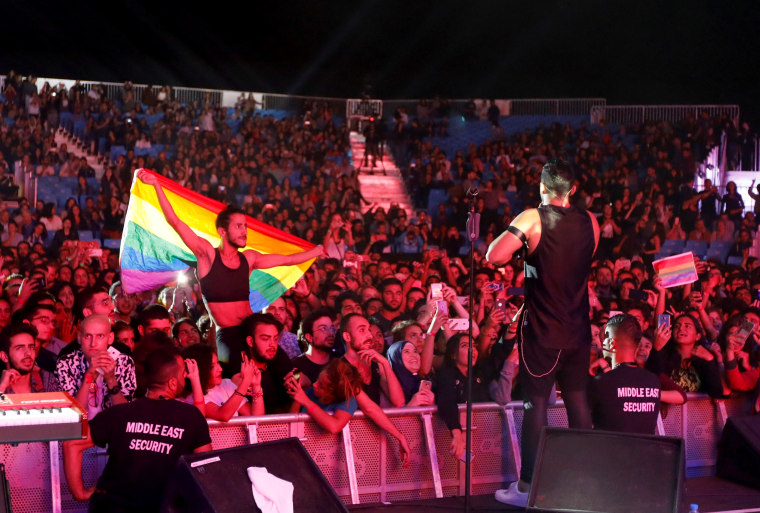 In 2017, after a fan hoisted a LGBTQ pride flag at a sold-out concert in Cairo, the Egyptian government conducted its widest ever crackdown on LGBTQ people. Egypt later banned the group from playing there. Mashrou' Leila was also banned from playing in Jordan in 2016, cutting the band off from two of its largest fan bases.
The "blasphemous" song in question, "Djin," is the Arabic word for "ghost," but also means "gin," the alcohol.
The irreverent song is packed with double entendres: The chorus dances between imagery of young people drowning their sorrows in alcohol and partying — a common theme throughout Mashrou' Leila's songs — and feeling the pressure of a highly religious society.
In Lebanon, the constitution defines 18 state-sanctioned religions and the current governing cabinet is a shaky coalition of parties tied to the major religious groups: Maronite Catholics, Sunnis, Shiites and Druze.
Insulting any of these religions can result in a court date and charge of "blasphemy," and punishing blasphemy is an area of rare agreement among Lebanon's political parties, many of which fought each other during the country's 1975-1991 civil war.