Alabamans will decide on Tuesday whether to elect Republican candidate Roy Moore to the Senate. The conservative, who is currently battling sexual assault accusations from multiple women, has been an outspoken opponent of LGBTQ rights.
In 2016, Moore was suspended from his position as Alabama chief justice for telling probate judges to defy federal orders regarding same-sex marriage. He has also opposed transgender rights.
"There's no right to believe you are a person of the opposite sex or opposite gender," Moore said at a community center in Henagar, Alabama, in November.
His campaign has some LGBTQ advocates in the state concerned but not deterred.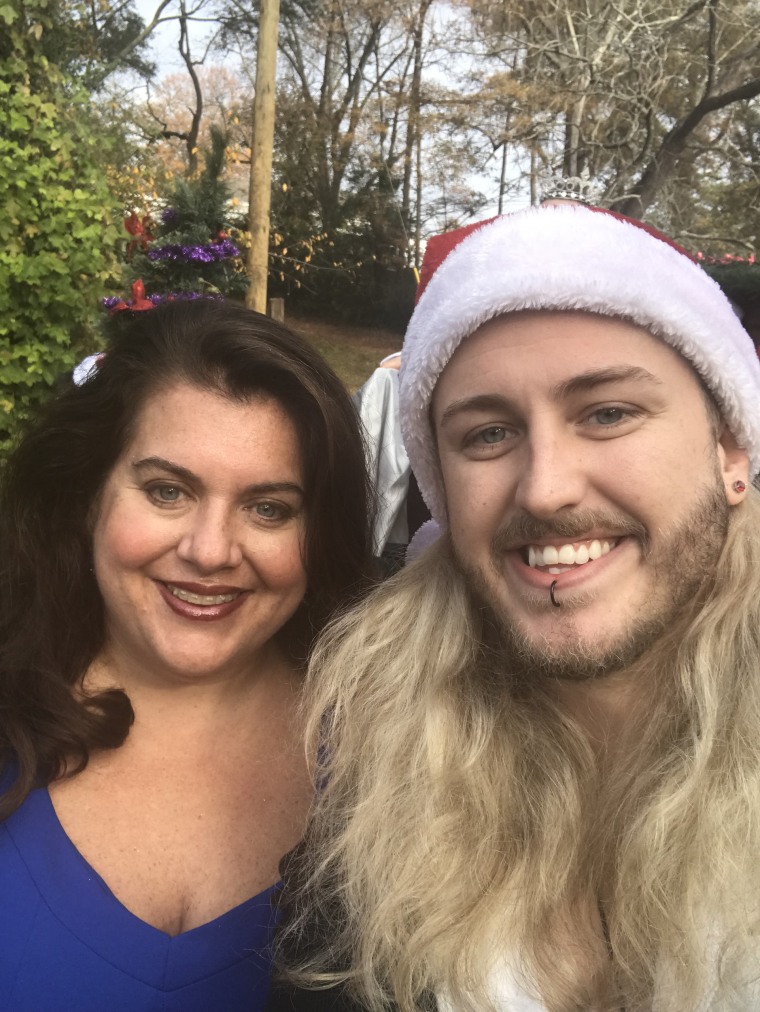 "There's no sin in sexuality," said Megan Henry, an LGBTQ ally who has lived in Alabama for 20 years. "That's an argument down here, and that also goes along with what's happening in our political climate with Roy Moore."
Henry, 39, is a board member with Pride on the Plains, an LGBTQ group in Opelika, Alabama. Still in its inaugural year, the group applied in October to sponsor a gay pride-themed float in the town's annual Christmas parade. It would be the first float of its kind in the parade's-20 year history.
Soon after the group announced it would sponsor the float, a firestorm erupted on social media, according to Henry. Some residents, she explained, were unhappy the float would be included in the family-friendly event because it would feature a drag queen.
"It's terrifying," she said. "The same people who are upset with what we're doing are the same people that are going to vote Roy Moore to the Senate."
The Opelika Chamber of Commerce, a nonprofit group that organized the parade, received multiple angry phone calls from residents over the float.
"We got folks that thought they shouldn't have an entry in our parade because it is a Christmas parade, and they did not personally agree with that," said chamber president Pam Powers-Smith. She said she informed the callers that the chamber does not discriminate against any group.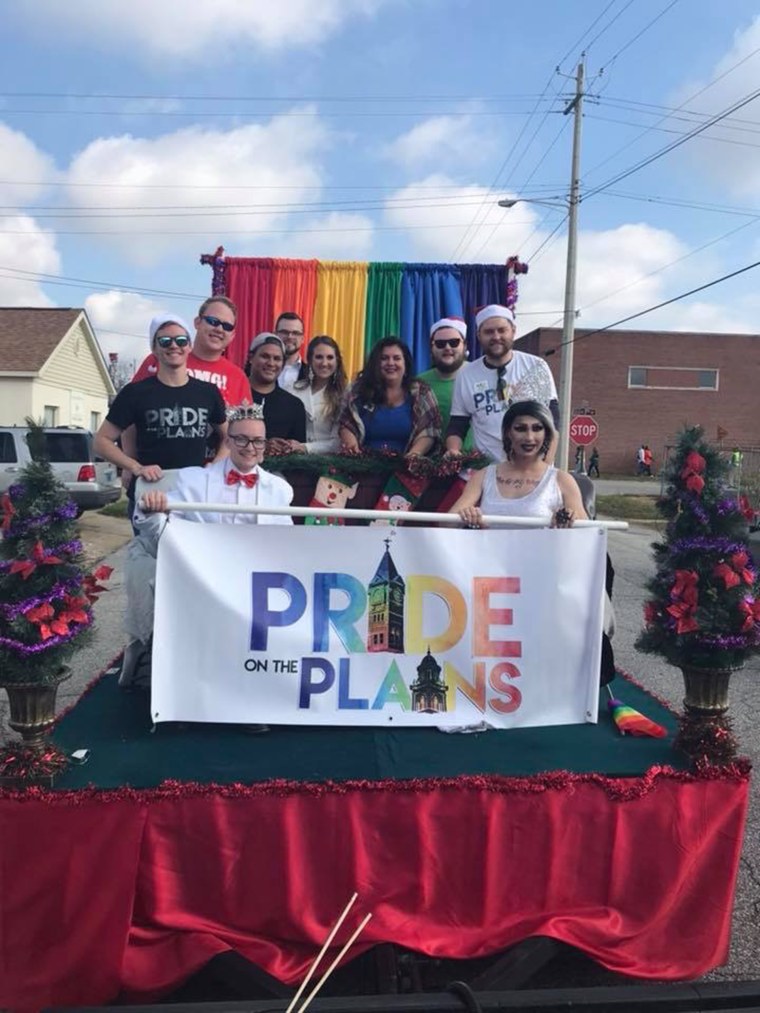 The float was one of 80 that appeared in the parade on Saturday, December 2. It featured a drag king and queen seated in front of a fireplace. Behind them, a man and a woman sang Christmas carols. They were framed by two Christmas trees and a rainbow backdrop.
For Michael Thomason, who lives and grew up in the neighboring town of Auburn, it was a welcoming sight. The 60-year-old said he never imagined he would march in a Christmas parade as an out gay man.
"I actually teared up two or three times, because never in my life did I think I could actually walk in a parade and wave a rainbow flag and everybody knowing that I'm gay," Thomason told NBC News. "It was just a wonderful feeling, and I really was actually shocked at how it hit me.
Thomason had his reservations about marching that day. He was aware some locals had been posting negative comments on social media. But the crowd, to his surprise, was mostly cheerful.
"The only person that stood out to me was this one woman," he recalled. "Once she saw us and realized we were a gay organization, she turned her back to us."
As Thomason walked along the parade route in a leopard-print Santa Claus hat, he greeted parade-goers with "Merry Christmas." Most people, he recalled, said it right back. He noticed a man and a woman standing on a balcony. As the float passed underneath, the couple unraveled a rainbow flag. At that moment, Thomason recalled, the crowd erupted in applause.
"Just a recognition and acceptance from the people is what really what made me feel really good," he said.
'I've never really been scared until recently'
Thomason said Auburn has become more accepting of its LGBTQ neighbors over the years. When he was a teenager, people knew he was gay, he said, but he couldn't talk about it. He said he had to drive hours away to Montgomery or Atlanta to find a gay bar. Now, Auburn has a gay bar of its own.
Despite some progress, Thomason has his concerns.
"I've never really been scared until recently," he said, citing the 2016 election of President Donald Trump and Moore's race for the Senate.
"I thought we were on a really good trajectory, but every now and then it makes me take pause and stand back and think, 'Well, have we really accomplished anything?'" Thomason added.
He said he is worried about a Supreme Court case — Masterpiece Cakeshop v. Colorado Civil Rights Commission — that will decide whether business owners can choose to serve LGBTQ patrons. It reminded him of when racial segregation was enforced in the South.
"They want to let businesses put signs that say 'We don't serve gays.' That carries you back to the '60s where [businesses had signs that said] 'We don't serve colored folks,' you know? It's just mind-boggling seeing it, but I never thought we'd get this way again."
'A symbol for change'
Henry started getting nervous in the days leading up to the parade. She said "there were some really hateful things on social media." Some residents, she said, were acting like the pride float was more than just a float. "It seemed to be a symbol for change that some Alabamans weren't ready to accept," she said.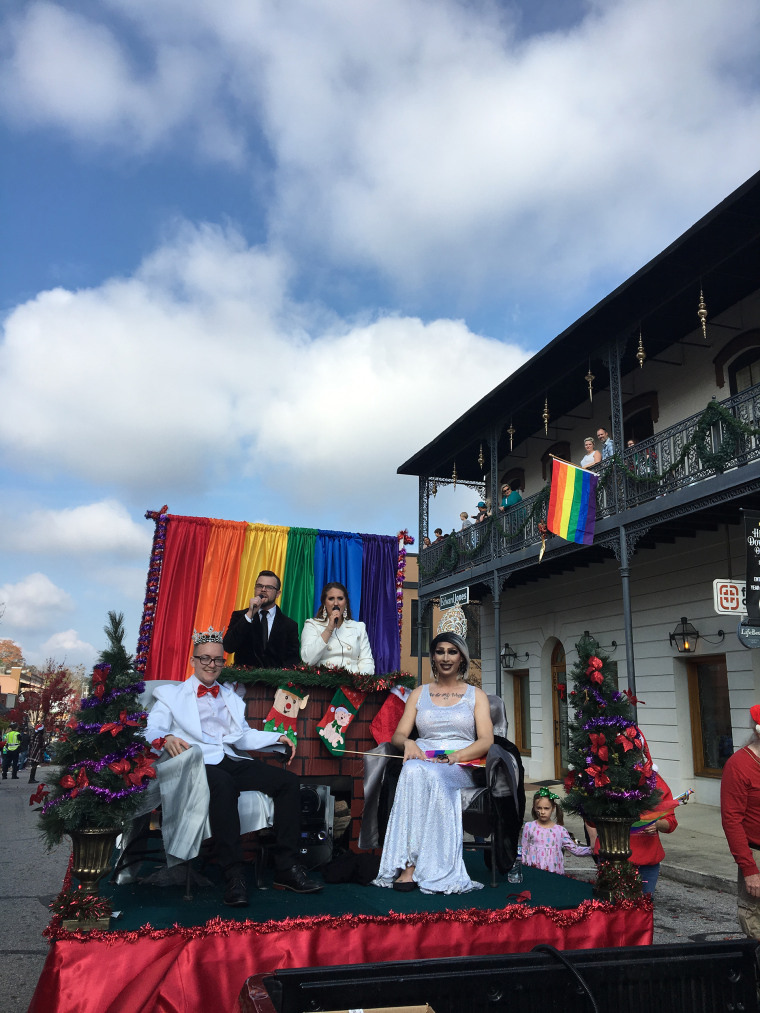 "When I got in that truck, I did have some trepidation," Henry recalled. But as the rainbow-emblemed float wound its way throughout the old railroad town, spectators greeted it with applause and cheers of "Merry Christmas," she said. Then, as the procession made its way over a hill, she spotted a couple unraveling a rainbow flag from the balcony of a two-story wrought iron building. It was the same flag Thomason had seen.
"It felt like everything!" Henry said. "Oh, it was like the moment. Everybody in the community that came to the parade was there spreading love and everyone cheered and no one boo'd, and it was beautiful."
At one point, she said, the parade passed a local court house, where Lee County Probate Judge Bill English refused to issue marriage licenses to gay couples in 2015. He was following orders from Moore, the then-Alabama Supreme Court Justice.
"When we went past his office, it felt pretty good," Henry said.
'The real challenge is cultural'
Alabama is one of 28 states that does not have laws prohibiting discrimination on the basis of sexual orientation, and is one of 32 states that does not protect against discrimination on the basis of gender identity or presentation. White evangelical Christians — many of whom oppose same-sex marriage — are a dominant political force in the red state.
The cities of Opelika and Auburn, located in Lee County, revolve around the University of Auburn, where Apple CEO and openly gay businessman Tim Cook graduated in 1982. Henry said the area is a stepping stone toward LGBTQ equality in Alabama.
"We're more progressive than the rest of the state," she explained.
Despite its progressiveness, Auburn scores four points out of 100 on the Human Rights Campaign Municipal Equality Index. The index measures municipalities on "their non-discrimination laws, the municipality as an employer, municipal services, law enforcement and the city leadership's public position on equality."
But the town is making strides, according to Henry. City officials, including the mayors of both Opelika and Auburn, she said, are working with Pride on the Plains. The real challenge isn't political, Henry insisted: It's cultural.
"The more literally out physically we are in participating in community events, people are going to realize, 'Wow, this is your music teacher, this is your banker, this is just your friend, your daughter,' and hopefully we can just change hearts and minds."
Henry said the LGBTQ community also faces "a lot of religious ideology," which she said plays a "huge part in politics in the South." She said she will vote for Moore's opponent, Doug Jones, on Tuesday.
In a statement on his campaign website, Jones said he "will work for the betterment of all of the people of Alabama without regard for partisan politics." The site mentions civil rights as one of Jones' priorities, though it does not specify LGBTQ rights. But in a YouTube video, the Democrat can be heard speaking against the Trump Administration's controversial ban on transgender soldiers in the military.
Henry said she isn't sure if Jones will be a vanguard on LGBTQ rights, but she thinks he will be "100 percent" better than Moore on the issue.
"I don't think he's going to take us backwards," Henry said. "Roy Moore will take our country backwards if he can."
Moore has, after all, insisted "homosexual conduct should be illegal" on more than one occasion — and as recently as 2015.
The Log Cabin Republicans, a conservative group that advocates for LGBTQ rights, released an advertisement on December 1 urging Christians not to vote for the Republican.
"This election is about more than 'LGBT issues' — this is about a man who, even prior to the allegations of sexual assault, waged and will continue to wage an all-out war on the humanity of LGBT Americans," Log Cabin Republican president Gregory T. Angelo said in an email to NBC News. "Roy Moore has made a career of it in Alabama, and if he is elected he will take his bigotry national."
'It just gives me hope for the future'
Drew Garbe, a 22-year-old transgender man who participated in the parade, grew up in Opelika. He said Alabama has been slow to embrace progress.
"There are a lot of things that are different from 30 years ago," he said, "but the one thing that isn't different is how LGBT people get treated."
Garbe, who starred as the float's drag king, said he had concerns after seeing negative comments on social media.
"But once we got there and we got rolling, and people started clapping for us and standing up cheering for us, I mean, I almost cried, and I don't cry," he said. "People stood up, and they were clapping and yelling for us, and somebody even dropped a gay pride flag from their balcony for us, and the fact that he even took the time to do that is astounding."
Garbe said the float brought visibility to his corner of Alabama. "I'm hoping this brings more inclusivity and people realize they're not so different from us," he said.
A manager at a local movie theater, Garbe came out as transgender his freshman year of college and began his medical transition in 2016. It scared him, he said, because so many people in Opelika know him. It's not uncommon to run into old acquaintances at the gas station or the grocery store, he said.
"People have been pretty accepting of the fact that I'm trans," he said. "A lot of people actually, they ask me a lot of questions, which I don't mind at all."
Garbe said he will cast his vote for Jones on Tuesday. He is optimistic LGBTQ rights will prevail in the state regardless of who wins, he said, recalling the families who showed up to the parade.
Some of the kids, he remembered, were waving rainbow flags.
"The way the kids looked at us and smiled and cheered and everything for us," Garbe said, "it just gives me hope for the future."
NBC News reached out to the campaigns of Jones and Moore, but they could not be reached for comment.