Von Miller is arguably one of the most decorated outside linebackers in the National Football League.
Five-time Pro Bowler. Super Bowl 50 MVP. This Bronco is also, reportedly, the highest paid defensive player in NFL history.
"That's my job, to make sure the other guy has a horrible day," he told Ellen Degeneres last year, following the game where the Broncos defeated the Carolina Panthers, 24-10.
But off the field, Miller is committed to making life easier for the kids with his nonprofit, Von's Vision.
CHECK OUT THE FULL LIST OF THE #NBCBLK28 HERE!
"Von's Vision is my mission to get glasses and frames to low-income children in Denver," he told NBCBLK in a statement. "Proper eye care and eyewear build a foundation that helps children succeed in the classroom and in life – my goal is to eliminate bad vision as a barrier for children to achieve their dreams."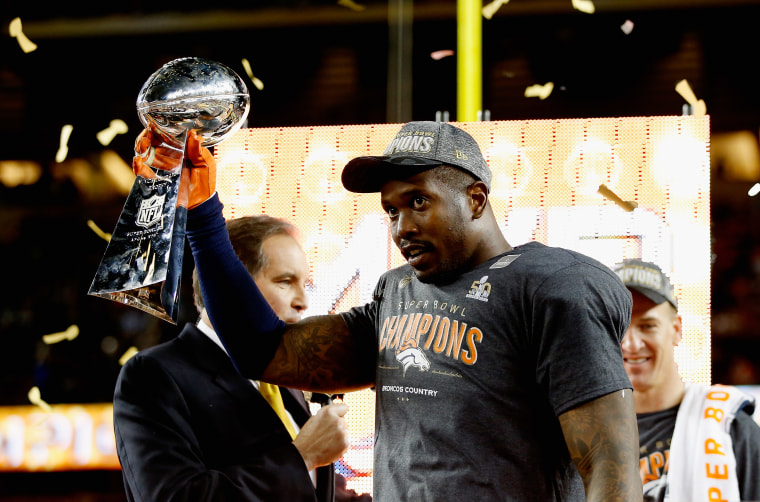 But not only that, Miller, who is 27, wants to eradicate societal stigmas around wearing glasses. No kid, he said, should feel embarrassed about wearing specs.
"For kids, sometimes the barrier to wearing glasses is the social pressure of glasses not being cool – I'm out here trying to change that," he said. "I hope that children look at me and say, 'Von has glasses… He makes glasses look cool.'"
---
DEFINE YOURSELF IN THREE HASHTAGS: #loyal #determined #VonsVision
MOST PEOPLE PROBABLY DON'T KNOW THAT his mother hasn't missed a single sporting event in his entire life, he told Ellen Degeneres last year. After their Super Bowl win, instead of going out and partying with the team, he celebrated his mother for her support and commitment to him and his work.
---