U.S. stocks dropped sharply on Thursday as investors weighed sobering economic forecasts and new data, along with indications that the COVID-19 pandemic is far from subsiding.
Several sectors including hospitality and leisure suffered steep declines. As more than 20 states report a climb in coronavirus cases, there are new worries that consumers will be reluctant to return to restaurants and take trips. Those worries were fueled in part by data showing an additional 1.5 million people filing for unemployment for the first time last week hursday by the Department of Labor.
Meanwhile, Dr. Ashish Jha, director of the Harvard Global Health Institute, told TODAY that he expects the country to cross 200,000 deaths in September. "This pandemic is going to be with us until next spring or summer when we have a vaccine. This is not faded," he said.
Here's what you need to know about the coronavirus, plus a timeline of the most critical moments:
Download the NBC News app for latest updates on the coronavirus outbreak.
This live coverage has now ended. Continue reading June 12 coronavirus news here.
Georgia to remove most restrictions on restaurants and movie theaters
Gov. Brian Kemp on Thursday signed an executive order that will remove many restrictions in Georgia next week on June 16, including allowing restaurants and movie theaters to no longer enforce maximums on the number of people who can sit together.
Also beginning on June 16:
Bars can allow up to 50 people
Residents 65 and older no longer have to shelter in place
Gatherings may now include up to 50 people
Professional, amateur, collegiate and high school sports can resume, but must follow health rules set by their respective leagues and organizations
Walk-ins for barber shops, salons, tattoo parlors, massage parlor and tanning salons may resume
The order comes on the same day Georgia reported 993 new cases of coronavirus and 46 deaths.
Dow plunges nearly 7 percent on concerns of coronavirus resurgence
U.S. stocks dropped sharply on Thursday as investors weighed sobering economic forecasts and new data, along with indications that the COVID-19 pandemic is far from subsiding.
The Dow Jones Industrial Average closed down 1,861 points, or 6.9 percent, and the S&P 500 was down 5.9 percent, the biggest fall since March 16. Just a day before, the Nasdaq Composite hit an intraday high.
On Thursday, several sectors including hospitality and leisure suffered steep declines. As more than 20 states report a climb in coronavirus cases, there are new worries that consumers will be reluctant to return to restaurants and take trips.
Washington requires students and staff to wear masks when schools return in the fall
Washington's state superintendent released guidance Thursday requiring students, staff and vendors to wear masks when schools reopen in the fall. 
K-12 schools were advised not to allow students and school personnel on-site who showed coronavirus symptoms or have been in close contact with someone who has a confirmed or suspected case of COVID-19. Students and staff were also asked to maintain six feet of separation within large groups as much as possible, and should be checked at entry every day, the guidance said. 
"This guidance is grounded in my belief that the most equitable opportunity for educational success relies upon the comprehensive supports for students provided in our schools with our professionals and the systems of supports we have built," superintendent Chris Reykdal wrote to school leaders across the state. "It is my expectation that schools will open this fall for in-person instruction."
Polio vaccine could give temporary protection against COVID-19, scientists hope
As the world waits for a coronavirus vaccine, some scientists are proposing that existing vaccines could give the body's immune system a much-needed temporary boost to stave off infection.
It's still unclear whether such an approach would work, and some experts are skeptical. Others — including researchers in Israel, the Netherlands and Australia — are already investigating whether a tuberculosis vaccine could help jump-start the immune system and make COVID-19 less deadly, though the World Health Organization strongly advises against using that vaccine until it's proven effective against the coronavirus.
Coronavirus closed restaurants. Their workers need a 'Right to Return' when they reopen.
I am one of the few surviving workers of Windows on the World, the famous restaurant that sat atop the North Tower of the World Trade Center. I worked there as a cook for three years until Sept. 11, 2001 — the fateful day that forever changed my life and the nation. Every single day since then, I think of my 76 brothers and sisters who perished. I am fortunate to be alive, but I am forever scarred by the horrors of losing friends and co-workers and the devastation of abruptly being robbed of the job that fed my family.
That's why I understand how difficult it is for millions of restaurant workers who have lost their livelihood because of the coronavirus. For me, hope began to grow from the despair of 9/11 when I got a new job, and with it the assurance that my family and I would be all right, thanks to the connections of my fellow workers in the restaurant industry. Yet the same could not be said for many of my Windows on the World colleagues who struggled to find work in the restaurant industry for months, often with little help from our old employer.
Restaurant workers across the country who lost their jobs through no fault of their own are now struggling to make ends meet and have no assurance that they will be able to find work as states ease social distancing restrictions. These workers deserve to get their jobs back if and when their restaurants reopen. That is why I call on restaurant owners and operators to adopt a "Right to Return" policy: Restaurants should guarantee their former employees will be the first to be rehired if their jobs once again become available.
Alarming rise in virus cases as states roll back lockdowns
States are rolling back lockdowns, but the coronavirus isn't done with the U.S.
Cases are rising in nearly half the states, according to an Associated Press analysis, a worrying trend that could intensify as people return to work and venture out during the summer.
Nashville delays next reopening phase, citing uptick in new coronavirus cases
Nashville is delaying its next reopening phase as the city saw a slight increase in new COVID-19 cases over the past two weeks, Mayor John Cooper said during a media briefing Thursday.
"As of today, the majority of our public health metrics are satisfactory. But our 14-day new case average remains slightly elevated, prompting us to stay in Phase Two of our Roadmap for Reopening Nashville," Cooper said.
Tennessee's capital city will focus on offering more testing, contact tracing and education efforts, specifically in southeast Nashville, where "nearly 50 percent" of all new cases were detected in the past month, said Dr. Alex Jahangir, chair of the Metro Coronavirus Task Force.
More than 6,600 cases of COVID-19 have been reported in Nashville and Davidson County, including 56 new cases in the past 24 hours.
More than 2,000 COVID-19 hospitalizations in Texas, but a decrease from record total
The number of COVID-19 hospitalizations in Texas decreased Thursday after setting a record on three consecutive days.
On Thursday morning, 2,008 patients with COVID-19 were hospitalized in the state, down from 2,153 on Wednesday.
Even with the decline, Thursday's hospitalizations represents a 32 percent increase from May 25, when 1,511 were hospitalized with the coronavirus.
Texas is one of at least nine states facing a recent spike in COVID-19 hospitalizations.
Coronavirus means an uncertain future for businesses and cities that depend on yearly black events
For two decades, South Florida entrepreneur Keith Jones has made a living entertaining vacationers on land and sea, through his Grown & Sexy cruises and concerts in the sun.
These days, the only land Jones sees is the patch outside his home or the asphalt between home and Home Depot. Like backers of some of the most popular events on this year's social calendar, Jones has seen his efforts to host hundreds thwarted by the coronavirus pandemic and its attendant mandates for lockdowns and social distancing.
"Everything's just thrown up in the air," said Jones, known as "Super Lover KJ" to his former Florida radio fans. "It's just a crazy period right now. It's totally devastated my business. I mean, I'm making no money. I mean, not a dime."
A check of some of the most popular draws with African Americans found nearly every organizer scrambling to regroup.
New unemployment claims rise by 1.5 million as stocks drop sharply on new coronavirus case concerns
More than 1.5 million people filed for unemployment for the first time last week, according to data released Thursday by the Department of Labor.
The jobless claims add to a devastating run of economic data that has shown the number of Americans continuing to apply for unemployment benefits jump to 20 million in the last four months, as coronavirus shutdowns have pushed businesses to furlough or lay off workers.
But the pace of jobless claims continues to decline, with Thursday's data adding to the trend. The claims came slightly below economists' expectations of 1.6 million first-time jobless claims and is a third of the peak of claims from early April.
Coronavirus deaths could reach 200,000 by early fall, Harvard doctor warns
With more states easing restrictions after the coronavirus lockdown, the U.S. recently surpassed 2 million cases of COVID-19, prompting public health experts to worry about a second wave of the virus.
Dr. Ashish Jha, director of the Harvard Global Health Institute, told TODAY on Thursday that he fears the worst is far from over -- especially when considering the rise in hospitalizations in at least nine states.
"That's coming from just more people getting sick and needing hospital care," he said. "We've been so behind in our testing approach for months that we were missing most of the cases out there ... As testing's gotten better, we've identified more cases. Testing is a part of the story but certainly doesn't explain the whole thing."
Because the current total of U.S. coronavirus deaths is around 113,000, that means "sometime in September, we're going to cross 200,000, and we still won't be done," Jha said. "This pandemic is going to be with us until next spring or summer when we have a vaccine. This is not faded."
After COVID-19 destroyed her lungs, young Chicago woman receives double transplant
Surgeons in Chicago have given a new set of lungs to a young woman with severe lung damage from the coronavirus.
Only a few other COVID-19 survivors, in China and Europe, have received lung transplants.
Pentagon's top biomedical lab picks three COVID-19 vaccine candidates for more research
The Defense Department's largest biomedical lab, the Walter Reed Army Institute of Research (WRAIR) in Maryland, has selected a lead COVID-19 vaccine candidate for additional research as well as two backup vaccine candidates.
The leading candidate is called SpFN, for Spike Ferritin Nanoparticle, and will enter first-in-human testing later this year. 
The candidates were narrowed down from more than two dozen prototypes in order to determine the candidates that elicited the most promising antibody response in preclinical studies.  
 "As soon as the virus sequence was published in January 2020, WRAIR began conceptualizing a vaccine strategy," said Dr. Kayvon Modjarrad, director of the Emerging Infectious Diseases Branch (EIDB) of WRAIR. "We have leveraged the Institute's expertise and infrastructure to be able to compress what would, under normal circumstances, be two years of discovery and design work into several months."
Moderna to start final testing stage of coronavirus vaccine in July
Moderna on Thursday confirmed it plans to start a trial of 30,000 volunteers of its much-anticipated coronavirus vaccine in July as the company enters the final stage of testing.
The Cambridge, Massachusetts-based biotech said the primary goal of the study would be to prevent symptomatic COVID-19, the disease caused by the novel coronavirus. The key secondary goal would be prevention of severe disease, as defined by keeping people out of the hospital.
Moderna said it has selected the 100-microgram dose of the vaccine for the late-stage study. At that dose level, the company is on track to deliver about 500 million doses per year, and possibly up to 1 billion doses per year, starting in 2021 from the company's internal U.S. manufacturing site and strategic collaboration with Swiss drugmaker Lonza.
French winemakers to turn unsold wine into hand sanitizer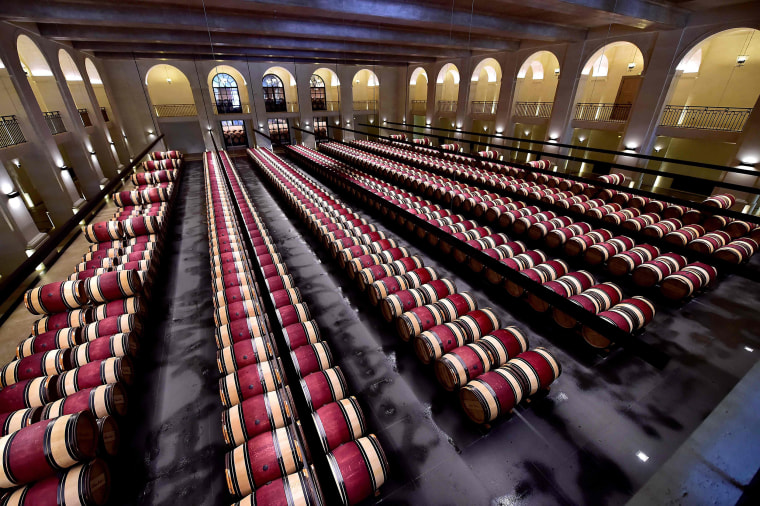 French winegrowers will distill millions of gallons of unsold wine to make hand sanitizer after the government agreed to fund the effort, the country's farming agency said.
The surplus of wine is due to a drop in consumption during the coronavirus lockdown, as well as a lack of exports to the U.S. in part because of wine tariffs.
"Since the start of [lockdown], it is estimated that sales of alcohol have decreased by 40 to 50 percent," the National Confederation of Wine and Brandy Producers said last week. "The situation that will continue to persist with the continued closure of the bars and restaurants."
French winegrowers have lobbied the French government and European Commission since April for financial assistance to de-stock and find a use for wine that would not be consumed. Just over 30 approved distillers in France will be able to collect wine and transform it into hand sanitizing gel.
The exceptional measure, authorized by Brussels and financed by European public funds, extends until October 15. Winegrowers have until June 19 to register.
Moscow releases revised, and much higher, COVID-19 death toll for May
More than 5,000 Moscow residents died from the coronavirus in May, despite official nation-wide statistics showing just over 6,000 have died since the start of the outbreak in mid-March, according to new information released by Moscow officials.
The figures, based on an analysis of excess fatalities, came out just days after Moscow Mayor Sergei Sobyanin unexpectedly ended a strict city-wide lockdown early, a move that some opposition figures have suggested was motivated by political pressure from President Vladimir Putin. 
Russia is set to vote on a series on constitutional amendments on July 1 that would see presidential term limits reset, potentially allowing Putin to remain in office until 2036. Moscow's lockdown, as it stood, could have complicated voting efforts.
Previously, Moscow's official tally for May, based on health department figures, was just over 2,700 coronavirus deaths. The revised figures show that more than 5,700 more residents died in May 2020 than during the same time period in the three previous years, and over 90 percent, equal to 5,260 people, had COVID-19, according to the statement.
The statement said the revision brings the city's numbers in line with international standards. The updated numbers have created a sharp discrepancy between Moscow's numbers and official Russian government numbers. On Thursday, the Moscow Health Department explained the new figures have not yet been sent to federal authorities.
COVID-19 deaths in Latin America top 70,000 as Sao Paulo eases lockdown
Latin America's coronavirus crisis reached a grim new milestone on Wednesday with total deaths exceeding 70,000, according to a Reuters count.
Brazil, with the largest economy in the region, remains Latin America's most affected country as total fatalities are just shy of 40,000, the world's third highest death toll after the United States and Britain. The country's most populous state, Sao Paulo, reported a record number of COVID-19 deaths for the second day running on Wednesday, even as its homonymous metropolis allowed shops to resume business and prepared to reopen its malls.
Governments across the globe acknowledge that the real number of infected people is significantly higher than the official counts.
Meanwhile, Mexico hit a daily record for confirmed infections, bringing its overall official count to 129,184 infections and 15,357 deaths. The World Health Organization has determined that Latin America is the new hotspot for the pandemic and the outbreak has also spread rapidly in Peru, Chile and Columbia.
South Korea's successful tracing campaign tested as coronavirus spreads amid eased social distancing
South Korea reported 45 new COVID-19 cases on Thursday, the vast majority of which were recorded in metropolitan areas like the capital, Seoul. 
The country has reported between 30 and 50 new cases per day since easing lockdown measures in late May, after a highly-praised trace and test campaign started at the beginning of the outbreak. The recent emergence of cases come from religious meetings, home-visit sales, nightclub-goers and ping-pong game rooms — particularly among people older than 60.
The government said on Thursday that they will respond to any quarantine violations with strict measures, although they expressed confidence in the number of available hospital beds. However, Korea Centers for Disease Control and Prevention Director Jung Eun-kyeong said on Thursday that health workers are struggling to track transmissions that are spreading quickly due to less social distancing, according to the Associated Press.
Australia's most popular sport to restart, but the stadium will be empty
Australia's most popular sport, Australian football, will resume play in an empty stadium on Thursday after the season was put on hold in mid-March amid the coronavirus pandemic. 
The season will restart with a game between two of the league's most popular teams facing off in Melbourne.
Fans however, will be permitted at other games held in specific states where COVID-19 has been eradicated. A crowd of 2,000 is expected to attend a game in Adelaide, on Saturday night.
U.K. lockdown a week earlier could have halved COVID-19 death toll, scientist says
Britain's death toll from COVID-19 could have been halved if lockdown had been introduced a week earlier, a former member of the U.K. government's scientific advisory group said on Wednesday.
Britain has an official death toll from confirmed COVID-19 cases of over 40,000, rising to over 50,000 cases when deaths from suspected cases are included.
Prime Minister Boris Johnson imposed the lockdown on March 23. Epidemiologist Neil Ferguson told lawmakers that Britain had taken the right measures but too late. "The epidemic was doubling every three to four days before lockdown interventions were introduced. So had we introduced lockdown measures a week earlier, we would have then reduced the final death toll by at least a half," said Ferguson, a professor at Imperial College in London.
Grocery prices spike as coronavirus puts pressure on supply chain
Hawaii extends quarantine for out-of-state travelers to July 31
Hawaii Gov. David Ige on Wednesday extended the state's 14-day quarantine for travelers arriving from out of state through the end of July.
"We continue to look for opportunities to invite guests from out of state," he said, but cautioned that some mainland states were seeing new increases in coronavirus cases.
Ige announced that the self-quarantine mandate would be lifted for interisland travel beginning Tuesday. "It really is an opportunity to reunite families," he said.
The state attorney general Wednesday announced that 48-year-old Patricia L. Pian of Honolulu was arrested and is accused of failing to self-quarantine when she returned from a trip to San Diego.
Multiple tourists have been arrested after failing to self-quarantine, but Pian is the first returning state resident to be accused of violating the emergency proclamation.
The iconic Iowa State Fair canceled
The Iowa State Fair, an annual slice of Americana summer since before the Civil War, was canceled Wednesday because of ongoing concerns about the coronavirus pandemic, organizers announced.
"We are heartbroken we can't be together this August," event officials in Des Moines said in a statement, promising to be back Aug. 12-22 in 2021. "We tirelessly analyzed all the unique traditions at the Iowa State Fair and believe it will be safer given the current COVID-19 situation. That will give us enough time to properly get ready for the Iowa State Fair you know and love." 
The first Iowa State Fair was held in 1854 and has been skipped only a handful of times before - in 1898 to make room for the World's Fair in Omaha and in 1942-45 because of World War II.
Disney unveils plans to reopen California parks and resorts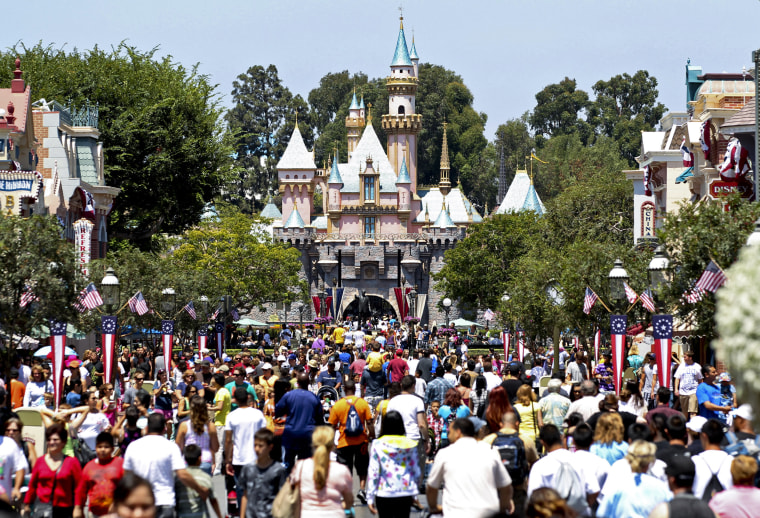 Nearly three months after closing, Disney has set its sights on a phased reopening for its California parks and resorts starting early next month, the company announced Wednesday.
Downtown Disney District will begin reopening on July 9, Disneyland and Disney California Adventure will reopen by July 17 and Disney's Grand Californian Hotel & Spa and Disney's Paradise Pier Hotel plan to reopen on July 23. All of these dates are subject to state and local government approval.
Parades, nighttime spectaculars and character meet-and-greets will return at a later date, the company said. 
Theme park capacity will be significantly limited to comply with government requirements as the coronavirus pandemic continues to spread. Visitors will be required to make a reservation in advance for park entry.