Connecticut's new requirement that all kids in daycare get a flu shot every year appears to have kept many of those children out of the hospital during later flu seasons, researchers reported Thursday.
Vaccination rates among preschoolers shot up from just under 68 percent in 2009 to 84 percent during last year's flu season, health experts reported. And hospitalization rates for kids 4 and under fell by 12 percent, even as rates rose in many other places.
"Connecticut had the biggest change in the right direction," said Dr. James Hadler of the Yale School of Public Health.
The Centers for Disease Control and Prevention recommends that everybody except for the smallest babies get a flu vaccine every year, but fewer than half of Americans do. Only Connecticut, New Jersey and New York City require kids to get immunized for flu.
Hadler, a former state health official, says it makes sense to require it. "When you put a lot of highly susceptible children together in the same place, diseases spread like crazy," Hadler said in a telephone interview. Many studies have shown that these small children carry outbreaks of disease into the wider community.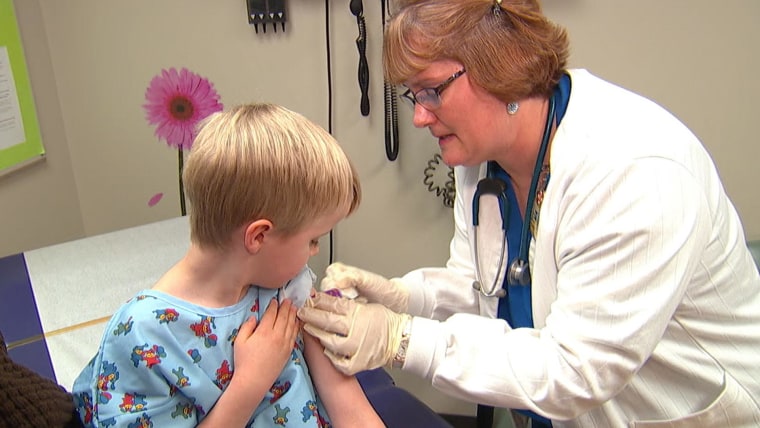 Flu seasons vary from year to year in their severity, so it's difficult to calculate the effect of vaccination from year to year. Hadler's team looked at how many young children aged 0-4 were hospitalized for any reason in the 2007-2008 flu season, before the new vaccine requirement, and then last year, after it was fully in place. They compared the change in hospitalization rates to the changes in other states and in other age groups.
In 2012-2013, hospitalization rates increased for other age groups and in other states.
Flu-related hospitalization rates fell 12 percent among kids aged up to four years, Hadler's team reported in the CDC's weekly report on disease and death.
And so far this year, 61 kids have died from flu across the country, but none in Connecticut. None died of flu in the 2012-13 season, either.
"One of the reasons for putting this out is that at the moment there aren't many states that have mandated influenza vaccination for children attending licensed daycare," Hadler said.