BLOOMFIELD HILLS, Mich. — Republican presidential candidate Vivek Ramaswamy on Monday missed his third in-person campaign event in a month due to issues relating to his private plane. 
The 37-year-old entrepreneur was set to host an in-person town hall event in Bloomfield Hills but was forced to switch to a virtual event after his private plane had to make an emergency landing due to "an unexpected cabin depressurization issue," according to his campaign. The aircraft landed safely and no injuries were reported. 
Ramaswamy's campaign decided to conduct the event via Zoom less than an hour before the event was set to start. About 60 Michiganders were in attendance at the Oakland County GOP headquarters to see Ramaswamy on a TV screen as he beamed in from his home base of Columbus, Ohio.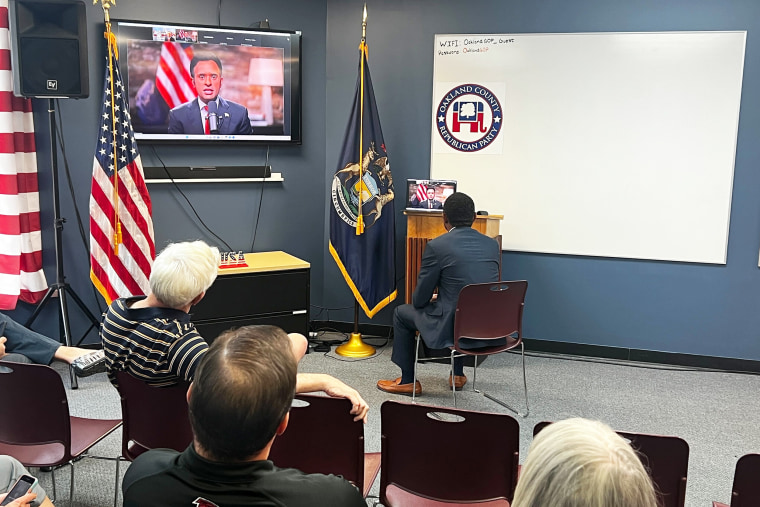 More came but left soon after realizing Ramaswamy was no longer attending in person.
"We're going to be back in a week as well. But I hope to see many of you when we visit but I did not want to cancel this occasion," Ramaswamy said.
"It was a little bit scary for a hot second there," Ramaswamy said about the incident with his private plane. He was on board with his wife and two sons. 
A woman in the crowd who told attendees this was the second time she has tried to see Ramaswamy in person and was upset that both attempts had been derailed. "He's in Ohio! He could have driven," she said in the room.
Tim Stockdale, from Brighton, Michigan, drove over an hour for the event, saying "I just bought his book, and I was hoping to get an autograph." The campaign will be sending attendees copies of one of Ramaswamy's books as a gesture of apology.
This is the third event the Ramaswamy campaign has had to cancel in less than a month due to issues with his private jet. 
On July 21, Ramaswamy dropped out of an event with Moms For Liberty in Cedar Rapids, Iowa, due to problems with the jet. And an event scheduled for the next day in Nevada was called off due to concerns about the aircraft covering that distance.
"In the last several years I've flown commercial plenty of times, but out of necessity, if [I] need to get from point A to point B and the rate at which we're going we actually are — if I have to get to point A to point B," Ramaswamy said when asked about his air travel last month. 
"Flying private is the fastest way, Ramaswamy said. "We're looking at efficiency to do this."