Three of four men received jail time and a national Asian-American fraternity was barred from doing business in Pennsylvania Monday in connection with the December 2013 hazing death of a college student in the Pocono Mountains.
Kenny Kwan, Charles Lai, Raymond Lam and Sheldon Wong — all fraternity brothers of Pi Delta Psi — were sentenced after pleading guilty in May to manslaughter as accomplices and hindering apprehension in the death of Chun Hsien "Michael" Deng, an 18-year-old at Baruch College in Manhattan who was pledging to the fraternity when he died.
Blindfolded and wearing a backpack, Deng was forced to walk in the backyard in the early morning hours through a line of fraternity members who allegedly pushed, shoved and tackled him in an attempt to bring him down, court records state.
Judge Margherita Patti-Worthington, of the Court of Common Pleas of Monroe County, sentenced Wong and Lam each to 10 to 24 months incarceration; Kwan to a term of 12 to 24 months; and Lai to time served, according to attorneys for several of the defendants. Each sentence will be followed by seven years probation, according to Kimberly A. Metzger, a prosecutor with the Monroe County Office of the District Attorney.
Wong's attorney, Steven Brill, and Lam's lawyer, Todd Greenberg, said their clients were taken into custody following the hearing and began serving their sentences in county jail immediately.
Both Brill and Greenberg said there were no plans to appeal the conviction or sentencing.
"There were no winners today or in this case," Brill said. "Michael Deng has died. Sheldon Wong's life is shattered and uncertain. But this sentence is reasonable enough that it allows Sheldon to get out and continue on the productive road that he was on before this night ever happened."
Greenberg said the sentencing process was extremely fair.
"The judge took into consideration all of the mitigating factors in this case," he said. "There's no question that this is a tragic incident with regard to Michael Deng, but equally tragic to Mr. Lam and his co-defendants in the sense that they were young men on the right track and nobody intended this to happen."
Jim Swetz, Lai's attorney, said in a phone interview that his client was eligible for immediate parole and was released. He said he was satisfied with the sentence, adding that Lai would not be available for interviews because of ongoing civil litigation.
Robert Saurman, Kwan's attorney, said Tuesday they were satisfied with the verdict.
"The judge was fair," he said. "She applied justice to it, weighed the balance, and came out with a very just decision, which punishes the defendants but also recognizes that they didn't act with any malice, that they made mistakes, horrible mistakes, but no one intended any harm."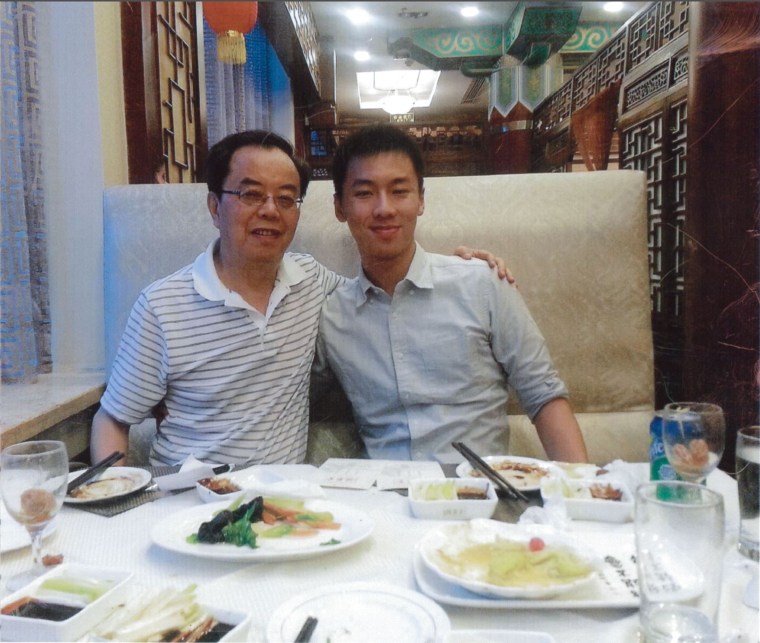 Earlier Monday, Patti-Worthington sentenced Pi Delta Psi to 10 years probation and imposed a $112,500 fine, the maximum allowable by law, according to Metzger.
The fraternity, which was convicted in late November on criminal charges, including aggravated assault and involuntary manslaughter, is required to pay off the fine and associated cost of prosecution within five years, Metzger said.
Pi Delta Psi must also give written notice 60 days from Monday of its conviction and sentence to all colleges and universities across the country where it currently has or has ever had a chapter, associate chapter or colony, or where they plan to host or establish them, according to Metzger.
Metzger said she had asked for 20 years probation, but was satisfied with the sentence.
"I think the judge really took her time with contemplating what was the most appropriate sentence, and so we have no objection to what she's done here," Metzger said.
Wes Niemoczynski, Pi Delta Psi's attorney, said the sentence was within the judge's discretion but that the fraternity is going to appeal the verdict.
"What happened at trial, I think, was a gross mischaracterization of the fraternity and its policies and its rituals and all the rest of that," he said.
Deng's mother submitted a written statement to the court ahead of the sentencing, according to Metzger; his family was not present in court Monday.
Deng was pledging to Pi Delta Psi when he died during a December 2013 retreat at a rented house in the Poconos, around 96 miles west of New York City.
The hazing was part of a violent ritual known as the "glass ceiling."
Deng fell several times and suffered multiple blows to his body, including his head, according to a forensic pathologist, court documents state. A grand jury presentment said he was brought into the living room, but wasn't driven to a hospital for at least an hour.
An autopsy showed Deng died of complications of traumatic brain injury, and the delay in treatment, the forensic pathologist said, significantly contributed to his death, according to court documents.
Last January, fraternity member Ka-Wing Yuen was the first of 37 individual defendants sentenced in the case. Yuen pleaded guilty to charges of conspiracy to hinder apprehension by evidence tampering, a third-degree felony, and conspiracy to commit hazing, a misdemeanor.
He was given five years probation, ordered to complete 100 hours of community service, and pay a $1,000 fine.
Metzger said 30 individual defendants in November entered guilty pleas and were all sentenced to probation, ranging from six to 36 months.
Former national fraternity president Andy Meng, brother of U.S. Rep. Grace Meng (D-N.Y.), was given the harshest punishment of 36 months probation, according to Metzger.
Deng's family has also filed a lawsuit against the fraternity.
Follow NBC Asian America on Facebook, Twitter, Instagram and Tumblr.