Since late last year, visitors to Chapel Hill, North Carolina, were more likely than not instructed to swing by Epilogue Books Chocolate Brews, near the University of North Carolina campus.
The independent bookstore and coffee shop had fast become a requisite spot for those living in the area and its surrounding communities, with the buzz coming from students, professors, residents and tourists who came to peruse its extensive book selection and savor churros and besos, a sweet Mexican bread.
Yet less than six months after it opened, the Latino-owned bookstore is now silent as it faces an unexpected challenge: the coronavirus.
"We started adjusting our plans in early March to accommodate for the new lack of traffic," Jaime Sanchez, who owns Epilogue Books Chocolate Brews with his wife, Miranda, told NBC News. "Students weren't coming back from spring break, so we had originally thought the locals would come out like they did during winter break to take advantage of the lack of downtown traffic, but that obviously didn't happen because of coronavirus, so we started getting ready to adjust and pivot online for when we'd no longer be able to sustain brick and mortar operations."
While their efforts in trying to maintain their small business during the lockdown and likely recession are not necessarily unique, the story of how Epilogue came to be and the cultural void it would leave in the community if it were to close is what makes the situation worth noting.
The Sanchezes closed Epilogue's doors on March 18, a little more than a week before North Carolina Gov. Roy Cooper ordered residents to stay at home unless performing or seeking essential services — a directive that was recently extended through May 8.
'A piece of home' boosts inclusivity, diversity
Neither of the Sanchezes were booksellers by trade before opening Epilogue, though both had worked in retail and, in fact, met each other at a retail job in 2009. Yet the couple decided to open the store after visiting Chapel Hill in 2017 and noticing that The Bookshop, a used bookstore, was closing.
"Jaime's always wanted to open a business and bring a piece of home to it," Miranda, a fiction writer, said of her husband, who emigrated from Tijuana, Mexico, in 2002. "We felt that continuing that tradition of having a bookstore in the area would be a good mesh, not just of who we are as people but how we want to engage with our community. A community that works to sustain an independent bookshop has certain values."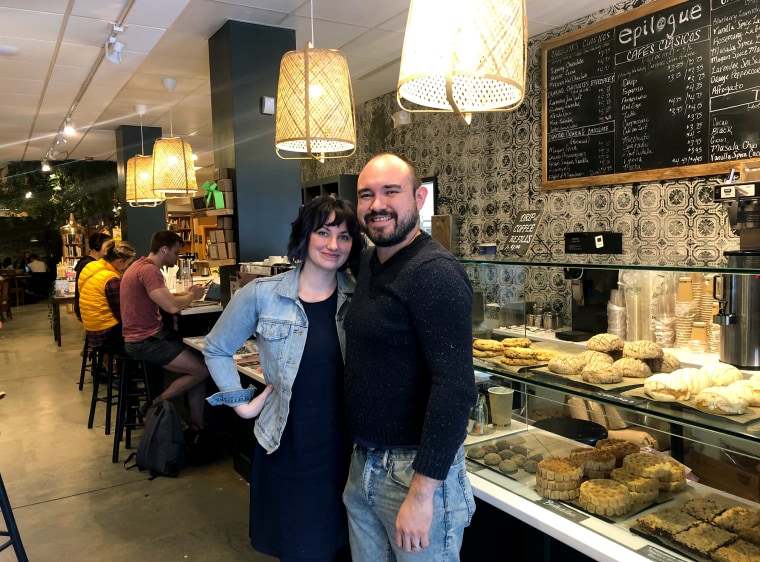 Epilogue is not the only independent bookstore in the Chapel Hill area; there's Flyleaf Books and Letters Bookshop, which is in Durham. But Epilogue stands out in that it pays homage to Jaime's Mexican roots with books, events and even dessert offering things in a region that does not have an overwhelmingly Latino population — and by extension, not many Latino-owned businesses. That, however, had been changing before the pandemic hit.
North Carolina's Latino population has grown by more than 1,000 percent over the last three decades, with nearly 1 in 10 of the state's 10.4 million residents now identifying as such, according to Carolina Demography, which is part of the Carolina Population Center at UNC Chapel Hill.
That 10 percent of the state's population is roughly half the national average for Latinos, and the number of Latino-owned businesses statewide has similarly expanded in recent years, with data from the Survey of Business Owners showing that Hispanic-owned businesses grew 64 percent from 2007 to 2012.
Still, neither Chapel Hill nor North Carolina have traditionally been considered enclaves for Latinos or other people of color. In 2018, protestors pulled down Silent Sam, a monument of a Confederate soldier that had stood on the UNC Chapel Hill campus since 1913, and the debate over what the university should do with the statue remains ongoing.
This context partly informed the Sanchezes' decision to hire more than 20 employees from diverse backgrounds and to institute a "zero tolerance policy" against bias.
"We have it in writing in our handbook and on our wall," Miranda said. "Because we're right across the street from where the statue was, we were cognizant of what could happen and wanted to be able to enforce that, before anything happened. We wanted to make sure that everyone knows they have a place at Epilogue."
Epilogue also arrived as the lack of diversity in the publishing increasingly became a focal point of conversations and actions in the last year, particularly among the Latino community. Following the publication and widespread advertisement of Jeanine Cummins' "American Dirt," Latino literary figures launched an effort called Dignidad Literaria, with the goal of increasing representation in the publishing industry, which is only 6 percent Latino.
"In classes, there's hardly anyone that looks like you. I recently went to a symposium and out of the 100 plus people there, I was the only Latina in the room," Guadalupe Hernandez, a UNC student and former Epilogue employee, said. "That's why Epilogue's atmosphere of inclusivity is exactly what's needed. There's a difference between people who just talk the talk, and people like Jaime and Miranda who do the work for the community."
Epilogue has not only been a haven for Latino communities. In addition to regularly hosting Café Cortado, a Spanish-language literary event, the bookstore has welcomed LGBTQ student organizations, UNC's Black Caucus and others from marginalized backgrounds to host events in the space. The Sanchezes have also been conscious of the books they elevate and have focused on promoting books issued by smaller presses and written by underrepresented authors.
"We want to make sure stories told by women, minorities, LGBTQ+ authors are the ones we amplify," Jaime said. "Other places just go for blockbusters, but that's not what we put out there."
Surviving, adapting and grateful for the support
Jaime and Miranda were well acquainted with the challenges of running a small business, particularly in a college town, where rising rents have driven out nearly every small establishment besides chains. The pair had spent the past few months getting into a rhythm, frequently going to sleep around 2 or 3 a.m. to keep up with their growing business while taking care of their baby.
But no small business guide offered them a blueprint for how to deal with the coronavirus upending their careful plans.
"As owners we feel like we failed because we had to lay off the employees, besides Miranda and myself," Jaime said. "We're still figuring out a way to make sure our employees can maintain health insurance, which is critical especially during this time, but that's been the hardest part, not being able to provide the paychecks we were once able to."
The couple has been able to build up their online presence, though. Now customers can buy books through the store's website and Bookshop, an online retailer that raises money to support local bookstores. They are also working with other local North Carolina retailers to ship "surprise" and "goodie" boxes, which include merchandise like chocolate, coffee and artwork.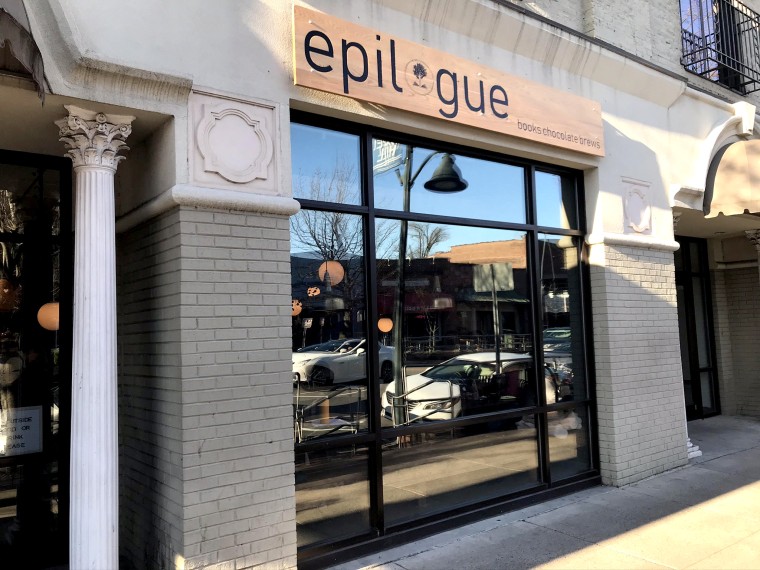 "We're been sending those boxes all the way to California and Washington with little notes," Jaime said. "The love for one another has no borders. Through this experience, we've seen that the sense of community goes beyond all that. ... I've never felt the community let us go at it ourselves, which we're so grateful for."
The Sanchezes have applied for an Economic Injury Disaster Loan and Emergency Advance through the U.S. Small Business Administration and were recently approved for a loan through the SBA's Paycheck Protection Program and expect to receive it soon.
Yet even with the consistent community support and pending loan, Jaime acknowledges that independent bookstores still face stiff challenges.
"Bookstores are working really hard and doing everything we can to make sure we're here for you for many years to come," Jaime said. "Miranda and I are working hard day and night to make sure that happens."
Follow NBC Latino on Facebook, Twitter and Instagram.