Patrick Mahomes started strong, ended fast and overcame two interceptions as the Kansas City Chiefs defeated the New York Jets, 23-20, in a "Sunday Night Football" game that drew new fans interested in Taylor Swift's attendance.
The prime-time game at MetLife Stadium in East Rutherford, New Jersey, drew a host of A-list celebrities, led by Swift, the rumored girlfriend of star Kansas City tight end Travis Kelce.
He had a relatively quiet night by his lofty standards, catching six passes for 60 yards. Kelce did haul in two grabs for 15 yards on the Chiefs drive that ended in Harrison Butker's 26-yard field goal, which broke a 20-20 tie early in the fourth quarter.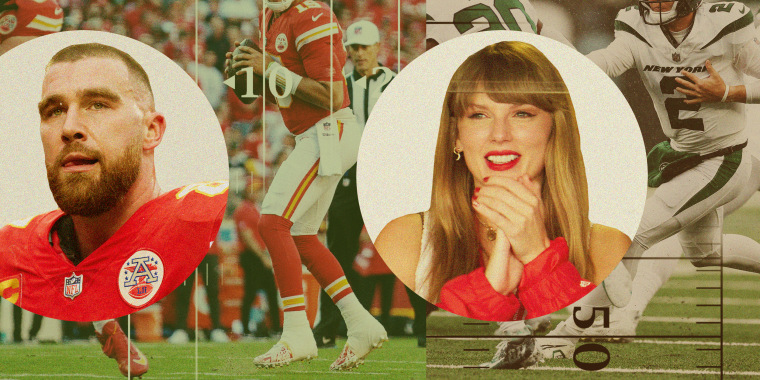 The game appeared to be a blowout with Kansas City racing to a 17-0 lead after one quarter. Mahomes threw a 34-yard TD to Noah Gray, and Isiah Pacheco, an alum of nearby Rutgers University, burst through the Jets' line for a 48-yard scoring run.
But the Jets' defense rattled Mahomes for much of the game, recording a safety and intercepting him twice to tie it, 20-20.
Much-maligned Jets QB Zach Wilson played a solid game, but his fourth-quarter fumble helped Kansas City seal the win. Mahomes scrambled for a 9-yard gain on third-and-8 in the final moments, allowing Kansas City to run out the clock.
The closer-than-expected game most likely drew viewers who don't ordinarily tune in for football, thanks to Swift's attendance.
Dedicated Swift fans immediately identified the denim shorts she wore to the game, and the shorts were soon sold out.
The shorts appear to be the "Logo Lettering Denim Shorts" from the brand AREA and cost $528.
What you missed during the game
With Taylor Swift in the house, the Kansas City Chiefs beat the Jets 23-20 in a surprisingly close contest.
The Chiefs-Jets game was an A-list affair as Swift, Sophie Turner, Blake Lively, Ryan Reynolds and Hugh Jackman were in the same luxury suite. Other boldface names in the crowd included Paul Rudd, Jeremy Strong and Shawn Levy.
This had been one of the circle-your-calendar dates when schedule makers set this QB battle between the Kansas City Chiefs' Patrick Mahomes and the New York Jets' Aaron Rodgers. But the air was let out of the balloon on Sept. 11, the first Monday night of the season, when Rodgers tore an Achilles tendon.
The hype factor got an unexpected boost a week ago when Swift attended the Chiefs' game against the Chicago Bears. Her attendance at Arrowhead Stadium renewed long-running rumors of a budding love story between the pop superstar and Chiefs tight end Travis Kelce.