At least 75 local law enforcement officers are being placed on leave in Pittsburgh after firing their weapons in an hourslong standoff with a man who shot at sheriff's deputies when they went to serve an eviction notice.
Deputies had gone to serve the notice in the city's Garfield neighborhood when the man "turned violent and began shooting," the Allegheny County Sheriff's Office said Wednesday. The suspect, William Hardison Sr., was found dead inside the residence after gunfire was exchanged intermittently for roughly 6½ hours.
Mike Manko, a spokesman for the sheriff's office, confirmed in an email that 16 deputies were placed on administrative leave after the incident. They all fired their weapons, according to NBC affiliate WPXI of Pittsburgh.
"We were aware of the actor's disdain for government when we went to serve the eviction notice which is why we had extra deputies on the detail," Manko said in an emailed statement Friday.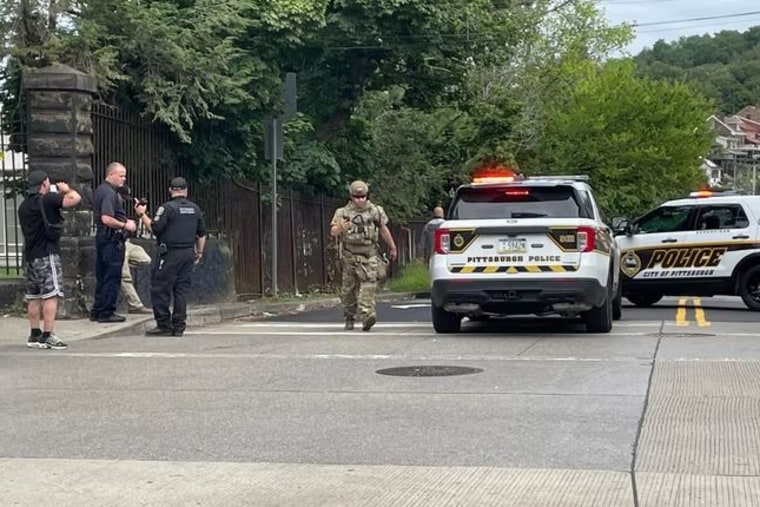 He said the sheriff has reached out to the deputies personally "and they will all go through a psych eval next week before being cleared to come back to work."
A dozen more Allegheny County police officers were also placed on administrative leave. All 12 of the officers fired their weapons, a department spokesperson confirmed, and the leave is standard protocol for the department.
Forty-seven Pittsburgh police officers who fired their weapons were also on leave, the police department confirmed, as part of its policy. The leave may vary from three to five days.
Allegheny County Sheriff Kevin Kraus said he could not count the number of gunfire "volleys" between the suspect and the officers.
"I mean, he had a lot of ammunition in that house, and certainly ... all of us were strapped, you know, with ammunition, and we were calling for additional ammunition," Kraus said. "Like I said, we tried to give him every opportunity to come out."
It's unclear how many bullets were fired as numerous local and federal agencies responded to the scene.
A spokesperson for the Pennsylvania State Police said the large police response was in part due to the suspect opening fire in a densely populated area.
"The incident started out as an eviction, yes, but quickly turned into an attempted homicide of law enforcement officers within seconds of them going through the door," Lt. Adam Reed said. "Generally speaking, an attempted homicide of law enforcement officers when the suspect is firing hundreds of rounds in a densely populated neighborhood will elicit a large enforcement response."
Pittsburgh Public Safety Director Lee Schmidt said in a news release that he would ensure employees and community members are "afforded all of the services they need to help process what they have witnessed."
"Our Public Safety personnel — a family — the community of Garfield, and indeed the entire City of Pittsburgh, suffered a collective trauma today in experiencing this unfortunate incident," Schmidt said.