Aug. 3 was a busy day in Unalaska, the Aleutian Islands town of 4,500 people, 800 miles southwest of Anchorage, that sits between the Bering Sea and the North Pacific.
There was the golf classic, which resident Sharon Svarny-Livingston said is probably the westernmost golf classic in the world, and a potluck for the traditional subsistence camp, which teaches local youth how to use traditional indigenous knowledge and Western science hand-in-hand. Still the 66-year-old decided to add another item to the schedule of this remote town where she says there is always "too much to do": a drive to gather signatures to recall the state's governor, Mike Dunleavy.
Dunleavy campaigned on raising the state's annual oil wealth dividend that each Alaska resident receives annually. Less than a year into his term, however, the governor caused a firestorm when he vetoed 182 line-items from the state budget, totaling more than $440 million — in part to fund the dividend. The cuts slashed $130 million, or 41 percent of state funding, to the University of Alaska system and tens of millions from Medicaid, and significantly reduced senior services and public education funding. They also leave Alaska in the unique position of being the only state without an arts agency.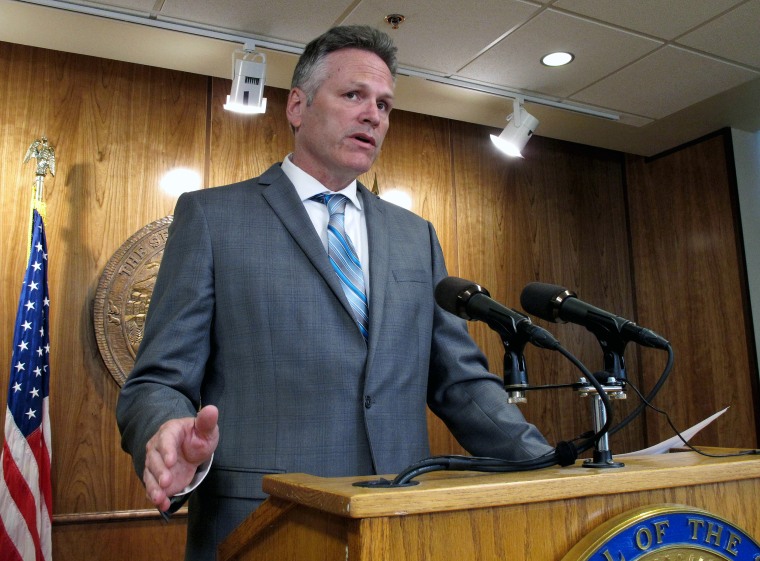 After the cuts were announced, members of Dunleavy's own party turned against the Republican governor, and Alaskans worried about what would become of their home. A decimated university, some feared, would cause a brain drain. Others wondered how they would afford health care and education, and people grew concerned about how cuts to homeless shelters and addiction treatment might affect their cities. Republicans and Democrats tried to come together and override some of the vetoes, but they ultimately fell short. So, residents like Svarny-Livingston decided to take matters into their own hands by launching a recall effort.
Svarny-Livingston, born in Unalaska, is Unangax̂ — a member of the tribe indigenous to the Aleutian Islands. She is worried education will worsen at all levels and that rural Alaskans will be hit particularly hard. "If you don't have a school in your village, young people will move away, and you don't have a village anymore," she told NBC News. "I think that's going to happen all over the state."
During the drive on Aug. 3, Svarny-Livingston signed up 70 of her neighbors — no small number when that's more than 10 percent of the people who voted in Unalaska in the 2018 governor's election. That's also the number of signatures needed across the state from each town if they want the recall effort to advance.To initiate a recall election, Alaskans first need to make the case that the governor has violated the law. In July, Scott Kendall, counsel to Recall Dunleavy, the group organizing the recall effort, worked with a group of legal experts, former judges and attorneys general, and concluded Dunleavy had violated Alaska's law and Constitution in multiple ways.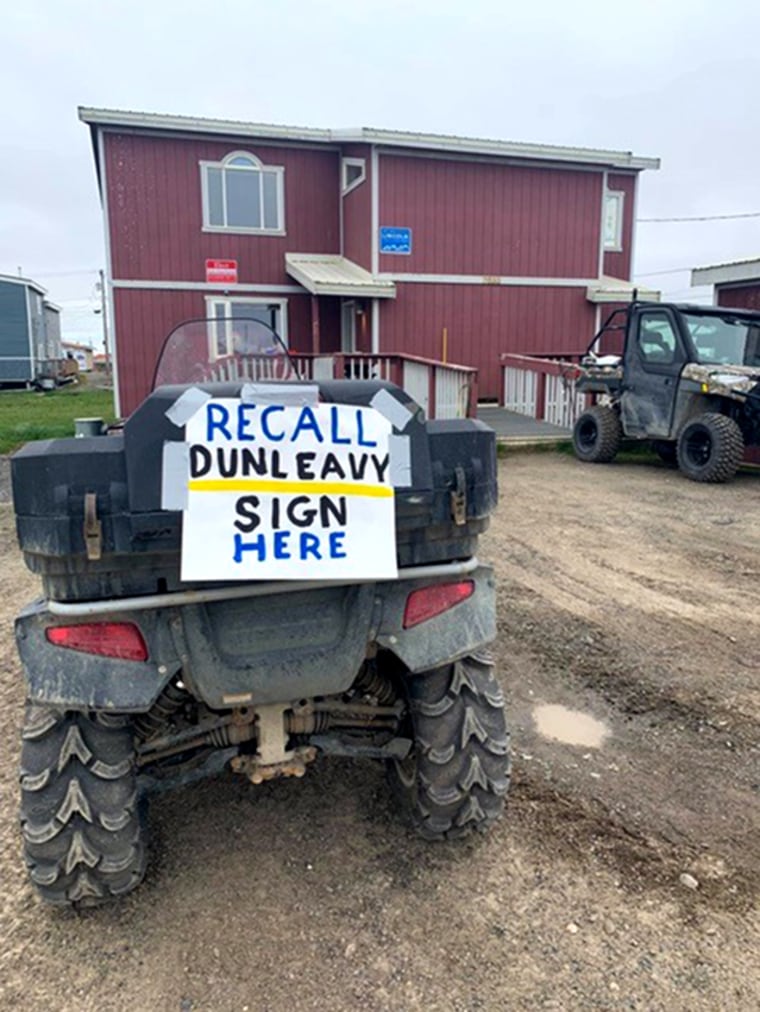 "To meet the 200-word limit imposed on recall petitions, our group actually had to omit several additional violations in favor of the strongest," Kendall wrote. But to get the recall petition on the ballot, the grassroots group first needed to collect signatures that total 10 percent of the state's voting population who participated in the last general election ⁠— around 28,500 signatures.
After the Division of Elections certifies the signatures, Recall Dunleavy has to start from scratch, collecting signatures from 25 percent of the previous year's turnout, which would be more than 71,000. Once that requirement is met, the Division of Elections will hold a special recall election, essentially asking Alaskans a simple question: Do you want to recall Governor Dunleavy? Yes or no?
Matt Shuckerow, spokesperson for Dunleavy, said the governor is simply keeping the promises he made in his campaign by restoring the annual dividend and addressing the state's budget issues.
"While some will focus on political gamesmanship, Gov. Dunleavy's administration is focused on empowering Alaskans through the agenda he ran on," Shuckerow said. "Sadly, at all levels of government, we've seen the inability to have legitimate policy differences."
In a recent press conference, the governor said he doesn't think the recall effort has legal grounds, but said Alaskans have every right to attempt to recall him if they so please.
"People have a right to try and access various constitutional avenues to address their concerns," Dunleavy said. "This is all part of politics, this is all part of being an elected official."
Meda DeWitt, chair of the recall effort, feels confident Recall Dunleavy will be able to gather the amount of signatures needed.
"The governor is not fighting for our future," DeWitt, 39, an Alaska Native traditional healer who lives in Anchorage, said. "He is not listening to our people, so people are coming out in the thousands."
On the day they launched the effort, she said they got 10,000 signatures. On Thursday, the group announced it has gathered 18,198 signatures, and expect to be at 20,000 in a few days once more petitions arrive in the mail.
In Cordova, a small town in southern Alaska, Recall Dunleavy says more than 75 percent of the town's voting population has signed the petition. In Utqiaġvik, the northernmost city in the United States, residents put up "Recall Dunleavy" signs in their lawns and baked cookies to invite neighbors into their homes to add their names to the petition. Volunteers are eliciting signatures at their children's soccer games and knocking door-to-door.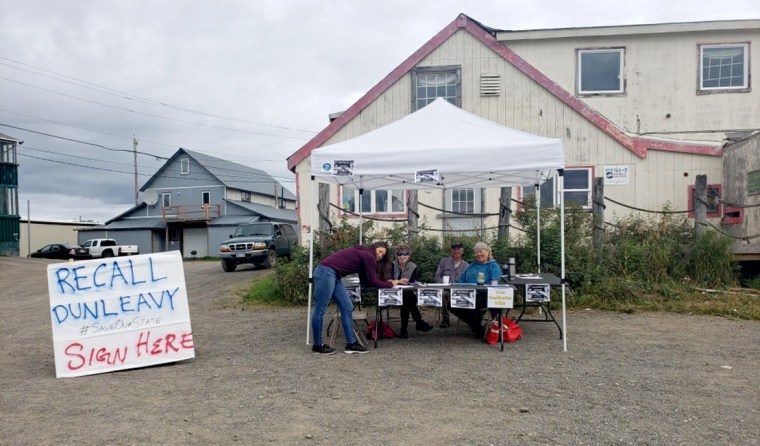 There is a Facebook group for supporters, but organizers say it's a grassroots movement happening in person, on the ground, in every region of the largest state in the union. Svarny-Livingston said she is carrying the petition wherever she goes in Unalaska, "so people can sign whenever."
And the effort isn't just being spearheaded by longtime Dunleavy critics. Two of the Recall Dunleavy co-chairs are a former Republican state senator and a former Democratic state senator.
The third is Joseph Usibelli Sr., 80, a retired coal mine operator, who voted for the beleaguered governor in 2018. Now, he says, he rues the day he cast his vote last November.
Usibelli and his wife, Peggy Shumaker, 67, former Alaska State Writer Laureate and professor emerita at the University of Alaska Fairbanks, think of themselves as private people, and neither of them are party-affiliated.
"We like voting for the best person for the job," Usibelli said, adding that he's never claimed the dividend he's entitled to each year because he doesn't think the government should be handing him a check. "Instead of using the money to help run government, we are giving it away," he said.
The couple was so appalled by the sweeping cuts that they wrote an op-ed in the Anchorage Daily News, demanding a recall right before the campaign launched. Shumaker didn't vote for Dunleavy in the past election, and told NBC News she felt compelled to speak up because the governor has "cultivated an atmosphere of fear and a whole lot of stress." Under Dunleavy's cuts, she said her friends and neighbors are looking at their bills, unsure how they'll stay afloat.
The two longtime Alaskans also say this moment is unprecedented in Alaska politics.
"We've seen many moments of danger, many moments when the state was not solvent," Schumaker said. "I don't think there has been greater danger than we face right now because the people in power are trying to dismantle the infrastructure that allows things to work."
In 1992, an effort to recall the then-governor failed, but advocates for the current recall effort say nothing is impossible in Alaska. They often cite the 2010 Senate election, when incumbent Republican Sen. Lisa Murkowski lost in her party's primary, ran as a write-in candidate, worked to teach the whole state how to spell her name, and won re-election. Kendall, the recall effort's lawyer, helped Murkowski win.
"Alaska is not a kingdom Dunleavy gets to rule, do whatever he wants, and make people suffer," DeWitt said. "The Alaska people will fire him."