One of the two white police officers involved in the shooting death of Alton Sterling, a 37-year-old black man, was fired Friday, police in Baton Rouge, Louisiana, announced, and the other will be suspended for three days. The decision comes nearly two years after graphic cellphone video caught Sterling's death outside a local convenience store.
Police Chief Murphy Paul said Officer Blane Salamoni was fired and Officer Howie Lake II will be suspended. Both are appealing the decision, he said.
"My decision was not based on politics," said Paul, who was appointed to his position in January. "It was not based on emotions. It was based on the facts of the case, the testimony provided by our officers and witnesses and the recommendation of our board members during the disciplinary hearing. But I take full responsibility for the decision that I made."
The police department released a report, audio of the 911 call that brought police, and additional video from the store's surveillance camera and two body cameras.
State investigators have said that Sterling, a father of five, was selling CDs outside the convenience store. Officers arrived after the 911 caller said a black man in a red shirt had been acting threatening with a gun.
Surveillance footage shows Sterling pushing back against the two officers when they appear and attempt to pin him against a car. Lake attempts to shock Sterling with a Taser gun to no avail, and Salamoni then tackles Sterling to the ground.
Salamoni can be heard on the body cam audio yelling profanities at Sterling and then threatening to shoot him in the head.
Sterling appears slightly confused and says, "What I did, sir?"
The shooting occurs shortly thereafter. Body cam footage shows Sterling on the ground, apparently dead, with blood pooling on his chest.
Salamoni defended his use of profanities, according to the report, stating he believed that if he started cursing at Sterling he "would realize that the police are here and we are not playing."
After Sterling is apparently dead, Salamoni can be heard panting, and his hands are seen holding his handgun. He begins going through Sterling's pockets and calls him a "stupid motherf-----" twice.
Michael Adams, a lawyer for the Sterling family, said one family member received a notification about the release of the videos. She collapsed right after she watched it. "Every time they see this footage they relive it," he said.
According to the report, Salamoni discharged six rounds while Lake did not fire his weapon.
Paul said Lake tried to de-escalate the situation, following standard procedure. Salamoni, however, violated police rules against use of force and temper.
"I hope that it brings closure," Paul said of his decision. "I hope that it begins healing. We are moving forward as a police department."
Louisiana Attorney General Jeff Landry announced earlier this week that he would not pursue charges against the two police officers. That decision came 11 months after the U.S. Justice Department said it would not pursue federal civil rights charges in Sterling's July 2016 death.
Landry, who is a former police officer, said there was not enough evidence of criminal wrongdoing in the case, and investigators found that Salamoni and Lake's actions were "reasonable and justified."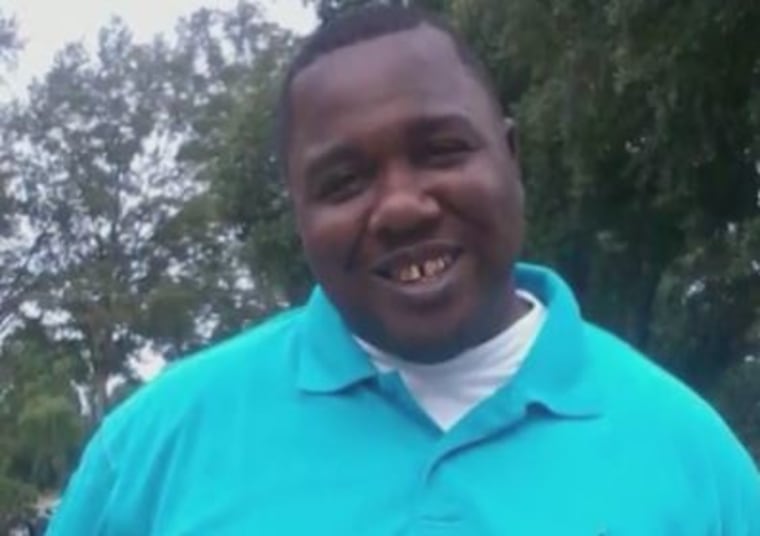 Sterling's death in July 2016 caused outrage across the country and sparked multiple days of national protests. It occurred the day before to another police shooting of a black man, which killed Philando Castile in Minnesota.
Cellphone video taken by a witness at the scene and shared on social media shows Sterling pinned to the ground by two officers.
The officers have said Sterling refused to comply with their orders and was shocked with a Taser gun twice, to no avail. Salamoni said he believed that Sterling was reaching for a gun in his pocket and shot him three times in the chest. When Sterling sat up, he shot him three additional times in the back.
Sterling died in the parking lot outside the store. Lake and Salamoni were placed on administrative leave shortly after the deadly altercation.
Landry said earlier this week that Sterling had a .38-caliber revolver in his right pocket and that he tested positive for drugs, which may have contributed to his noncompliance. The state attorney general did not say which drugs Sterling had taken.
Salamoni's lawyer, John McLindon, told NBC News on Tuesday that Sterling tested positive for methamphetamine, cocaine, marijuana, fentanyl and alcohol.
"We now know probably the reason he didn't comply is 'cause he was so high on drugs," McLindon said.
NBC News has not independently verified that Sterling tested positive for drugs after the shooting.
Gov. John Bel Edwards, a Democrat, described Sterling's death as "a tragedy that evoked deep grief and anger across Baton Rouge and Louisiana," but said he supported Landry's decision.
"I support Mayor Sharon Weston Broome and Chief Murphy Paul's decision to conduct an administrative review to determine if any disciplinary action should be taken within the Baton Rouge Police Department," Edwards said. "We owe this final review to the Baton Rouge community and the Sterling family."
Sterling's family remained unsatisfied with the action taken to discipline the officers.
"There's nothing that can make it OK," said Adams, the family lawyer. "Of course they were happy [Salamoni] was terminated but they're so heartbroken that Attorney General Landry didn't even try, didn't even follow up on interviews with witnesses."
The family filed a lawsuit last year alleging that the shooting was a result of poor police training. They called for damages and for the officers to be fired.