"Just keep swimming."
For the past year, Alexandra Greenwald has scribbled those three words on the back of her hand, just above her thumb, whenever she competes for the Hawkeyes gymnastics team at the University of Iowa.
The words are a reminder of Nick Dworet, her best friend, a competitive swimmer who won a full scholarship to the University of Indianapolis before he was killed in the Feb. 14 shooting at the Marjory Stoneman Douglas High School in Parkland, Florida.
"It's a way for me to compete in honor of him, knowing that he will never get the chance to fulfill his dream," Greenwald, 18, said.
She writes the words when she misses him, when she is struggling, when she needs some extra motivation — not only as she flips through the air at the gym, but also as she confronts the pain of continuing her life without her friend since kindergarten.
"It was a way to move through this," Greenwald said, "and know, as I keep going, it'll keep getting better."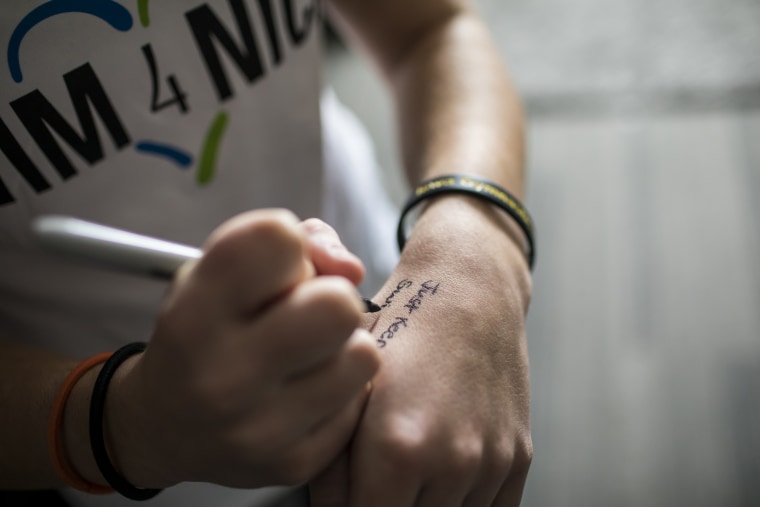 That's a hope many share in Parkland, almost a year after a gunman ended the lives of 14 students and three staff members. As the first anniversary approaches, grieving families and friends are bracing for a fresh wave of emotions. Some are angry about the district's failure to prevent the shooting. Others are anxious about the anniversary itself, and the memories that will surface.
For the parents of the slain students, the anniversary is just another hard day in a year full of hard days.
"The anniversary for me is really meaningless because every day for me is Feb. 14," said Andrew Pollack, whose daughter Meadow Pollack, 18, was killed. "I feel the same way every day about losing my daughter."
On the anniversary, one student said she plans to visit the grave of a classmate who was killed. Another said she wants to forget about the shooting altogether — she and her boyfriend plan to leave town for the day. Some Stoneman Douglas graduates who have scattered across the country are planning memorials at their colleges; others will remember quietly, on their own.
For current students, Stoneman Douglas will offer counseling and wellness activities and will encourage students to do service projects, such as working in the school's garden or preparing food for the shooting's first responders. In the evening, the city of Parkland will hold a vigil at Pine Trails Park.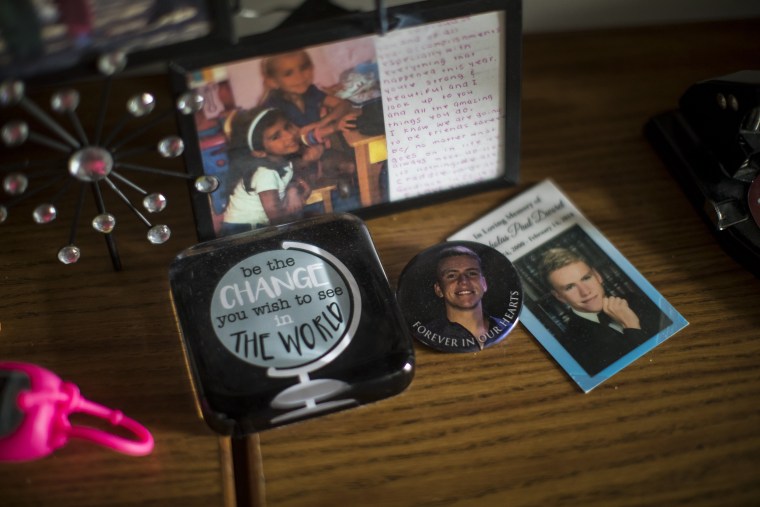 Eric Garner, a television production and film teacher at Stoneman Douglas, said he intends to spend the day in the school's garden, where he hopes to find comfort during what he knows will be a painful day.
"I think it's going to be years until we're OK," Garner said. "I'm not sure when that will ever happen."
'Birthdays, Thanksgiving, holidays, they all hurt'
One year after the shooting, the "what ifs" remain overwhelming.
Friends of Joaquin Oliver, who loved playing basketball and Mario Kart, think about how much fun he would have had in Orlando, where many of them moved for college after graduation. Carmen Schentrup's friends wonder how she would have decorated her dorm room. Nick Dworet's parents think about how he would have been training hard to compete in the 2020 Olympics.
"For Nick, 2020 was a big goal for him," Mitch Dworet, Nick's father, said. "Those kind of goals, those hurt."
"There are so many hurtful things constantly," Annika Dworet, Nick's mother, added. "Like in the fall, when everyone is posting about their kids going to college and Nick is not. Birthdays, Thanksgiving, holidays, they all hurt."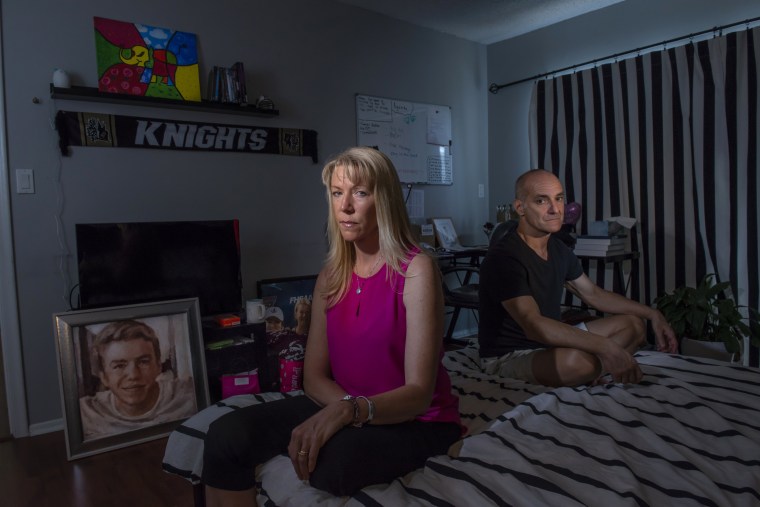 Aalayah Eastmond, 17, was in Holocaust history class with Nick Dworet when he was killed. In testimony before Congress, she described him shielding her as bullets sprayed the room.
After the shooting, Eastmond poured her energy into the March for Our Lives student movement and traveled across the country with the nonprofit Brady Campaign to Prevent Gun Violence.
"I spent the last year not worrying about my mental health, constantly working without taking a break to focus on myself and my school," Eastmond told NBC News in a recent interview.
She doesn't want to focus on the anniversary. "Everyone asks us how we're doing and how we feel, but we have no idea," she said.
Over the past year, the shooting has cast sadness over rites of passage for Stoneman Douglas students, from prom to graduation to the first day of school.
Sam Deitsch turned 15 on the day she hid in a closet at Stoneman Douglas, after she saw other students flee the gunfire. Her birthday is now forever linked to that terror.
"I feel like I'll always think of it as the shooting," Deitsch, who is now a sophomore, said. "That's not going to change for the rest of my life."
The deadly shooting happened on Valentine's Day. Several students and victims' family members said pink heart-shaped items that appeared in drugstore aisles several weeks ago were an unwelcome reminder that the anniversary was coming.
Survivors before Parkland
When two students opened fire inside Columbine High School in Columbine, Colorado, on April 20, 1999, Zach Cartaya, then a senior, hid in an office with dozens of terrified schoolmates. Over the next year, as he started college at the University of Northern Colorado, he turned to alcohol, torn with guilt over the death of Daniel Rohrbough, 15, whom he'd driven to school that day. On the first anniversary, when Cartaya returned to Columbine for a memorial, he said his primary emotion was fear.
"I remember being there, being OK, and then that heightened security and the police presence … left me terrified," he said. "I was thinking, 'Am I a sitting duck? Is there a copycat out there?'"
For the first year, the 20th of every month was a reminder of the shooting.
Several Stoneman Douglas students and parents of victims said they, too, find the 14th of each month particularly difficult.
While the first year is the hardest for some, grief does not follow a timeline, according to Dr. David Schonfeld, director of the National Center for School Crisis and Bereavement, located at the University of Southern California Suzanne Dworak-Peck School of Social Work in Los Angeles. The center helps schools and communities cope in the aftermath of tragedies. There is often an outpouring of support in the first year and at the first anniversary, but that dwindles over time.
Schonfeld added that it's common for those who are mourning to mark the passage of each week or month — and each missed milestone.
"These are horrific, life-changing events, and as a result for those who are most deeply impacted, they might think about it every day," Schonfeld said. "Any type of major event or transition period will remind people of loss. A lot of it is tied to the date."
Cartaya, who in 2012 formed nonprofit The Rebels Project, based in Colorado, to support survivors of shootings, said that he eventually stopped counting the months, but April always looms in his mind.
"The entire month of April is hard for all of us," he said. "For the MSD kids, February could be a bad month for them year after year after year."
'A year of firsts'
For Ryan Petty, all sense of time's passage stopped when his youngest daughter Alaina, 14, a junior ROTC member who helped clean up homes after Hurricane Irma, was killed.
"One year is a marker for me and nothing else," Petty said. "Every day, we live with the loss of Alaina."
As the first year following the shooting comes to a close, Petty said he hopes one hurdle of the community's grief will pass.
"It's a year of firsts. Maybe there will be comfort in Feb. 14 that as we go beyond that day, that we won't be dealing with the firsts," Petty said. "I hope that's true."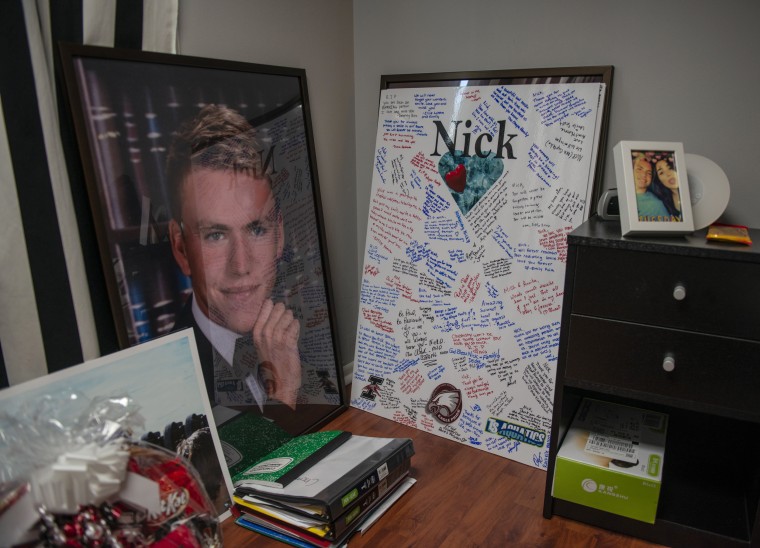 Earlier this month, Nick Dworet's parents attended the dedication of a plaque, a tree and a bench in the memory of their son at the Coral Springs Aquatic Center — the place where he developed a passion for swimming.
The Dworets think about how, years from now, kids in the community will wait for their parents to pick them up at the center and will look up at the plaque hung on the sky blue walls, and ask, "Who was Nick Dworet?"
"You have this fear of like, 'We can never forget him.' Helping other kids get inspired by Nick … I think that makes you feel like we're doing something," Annika Dworet said.
On Feb. 14, the Dworets will go to the ocean, where they spread Nick's ashes last year. Otherwise, they're making few plans. They'll take the day as it comes.