Authorities on Monday executed a search warrant at a second storage unit in Amityville, Long Island, New York, related to the Gilgo Beach murders as the suspect was placed on suicide watch.
The Suffolk County Police Department said an initial search warrant had been issued Sunday for a separate storage unit in Amityville.
It's unclear who rented the two units, and the owner of both sites, Omega Self Storage, did not immediately respond to a request for comment.
A spokeswoman for the Suffolk County district attorney, Tania Lopez, declined to comment about what investigators are looking for.
The storage facilities were searched as investigators say they are still receiving information from the public after the arrest of Rex Heuermann, a Manhattan architect living in Massapequa Park, Long Island, in connection with a sprawling case that had long gone cold before his arrest.
Lopez said the DA's office cannot disclose any new evidence received from search warrants or from the public after Heuermann's arrest.
Heuermann, 59, was charged Friday with three counts of first-degree murder and three counts of second-degree murder in the deaths of three women who had gone missing from 2009 to 2010. He is also suspected in the disappearance and death of a fourth woman, but that investigation remains ongoing, prosecutors say.
On Monday afternoon, the Suffolk County Sheriff's Office said Heuermann "is currently on suicide watch which is determined by the County's mental health staff."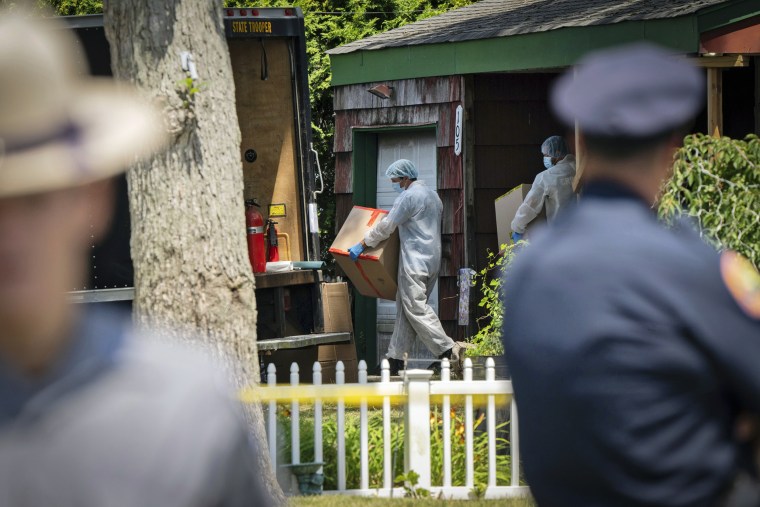 Suffolk County District Attorney Ray Tierney said Monday that the mountain of evidence, which includes DNA, cellphone records and a witness tip, gives his office confidence it can prove its case.
"We're also confident that we're going to be able to eventually charge that fourth murder," Tierney said on CNN.
While 11 sets of human remains have been found since 2010 around the area of Ocean Parkway in Gilgo Beach, a remote stretch along Long Island's South Shore, Heuermann is not suspected in all of the slayings. The deaths, many tied to missing sex workers from the New York and New Jersey area, had set off fears that a serial killer was on the loose.
In the wake of Heuermann's arrest on Thursday evening, authorities began searching his home in Massapequa Park, a village across the bay from Gilgo Beach, and his office in midtown Manhattan.
He has pleaded not guilty. His lawyer, Michael J. Brown, said Heuermann has been a "loving" husband and father to his daughter and stepson, and "has insisted he did not commit these crimes."
"There is nothing about Mr. Heuermann that would suggest that he is involved in these incidents," Brown said in a statement. "And while the government has decided to focus on him despite more significant and stronger leads, we are looking forward to defending him in a court of law before a fair and impartial jury of his peers."
What we know about the Gilgo Beach murders
Heuermann is charged with the slayings of Melissa Barthelemy, 24; Megan Waterman, 22; and Amber Lynn Costello 27. The investigation into the death of a fourth woman, Maureen Brainard-Barnes, 25, is ongoing with no immediate timeline for when it could be resolved, Lopez said.
The women were all believed to be sex workers who advertised on online sites, according to police. They were all found in similar positions and bound with either belts or tape, court documents say. The bodies of three of those women were also wrapped in burlap-type material.
After years of an investigation with no prime suspect, a joint law enforcement review jumpstarted in early 2022 brought attention to a Chevrolet Avalanche registered to Heuermann. Such a vehicle had been on investigators' radar during Costello's disappearance from a witness' tip.
In addition, authorities said, burner cellphones and credit card activity helped them to link Heuermann with the crimes. Investigators also said they tested hair found on one of the victims that matched Heuermann's wife, who was out of town during the various killings.
"As such, it is likely that the burlap, tape, vehicle(s) or other instrumentalities utilized in furtherance of these murders came from Defendant Heuermann's residence, where his wife also resides, or was transferred from his clothing," prosecutors said.
A male hair was also found on the burlap used to wrap one of the victims, according to investigators. Police collected a discarded pizza thrown away by Heuermann and swabbed a pizza crust for DNA.
Based on lab results in June, investigators said his DNA "cannot be excluded" from matching the male hair.