LOS ANGELES — Authorities in Ventura County, California, are investigating the death of a Jewish man who was injured during a confrontation at dueling pro-Israel and pro-Palestinian rallies and who died Monday, the sheriff's department said.
Witnesses said Paul Kessler, 69, "was in a physical altercation with counter-protestor(s)," the Ventura County Sheriff's Department said in a statement.
"During the altercation, Kessler fell backwards and struck his head on the ground," it said.
The incident happened around 3:20 p.m. Sunday in Thousand Oaks, a community in the Los Angeles area just over the Ventura County line, the sheriff's department said.
Kessler was taken to a hospital and died Monday, it said.
"The Ventura County Medical Examiner's Office determined the cause of death to be blunt force head injury and the manner of death homicide," the sheriff's department said in a statement.
Pro-Israeli and pro-Palestinian rallies were occurring at the same time at Westlake and Thousand Oaks boulevards, the sheriff's department said.
The sheriff's department said an investigation is active. It asked anyone who was at the demonstrations or has information to contact it.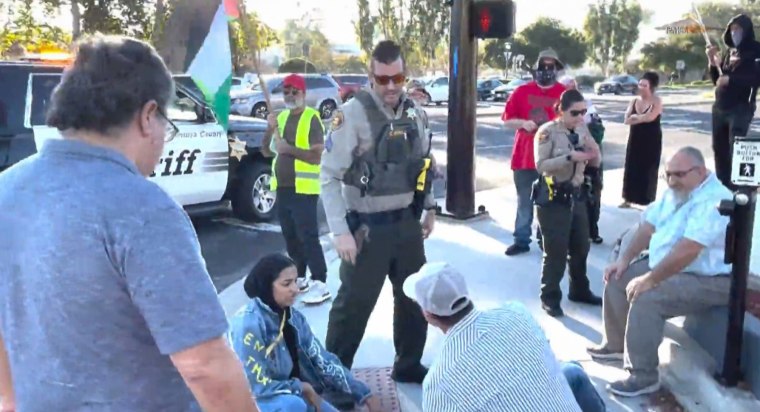 "The Ventura County Sheriff's Office is investigating the incident and has not ruled out the possibility of a hate crime," it said in a statement.
The sheriff's department did not detail more about how Kessler's injury occurred.
A photo posted to social media showed Kessler before the altercation, waving an Israeli flag at an intersection.
A press photographer then captured an image of Kessler receiving treatment on a sidewalk at 3:20 p.m. (6:20 p.m. ET), his head laying on a bloodied homemade sign. Video also posted online appears to show Kessler lying on the sidewalk with his head covered in blood.
Another video appears to show pro-Palestinian demonstrators continuing to shout slogans and wave flags after Kessler was injured — with police cars and an ambulance yards away. The same clip shows blood splattered across a homemade sign that said "STOP BOMBING BABIES AND FAMILIES."
Rabbi Michael Barclay of Temple Ner Simcha, near where the incident took place, called for patience.
"Please do not make assumptions or accusations until the police can do their job and/or we get real video," Barclay wrote on X.
Barclay identified Kessler as Jewish. Kessler's family declined comment Monday night and was asking for privacy.
The Los Angeles area office of the Council on American-Islamic Relations (CAIR) said it was "deeply saddened by this tragic and shocking loss" but cautioned against using the incident for political means.
"We join local Jewish leaders in calling on all individuals to refrain from jumping to conclusions, sensationalizing such a tragedy for political gains, or spreading rumors that could unnecessarily escalate tensions that are already at an all-time high," CAIR said in a statement Monday evening.
The death occurred as tensions are high in parts of the United States and elsewhere over the Israel-Hamas war, one month since the Hamas terror attack killed 1,400 people in the country. More than 10,000 people have been killed in Gaza since as Israel bombards the Palestinian enclave.
The incident was swiftly condemned by senior politicians in Israel.
"The murder of Jewish-American Paul Kessler should serve as a stark warning sign to the whole world," said Benny Gantz, the opposition leader who joined a wartime cabinet after Hamas' Oct. 7 attack.
"Israel stands today at the forefront of the global fight against the murderous antisemitic ideology behind the Hamas terror attacks of 7.10," he said in a post on X.
Another Israeli opposition leader, Yair Lapid, said in a post on X: "Paul Kessler was killed in Los Angeles because he was a Jew.  It is not because of Gaza, it is because of antisemitism."
"This is what happens when protesters glorify Hamas and call to 'globalize the intifada,' They don't love Palestinians, they hate Jews," he said.
Ventura County Sheriff Jim Fryhoff is expected to hold a news conference Tuesday morning.
No arrests have been made, the sheriff's department said Monday night.