Containing the spread of the coronavirus among New York City's thousands of transit workers has become one of the biggest battles for the Metropolitan Transportation Authority, the agency that runs buses, subways and commuter rails.
The MTA reported its first death from the coronavirus March 26. Just two weeks later, that number has climbed to 41 with 1,571 positive cases. Over 6,000 workers are quarantined, a spokesperson for the agency said.
The virus is hitting other segments of city workers, as well. The New York City Police Department has lost 11 employees and has more than 2,400 confirmed cases, and the city's fire department reported two deaths with more than 660 confirmed cases.
Full coverage of the coronavirus outbreak
Several MTA employees attributed the staggering number of transit worker deaths to what they say is the agency's slow response in providing protective gear.
"This is a byproduct of having been underprepared for what was eventually going to come down the pike," an MTA maintainer who only wanted to be identified by his last name, Hernandez, told NBC News in a phone interview Wednesday. "No one should have to die doing their job."
'There's going to be more people to die'
In a press release April 2, the MTA said it had distributed hundreds of thousands of masks and more than 2 million pairs of gloves to frontline workers since March 1. In an update two days later, the agency said it had started issuing N95 respirator masks to "essential operating employees."
But Robert Martinez, a bus operator out of Brooklyn, and other MTA workers said they have either not been issued masks and gloves or only received the shipment this week.
"They mishandled this," Martinez said, calling the agency's response negligent and reckless. He said he's been wearing his own mask and brought in his own disinfectant to clean his work area.
Martinez criticized the agency and the Transport Workers Union Local 100.
"The MTA didn't fulfill their part of the policy and the union is as equally culpable because they didn't hold the MTA accountable," he said.
"At my garage, I personally lost a good friend, Ernesto Hernandez. Maybe had they given this out from the beginning, him and others would probably still be alive."
John Samuelsen, international president for the union, said he understands the criticism toward the MTA but not toward the union.
"Certainly, the MTA should have reacted sooner than they reacted. ... And our response to that was to give out our own masks, 50,000 of them. We're the only union, and the first union in the country, to give out respiratory masks to our members in New York City."
Another worker expressed similar sentiments of frustration with the MTA.
"The number of employees who passed away, the high number at that out of every city agency in New York, is reflective of the action that the MTA took in the beginning of this pandemic," train conductor Tramell Thompson said.
Thompson is currently quarantining at home after coming down with flu-like symptoms. He said he was tested for the coronavirus but has not yet received his results.
"They dropped the ball. 41 deaths. And there's going to be more people to die, unfortunately, because they took so long to get us the protection that we needed," he said.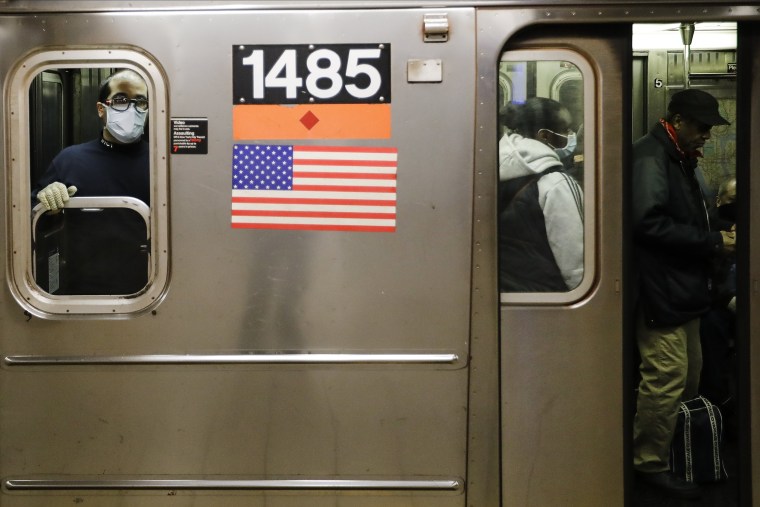 Download the NBC News app for full coverage of the coronavirus outbreak
The MTA says it's not a medical provider
The MTA defended its course of action, saying in a letter Wednesday that it "has taken aggressive action to protect the health and safety of our heroic workforce" since March 1, when the first confirmed coronavirus case reached the state.
"The only 'sluggish' response has been on the part of the World Health Organization and Centers for Disease Control and Prevention, whose guidelines against widespread use of masks the MTA (a transportation organization, not a medical provider) initially followed but has since disregarded," the agency wrote.
The letter was in response to a New York Times article on the number of workers who have died from the virus.
The MTA said it has issued 460,000 N95 and surgical masks to all employees, as well as thousands of face shields and 2.5 million pairs of gloves. In addition, workers have received hand sanitizer, wipes and disinfectant cleaner, the company said in its letter.
Reduced service has led to crowding, making social distancing difficult
Some workers have also taken issue with not being able to follow the CDC's social distancing guidelines because of their work conditions. Hernandez said with crews coming and going and employees clocking in and out on the same kiosk, keeping a distance of six feet is virtually impossible.
For Martinez, the MTA reducing bus service has oftentimes led to "more people on one bus," he said.
Hernandez, a married father of six children, said he loves being an employee of the city but does not want to put his family at risk.
"I love doing what I do for my city. I love my co-workers. I love my environment. However, I'm not willing to sacrifice the health of my wife and my family," he said.
The MTA said in its letter that its focus is on "protecting our heroic employees and customers."
"Any suggestion otherwise is baseless. We have implemented our plan and made necessary changes in real time as we deal with this unprecedented public health crisis," the agency said.