Despite President Donald Trump's calls for American companies to manufacture their products in the U.S., shipments of his daughter's branded, Chinese-made dresses have continued to land on U.S. shores since he took office, documents reviewed by NBC News show.
Trump and Chinese President Xi Jinping will have a lot to talk about during their first meeting Thursday, including the Trump's allegations of Chinese currency manipulation and the loss of U.S. manufacturing jobs to Beijing's "unfair" trade practices.
"We can't continue to allow China to rape our country," Trump told his cheering supporters last year on the campaign trail in Indiana. "There are no jobs because China has our jobs."
Some of those jobs are apparently still filled by Chinese workers assembling dresses for a licensee of Ivanka Trump's namesake clothing line.
Since Election Day, the apparel brand run by Trump's daughter has imported 56 shipments of Ivanka Trump products from China and Singapore, part of a total of 215 shipments from Asia since Jan. 1, 2016.
America First
In his inaugural address, Trump promised that "from this moment on, it's going to be America first."
Invoking images of shuttered factories, Trump vowed to bring back jobs by applying "two simple rules: Buy American and hire American."
Shortly after taking office, Trump singled out individual U.S. manufacturers, including Carrier and the big three carmakers, for closing domestic plants and expanding production in Mexico.
On Tuesday, at a White House meeting with business leaders, Trump claimed credit for reversing the tide of jobs moving out of the country.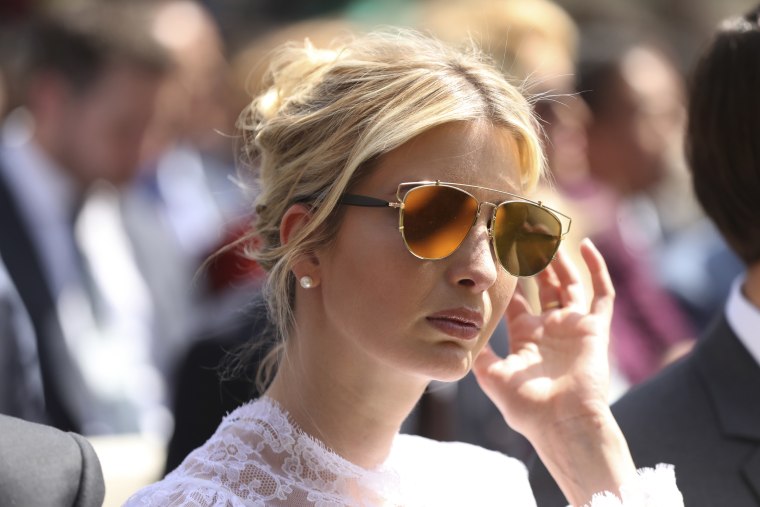 "If you look at what's happened with Ford and with General Motors and with Fiat-Chrysler and so many other car companies, you see what they're doing back in Michigan and Ohio — they were leaving. They were going to Mexico and many other places," Trump said. "They're now staying here."
But despite Trump's "America First" rhetoric, his daughter's name is on a clothing line manufactured overseas.
Shipments of Ivanka-branded clothing headed for the U.S. included handbags; knitted dresses and pullovers; woven dresses and blouses; among other items, according to U.S. Customs data provided by the research firm Panjiva to NBC News. The 56 shipments made since Nov. 8 hailed from Shanghai, Hong Kong and Singapore.
NBC News traced 53 of the 56 shipments to Chinese ports and three to Singapore.
Given the long lead times in the retail business, it's possible that no new orders have been placed since Trump became president.
Ivanka's 'charm offensive'
The Trump family's wider business ties to China have been well-documented.
As a tenant at Trump Tower, the Industrial and Commercial Bank of China, a Chinese government-owned bank, is paying the Trump family business $1.9 million a year in rent through October 2019, according to a 2012 prospectus for mortgage-backed securities that include a loan on the property.
The lease, for more than 20,000 square feet, includes about 8 percent of the building's total space.
The Bank of China is a lender on a nearly billion-dollar mortgage on another Trump-owned skyscraper in Manhattan.
Trump maintains that he has no conflicts of interest because his sons are now running the family business.
Ivanka Trump has put her fashion brand into a trust overseen by her brother-in-law that is worth more than $50 million and has said she has no involvement in its management. But family members continue to pursue business deals with Chinese companies.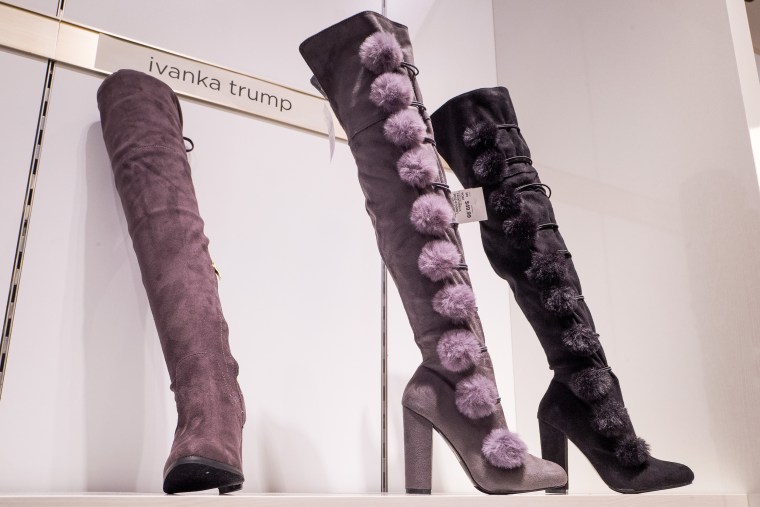 The president's son-in-law, adviser Jared Kushner, opened talks immediately after the election with Anbang, a Chinese insurance company, seeking a reported $400 million investment in a prime Manhattan property owned by Kushner's family. Following scrutiny from the press, the Kushners and Anbang discontinued talks.
But some observers think the talks raise troubling questions about the Trump family's ties to China.
"With Anbang, we're not sure where their money comes from," said Derek Scissors, a resident scholar at the right-leaning think tank American Enterprise Institute. "If you're going to deal with a Chinese firm its far down on the list. It's not the best firm to be dealing with."
Less than a week after President Trump's election, the Chinese government approved a Trump trademark that he had been battling to secure for 10 years; another two dozen got approved within a few months.
"It looks pretty suspicious," said Richard Painter, a law professor and former chief White House ethics lawyer in the George W. Bush Administration. "It looks like the Chinese government is trying to ingratiate itself with President Trump after President Trump has used some very harsh rhetoric toward China."
Even as her father has taken a tough line on China's trade policies, though, Ivanka Trump has been "on a charm offensive with China, using her children to help woo the Chinese public," according to the South China Morning Post, a Hong Kong-based newspaper owned by Chinese ecommerce giant Alibaba.
Last week, the paper noted that Trump's daughter recently made a "surprise visit" to the Chinese embassy in Washington with her 5-year-old daughter, Arabella Kushner.
'Economies of scale'
Ivanka Trump has good reason to maintain good relations with Chinese officials.
In late December, the New York Times, on shipping data from Panjiva and research firm Import Genius, reported that at least 193 shipments of Ivanka Trump apparel were manufactured in overseas in 2016. In addition to Chinese factories, the Times noted that apparel from the line was also produced in Indonesia and Vietnam.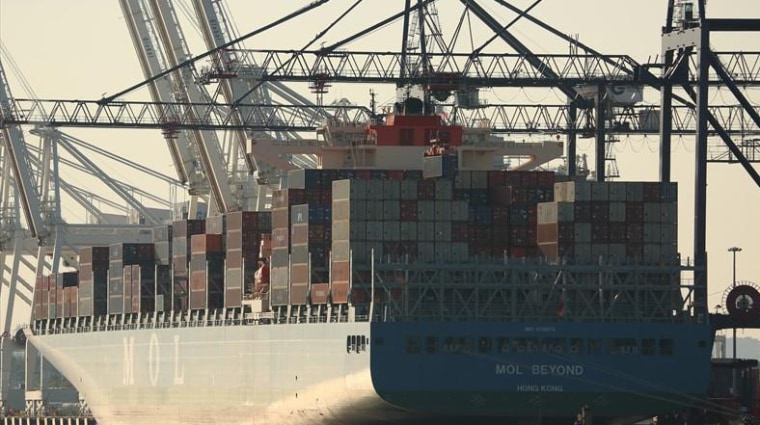 The products were imported to the U.S. by G-III Apparel Group, Ltd., based in New York City. In addition to the Ivanka Trump clothing line, the firm has a portfolio of more than 30 licensed and proprietary brands, including Calvin Klein, Donna Karan, and Kenneth Cole, according to the company's website.
An executive with G-III Apparel, which licenses the clothing line, told NBC News that the company has been attempting to shift production to U.S. manufacturers.
"Since the beginning of our relationship, Ivanka has been open about her desire for us to produce her collection domestically," said Sammy Aaron, company vice chairman. "We have been working hard to make this a reality."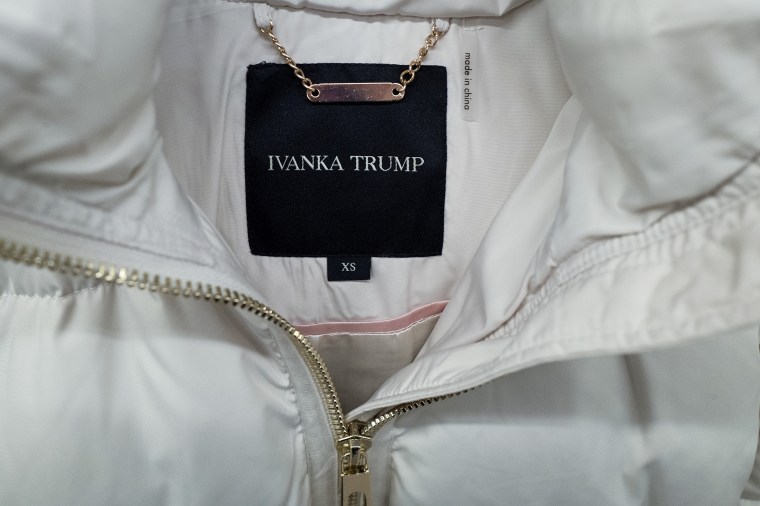 The White House forwarded requests for comment to a representative of the Ivanka Trump brand.
A brand spokesperson said that Ivanka Trump has wanted to have her products manufactured in the United States for some time, but the economies of scale and infrastructure mean that is not possible. The spokesperson pointed to a report by the American Apparel & Footwear Association indicating that 97 percent of all apparel and 98 percent of shoes sold in the U.S. are imported.
For her part, Ivanka Trump said Wednesday that her recent decision to take on a senior White House role was about holding herself to an ethical standard.
In an interview that aired Wednesday on "CBS This Morning," the president's daughter said her informal advisory role to the president was unplanned.
"To me this particular title was about giving critics the comfort that I'm holding myself to that highest ethical standard. But I'll weigh in with my father on the issues I feel strongly about," she told CBS.
"I realized that having one foot in and one foot out wouldn't work," she said.