The University of Michigan has agreed to pay $490 million in damages to the more than 1,000 former students, mostly male, who said they were sexually abused by sports doctor Robert Anderson, their lawyers confirmed Wednesday.
The announcement came after 15 months of mediation and appeared to close the book on one of the nation's biggest sex abuse scandals, which involved several generations of victims going back to the 1960s.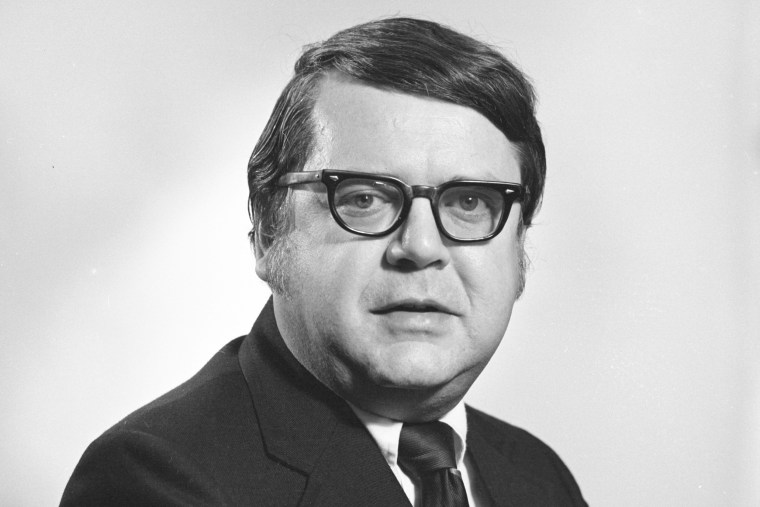 "It has been a long and challenging journey and I believe this settlement will provide justice and healing for the many brave men and women who refused to be silenced," said Parker Stinar of the Denver-based law firm Wahlberg, Woodruff, Nimmo & Sloane, which represents dozens of Anderson accusers.
Stinar said some 1,050 Anderson "survivors" will share the $490 million in settlement money, meaning that each accuser will receive an average of about $438,000.
Thirty million dollars of that money will be set aside for any future accusers.
Rick Fitzgerald, associate vice president for public affairs at the University of Michigan, confirmed a settlement.
"We hope this settlement will begin the healing process for survivors," Jordan Acker, chair of the Board of Regents, said in a press release first obtained by the school newspaper, The Michigan Daily. "At the same time, the work that began two years ago, when the first brave survivors came forward, will continue."
University of Michigan President Mary Sue Coleman agreed the agreement, which still needs to be signed-off on by the Board of Regents and approved by 98 percent of the claimants, is the right thing to do.
"This agreement is a critical step among many the university has taken to improve support for survivors and more effectively prevent and address misconduct," she said.
This settlement is about $10 million less than the one reached between Michigan State University and the hundreds of young female athletes who survived sports doctor Larry Nassar's sexual assaults.
It was hammered out with the help of court-appointed mediator Robert F. Riley and overseen by U.S. District Court Judge Victoria A. Roberts for the Eastern District of Michigan.
Once that was done, the university requested that former Michigan football player and Anderson victim Jon Vaughn stop camping out in front of the home of university president Mark Schlissel, The Detroit News reported. He's been there for over 100 days.
Anderson, who retired in 2003 and died five years later, was a former director of the University Health Service who also served as the top physician for Michigan football teams led by coaches Bo Schembechler and Lloyd Carr.
Schembechler died in 2006. His son, Matt, alleged that in 1969 Anderson molested him at age 10 and that his father refused to believe him. He said his mother, Millie, tried to get Anderson fired but Schembechler had him reinstated.
But Anderson did not just target athletes. One of his victims was a music major named Bill Herndon, who said in 1971 he went to see Anderson for a urinary tract infection and that the doctor wouldn't remove a needle from him arm unless he performed oral sex.
"I am grateful that UM has finally made this offer to address a lifetime of harm Dr. Anderson caused to more than 1,000 victims, harm that UM knew about as early as 1969," Herndon said in a statement released by Estey & Bomberger, the San Diego law firm that represented him and 74 other Anderson accusers.
The investigation was sparked by a whistleblowing former wrestler named Tad DeLuca.
DeLuca said that in 1975 he wrote a nine-page letter to his coach, Bill Johannesen, and the athletics director at the time, Don Canham, and described what Anderson did to him repeatedly under the guise of medical examinations.
"Something is wrong with Dr. Anderson," DeLuca wrote in the letter. "Regardless of what you go in there for, he always makes you drop your drawers."
Anderson, DeLuca said, was widely known as "Dr. Drop Your Drawers Anderson."
But Johannesen, DeLuca said, humiliated him for speaking out about Anderson by reading his letter out loud to the rest of the team before he was then booted off the squad and lost his scholarship.
"Those few minutes in front of my friends and teammates, the coach stripped away everything I had ever been," DeLuca later told reporters in February 2020.
Johannesen, who coached the Michigan wrestling team in the 1970s, previously told The Associated Press in a statement that nobody ever directly reported any abuse by Anderson to him. Canham died in 2005.
Anderson, DeLuca said, was widely known as "Dr. Drop Your Drawers Anderson."
DeLuca, a married father of three and retired teacher who lives in northern Michigan, refused to give up.
Inspired by the female gymnasts at Michigan State University who reported that they had been abused by Larry Nassar, DeLuca reached out to the authorities again.
And in 2018, police in Washtenaw County, Michigan, launched an investigation of Anderson based on a second letter DeLuca wrote.
Steven Hiller, the county's assistant chief prosecuting attorney, said no charges could be filed because Anderson was dead and none of the accusations alleged acts that fell within the state's six-year statute of limitations.
Nevertheless, the police investigation noted that Michigan staffers were "aware of rumors and allegations of misconduct" by Anderson.
In 2020, Schlissel apologized on behalf of the university to anyone harmed by Anderson. And a year later, WilmerHale, a law firm hired by the university to conduct an independent inquiry, concluded that U of M officials knew that Anderson was abusing students and could have stopped him but didn't.
The Anderson case echoed the Dr. Richard Strauss scandal at Ohio State University, where 350 men accused the university of having failed to protect them from a predator doctor.
In that case, the independent law firm Perkins Coie concluded that coaches and athletic administrators at Ohio State knew for two decades Strauss was molesting male athletes but failed to sound the alarm or stop him.