WILMINGTON, N.C. — This North Carolina city was still cut off by rising waters on Monday after Florence, formerly a hurricane and now a tropical depression, knocked out power and left debris strewn across homes and streets.
Officials had planned to try and go in by land, using routes selected by the state highway patrol, according to Jessica Loeper, a spokeswoman for New Hanover County.
If flooding makes the roads impassable, then authorities will use airlifts, she said Sunday evening. When the supplies finally reach the county, they'll be distributed from three points around the county, locations that will be announced later on Monday, Loeper said.
On Sunday, officials were looking for to look ways of getting into Wilmington — a city of nearly 120,000 — by air or water.
"There is no access to Wilmington," Woody White, chairman of the county Board of Commissioners, said Sunday at a news conference.
Most of Wilmington has been without power through the weekend while thousands of residents remain stuck at home, hemmed in by downed trees and power lines. Countless homes are damaged but many homeowners who evacuated Wilmington are now unable to get back to see how bad the situation might be.
Driving through the city is like negotiating a maze, with portions of highways flooded, making the city essentially inaccessible by road from the rest of the state.
Crews plucked hundreds of people from their inundated homes in New Hanover County through the overnight hours, authorities said.
Florence was downgraded to a tropical depression but continued to drench the Carolinas on Sunday, raising the threat for dangerous flash flooding and landslides. The storm has been blamed for at least a dozen deaths.
"Flash flooding and major river flooding will continue over a significant portion of the Carolinas," the National Hurricane Center said late Sunday morning.
With Wilmington and the county of New Hanover, North Carolina, essentially cut off from the rest of the state, and food and water supplies running low, local authorities appealed Sunday to state emergency-management officials for help. They've arranged for water and military-style field rations known as MREs to be delivered around North Carolina. How they will get the provisions there remains unclear.
Authorities are still urging residents who evacuated the county to stay away.
"It's dark here. It's hot here. Businesses are not open," Loeper said. "The county is not fully operational. We understand that people want to get back and check on their homes, but we really ask that they stay patient until it's safe for them to come home."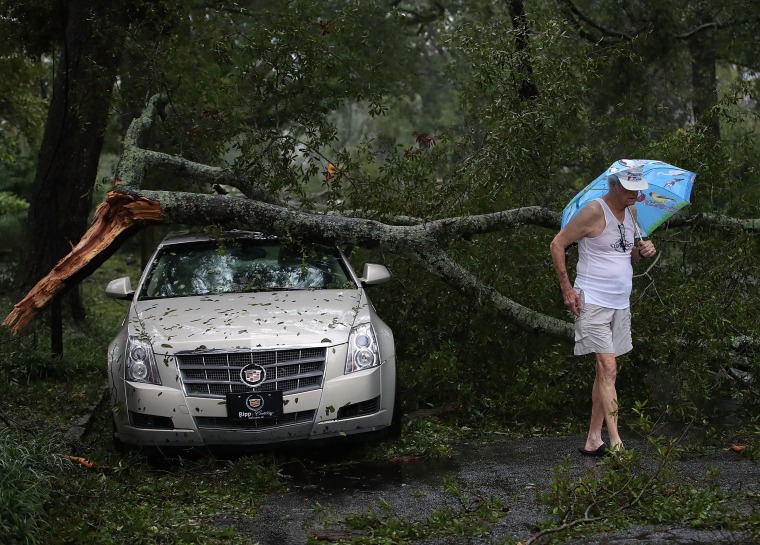 Though nearly all the businesses in this city are empty and closed, a small number of restaurants and grocery stores opened Sunday but offered limited amount of food — and took pains to maintain order and serve as many people as possible.
At a Harris Teeter supermarket on Oleander Drive, bedraggled looking residents waited on line as staff allowed 10 people at a time inside to shop. One of them, Angela Alford, said she's witnessed scuffles break out among customers at a different Harris Teeter location earlier.
Alford's apartment, which she shared with her daughter and a roommate, lacked power and was leaking water from a blown-out roof; they were running out of food and growing anxious.
"We're just hanging on," Alford said. "And once the restaurants and stores run out of food, what are people going to do?"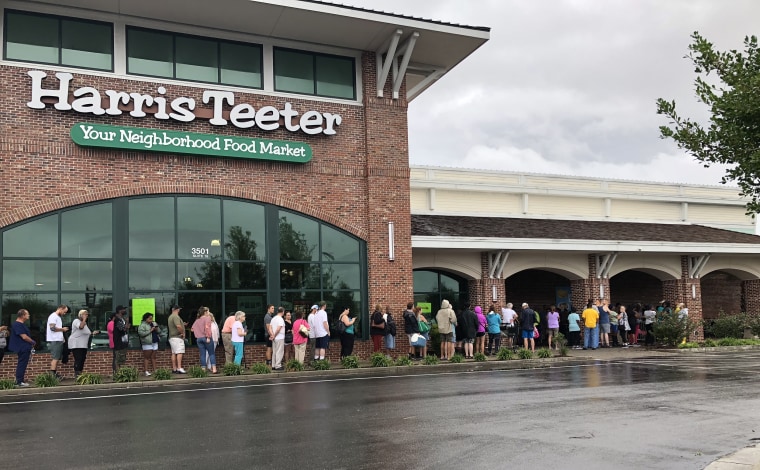 In Courtney Pines, a subdivision nearly 10 miles north of Wilmington where authorities rescued multiple residents by boat on Saturday night, Chris Tyner said his sister called him sobbing after she left his home and water began roaring over her van.
"I was going out for her and it flooded out on me," he said, adding that when water rose over the bumper of his truck he escaped through the vehicle's rear window.
"I've lived here my whole life, I'm from Wilmington, I've been through every hurricane since the '70s and I've never experienced anything like this before," he said. "It's really crazy."
The neighborhood was not under mandatory evacuation, though New Hanover County Commissioner Woody White said it was "strongly suggested" that residents flee. On Sunday, some said they would next time. But Harold Santos, who stayed to watch over his home — and said the water rose to his waist within a matter of hours — said he wouldn't change a thing.
"I made a choice to stay," he said. "God is on my side. [I've] got nothing to fear."
The storm continued to hit much of North Carolina and northern South Carolina with "widespread heavy rains" on Sunday, according to the hurricane center.
"These rainfall amounts will produce catastrophic flash flooding and prolonged significant river flooding," the center said.
North Carolina Gov. Roy Cooper said floodwaters were still raging across part of the state and "the risk to life is rising with the angry waters."
"The storm has never been more dangerous than it is right now," he said, adding that more than 900 people had been rescued from the waters by emergency responders so far.
Statewide, more than 630,000 people were without power statewide as of around 11 a.m. Sunday, according to the North Carolina's emergency management agency.
And the Cape Fear Power Utility Authority said it was in "critical need" of fuel to keep its water treatment plants running. If the utility does not get the fuel it needs within 48 hours, its customers would be without water and it would not be able to provide water services for public health and safety, according to a statement.
The power authority said it is unable to get fuel because roads into the city are cut off by extreme flooding.
"Now is a good time to begin filling up bathtubs and water jugs as a contingency to a loss of water delivery," the utility said.
The local water utility had warned on Sunday that it might have to shut down, potentially leaving homes without drinkable water. Later, however, the utility said in a statement it had found a source for fuel and there was no immediate threat to service disruption.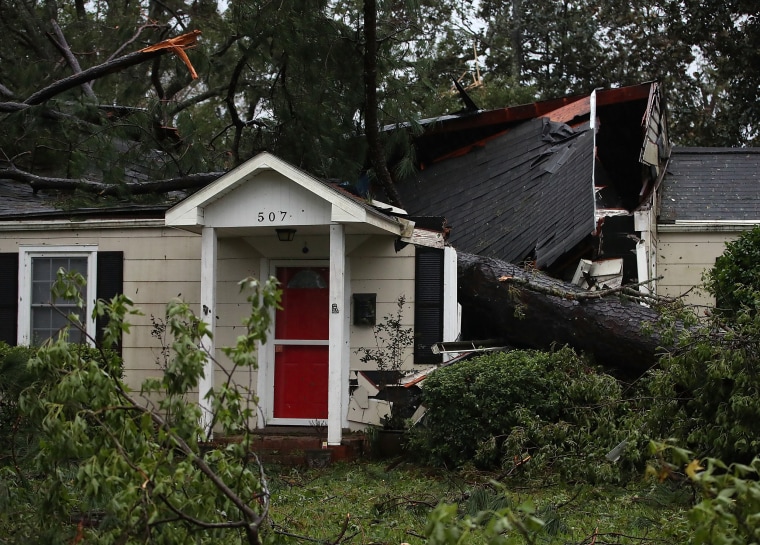 Christopher Ray, a resident of Jacksonville, North Carolina, said he and his wife woke up at 3 a.m. Saturday morning because their chihuahua was barking and found the dog "floating in her cage." He had to evacuate their home using a dinghy because of the rising floodwaters. His home flooded, destroying some of his property including a smart car, several TVs, laptops and a work trailer, he said.
"It's going to be a big hit on us, a very big hit," he said after returning to his home and surveying the damage.
New Bern, North Carolina, Mayor Dana Outlaw told "Meet the Press" on Sunday that officials remained "very concerned" about additional flooding and trees still toppling.
"A lot of the creeks around New Bern are increasing by the hour," he said.
Most of the deaths occurred in North Carolina, officials said. Two babies and a mother were killed in separate incidents in Gaston County and Wilmington after trees fell on their homes; a woman died in Pender County after suffering a medical condition and large trees blocked roads to her home; two people died in Lenoir County; and three were killed in Duplin County in separate incidents when the cars they were in were washed away in high water, authorities said.
In South Carolina, a 61-year-old woman died after her car struck a downed tree on a highway in Union County Friday night, according to South Carolina Highway Patrol Capt. Kelley Hughes.
Two people in Horry County, South Carolina, died of carbon monoxide poisoning, the South Carolina Department of Public Safety tweeted Saturday night, and the department said that the deaths are being blamed on the storm.
One man drowned after a truck he was a passenger in overturned into a ditch that was over flowing with water in the early hours of Sunday morning, according to the Georgetown County Coroner. The driver and another passenger escaped.
Another person died after their pickup truck traveled off a roadway and struck an overpass support beam, according to the public safety department.
Jon Schuppe reported from Wilmington, North Carolina. Daniella Silva reported from New York.