LONDON — The already rocky relationship between the United States and China has taken a turbulent turn, with Beijing moving to expel American journalists from the country.
After almost two years of on-off trade talks, tariffs, counter-tariffs and several disputes centered around national security concerns in the technology sector, the latest escalation comes as the coronavirus pandemic creates a fresh impasse between the world's two largest economies.
So at a moment when the world faces a threat that does not respect national boundaries or cultural differences, the free passage of crucial data and understanding seems to have become the latest casualty of the pandemic.
On Wednesday, a Chinese foreign ministry spokesperson said the decision to force an estimated 13 reporters from The Wall Street Journal, The Washington Post and The New York Times to leave China within a week or so was a "proportionate response" to previous U.S. government action placing limits on Chinese state-controlled news media organizations.
"China didn't start it. China is not responsible for it either," said Ministry of Foreign Affairs spokesperson Geng Shuang at a briefing Wednesday.
But The Washington Post's executive editor, Marty Baron, told NBC News that the decision was "particularly regrettable because it comes in the midst of an unprecedented global crisis."
Expelling reporters will limit the flow of "clear and reliable information" and "only aggravates the situation," Baron said shortly after Beijing's expulsions were announced on Tuesday.
His counterpart at The New York Times, Dean Baquet, agreed with that assessment, telling NBC News that the move was "especially irresponsible at a time when the world needs the free and open flow of credible information about the coronavirus pandemic."
Baquet urged both the U.S. and Chinese governments to resolve the dispute, because the health of the global population depends on impartial reporting inside both countries, which are fighting the same virus.
Academic observers in Beijing and Washington said this kind of tit-for-tat action has become part of an increasingly common pattern in recent years, as it grows ever more difficult to paper over the gaping structural fault lines in the Sino-American relationship.
Full coverage of the coronavirus outbreak
Zha Daojiong, a professor of international politics at Peking University, said recent behavior by both sides was "a manifestation of a deeper problem, rather than just a response to the virus."
The expulsions follow three years in which collaboration between the U.S. and China — including in the field of health and pandemic prevention — has more or less ground to a halt.
"All we have left is the political grievance, or diplomacy grievance impulse to score points," he said. "And that's very sad."
Senior officials in Beijing, including a top diplomat, recently joined a chorus of Chinese voices that have sought, without evidence, to publicly blame the U.S. for the coronavirus outbreak, which was first recognized in China and has killed thousands of its citizens before expanding on a devastatingly global scale.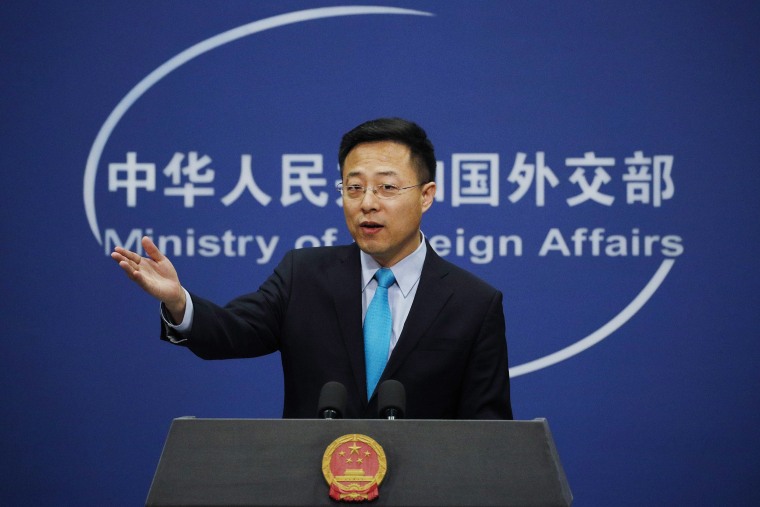 "It might be U.S. Army who brought the epidemic to Wuhan," a spokesman for the Chinese Foreign Ministry, Zhao Lijian, said in a tweet last week, referring to the Military World Games held in October in the city of Wuhan, which hundreds of American military athletes and staff attended.
"U.S. owe us an explanation," he added.
Wuhan in Hubei province is at the center of the epidemic in China.
The Trump administration reprimanded China's ambassador in Washington for Zhao's unfounded assertion. State Department spokesman Morgan Ortagus said in a statement that Secretary of State Mike Pompeo had strongly objected to Chinese efforts to pass the blame for COVID-19 onto the U.S. during a call with China's director of the Office of Foreign Affairs, Yang Jiechi.
Pompeo had said that now was not the time to spread "disinformation and outlandish rumours" as countries around the world are working together to fight the pandemic, Ortagus said
But such Chinese claims of a U.S. role in the virus' spread did not arise in a vacuum, and instead came amid a barrage of public statements from senior White House officials, including President Donald Trump as well as Pompeo, that have emphasized the outbreak's ostensibly Chinese origins, despite World Health Organization requests to avoid such stigmatizations.
Trump, whose administration has been widely criticized for its handling of the epidemic response, has referred to the "Chinese virus" in several tweets, including at least three on Wednesday alone.
And Pompeo, who used the phrase "Wuhan coronavirus" several times during the early days of the outbreak, has blamed Chinese obfuscation for a delay in global awareness of the virus.
Pompeo softened his tone at a briefing Tuesday, saying "now is not the time for recrimination."
He also called the Chinese Foreign Ministry's decision to revoke the press credentials of the reporters from The New York Times, Washington Post and Wall Street Journal "unfortunate."
Beijing's move was not comparable to measures the Trump administration had taken last month, when several Chinese news agencies were officially designated as foreign missions, he added.
It was not "apples for apples," Pompeo said, because the Chinese personnel in question "were not media that were acting here freely."
Instead, he said, they were "part of Chinese propaganda outlets."
Solution 'not in sight'
"Fundamentally the big problem on both sides is that you now have leadership which no longer considers having good bilateral relationships as a highest priority," said Victor Shih, a professor of politics at the University of California, San Diego's School of Global Policy and Strategy.
He said the lack of willingness to improve those ties has been behind more intensive U.S. investigations into alleged Chinese espionage, sanctions on the Chinese technology giant Huawei and the extensive trade tariffs.
"Previous administrations should have pursued these issues," he said. "But didn't because of a strong desire to maintain cooperation."
After the SARS outbreak in the early 2000s, Chinese and American health experts worked together closely, sharing data, public surveillance and laboratory results, while publishing joint papers on vaccines, monitoring techniques and best practices.
"China's own capacity increased by a huge margin," Peking University's Zha said. "It benefitted from the collaboration with the Americans."
However, during the recent outbreak in Hubei province and the city of Wuhan, the World Health Organization was not granted immediate access to the region, and scholars point out that U.S. health authorities also faced similar obstructions.
"Our CDC doesn't get much cooperation from China," says David Lampton, a research scholar and fellow at the Asia Pacific Research Center at Stanford University. "Partly because China is worried that we will use that information to embarrass them."
Potentially embarrassing information could include the fact that the Chinese doctors who were among the first to raise the alarm about the new coronavirus were silenced, and in some cases punished, after speaking out.
Lampton said both countries should look to rebuild trust in areas like health care, where cooperation has previously proven fruitful, though he acknowledges this will be challenging in the current circumstances.
"We've moved from a relationship in which we're trying to reassure each other, to one in which we're trying to deter each other," he added.
Chinese academics share this pessimism about the deterioration in relations, but diverge on the causes of it.
Professor Shi Yinhong, who heads up the Center of American Studies at Beijing's Renmin University of China and acts as an advisor to the Chinese cabinet — known as the State Council — puts it down to geopolitical rivalry, ideological antagonism and domestic political requirements on both sides.
"Possible solution is not in sight," he told NBC News in an email.
Victor Gao, who earned two postgraduate degrees at Yale and was the official interpreter for Deng Xiaoping, the first Chinese leader to visit the United States, assigns the blame exclusively to the Trump administration.
"U.S. threats of 'disengagement' from China and its constant labeling of China as an adversary or an enemy have eroded the fundamental goodwill for normal relations between China and the United States," said Gao, now a vice president at the Center for China and Globalization, a Beijing-based think tank.