A week of upheaval in British media is ending with the country's best-known news anchor hospitalized for mental health concerns, its biggest tabloid newspaper being widely condemned and its embattled national broadcaster, the BBC, plunged into yet another crisis. 
Huw Edwards, 61, is perhaps the most recognizable face in British news, the BBC's go-to voice for everything from the death of Queen Elizabeth II to the Olympics opening ceremony. This week, that public persona was shattered after he was accused of paying a young person, now aged 20, some 35,000 pounds (around $45,000) for explicit photos.
The story appeared to unravel, however, when the alleged victim's own lawyer came forward to say that there had been no wrongdoing, and police said they could not find evidence that a crime had been committed. The saga has now morphed into a broader discussion about British media culture, which is once again facing questions over ethics, standards and public trust.
No party has emerged unscathed.
Edwards' wife says he is being treated for serious mental health issues. And many commentators are scathing of the reporting and ethical standards of The Sun, the right-wing tabloid owned by the mogul Rupert Murdoch, which published the scoop leading to Edwards' identification.
It has also become a battleground in the culture war raging over the BBC, a public service broadcaster that provides a dizzying array of content for a mandatory yearly license fee of 159 pounds (about $209). For years it has been under pressure from the ruling Conservative Party, whose lawmakers have made little secret of their desire to diminish or dismantle it because its publicly funded model goes against their free market worldview.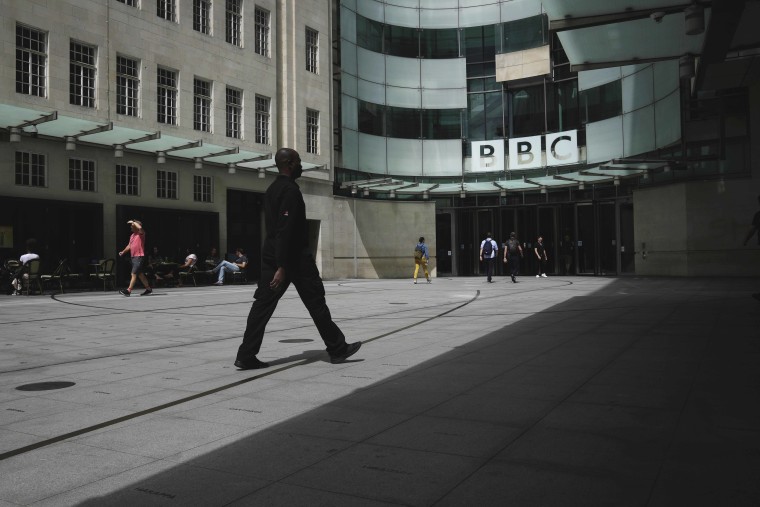 When trying to make sense of the Edwards story, "it's important to remember that The Sun is part of the Murdoch empire, which has a long-standing hatred of the BBC, partly commercial and partly ideological," said Steven Barnett, a communications professor at London's University of Westminster, who has worked in the industry for more than three decades.
Murdoch's Sun is Britain's most widely read news brand with some 30 million monthly readers in print and online. It also has become one of the most controversial forces in public life, feared by prime ministers, relied upon by celebrities and hated by many nonreaders.
While Barnett said The Sun had based its exclusive on "very, very flimsy evidence," some in the industry have defended the newspaper.
Journalists "who hold others to account for their behavior have to be prepared to be held to account for their behavior," said Adam Boulton, a veteran ex-correspondent at Sky News, NBC News' British partner. 
"There have been a lot of people whose careers have ended," not for breaking the law but because they brought their employer "into disrepute," he told Sky News on Wednesday.
(Before NBC News' parent group Comcast bought Sky News in 2018, it was 39% owned by Murdoch's Twenty-First Century Fox.)
The Sun broke its scoop last Friday about an unnamed TV personality paying thousands of pounds for sexual pictures of a young person, funding their crack cocaine addiction. The source was the alleged victim's mother, who said their child was now 20 but the payments had been going on "since they were 17."
Though the age of consent is 16 in the United Kingdom, it is illegal to possess "indecent images" of anyone under 18.
Edwards, a churchgoing Christian with five children, quickly trended on social media. And his wife, Vicky Flind, confirmed his identity Wednesday, saying in a statement that the episode had caused him to suffer "serious mental health issues" and that he had been hospitalized "for the foreseeable future."
The original narrative presented by The Sun was soon contested. The young person's lawyer said in a statement Monday that the claims made by their family were "rubbish" and "nothing inappropriate or unlawful" had happened. London's Metropolitan Police announced Wednesday there was no evidence of a crime.
The story increasingly resembled a family feud — "the hearsay of the parents of an adult child, who is denying what the parents are saying," Barnett, the communications professor, said.
A former editor at The Sun, David Yelland, tweeted Wednesday that the newspaper had "inflicted terror on Huw" and that "this is no longer a BBC crisis, it is a crisis for the paper."
Soon the #NewsoftheWorld was trending on Twitter, equating the crisis with The Sun's sister paper, which closed in 2011 after it was found hacking the phones of celebrities and crime victims.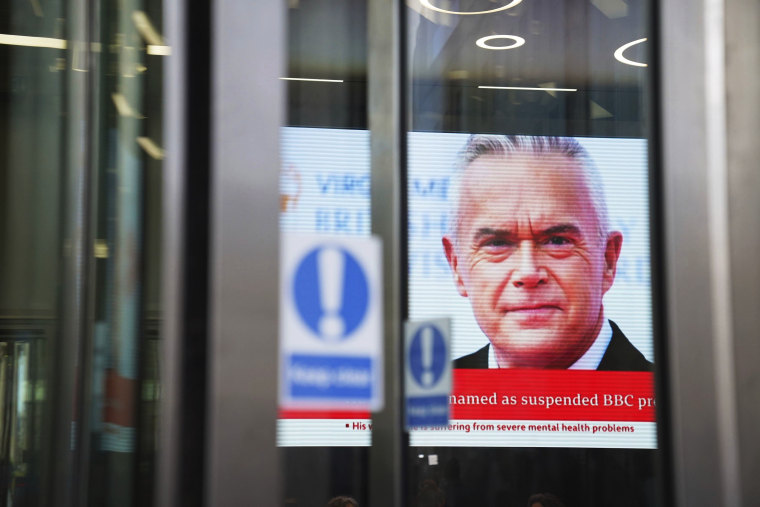 The Sun is unrepentant. 
The story was always "about two very concerned and frustrated parents who made a complaint to the BBC about the behavior" of an anchor "and payments from him that fueled the drug habit of a young person," a spokesperson said in an emailed statement.
The paper "at no point in our original story alleged criminality," the statement added, declining to explain how this squared with its reporting that the young person was 17 when the payments started.
NBC News has not confirmed any of The Sun's reporting. And no details about the family have been published so it was not possible to ask them for comment.
The BBC is now conducting an investigation, including into new allegations. The Sun reported that Edwards broke coronavirus lockdown restrictions in 2021 to meet someone from a dating app. And the BBC reported that two current and one former staffer had received "abusive messages" from him.
The broadcaster is investigating "calmly, carefully and with diligence, with full consideration of our duty of care to all involved," a BBC spokesperson said.
But the spokesperson declined to comment on the criticism of the BBC itself.
For some on the right, this is about a taxpayer-funded behemoth being slow to act on allegations against top talent. Looming large is the specter of Jimmy Savile, the BBC entertainer who was revealed to have been a serial sex abuser by the BBC's rivals after his death in 2011.
But these familiar critics are joined by others who believe the BBC overcompensated, giving the Edwards story blanket coverage no commercial rival would.
"BBC journalists were desperate to demonstrate their independence from BBC management," Barnett said. "They have gone out of their way, not just to cover the story and repeat the allegations, but to try to find their own evidence for wrongdoing."