JERUSALEM — Falling to her knees in anguish, Muna Habil was inconsolable as her neighbors tried to comfort her.
"I have no one left — all my family is gone," Habil cried. "They killed them."
Her mother, her father, her brother and her sister-in-law were killed by a blast at a building in Al Shati refugee camp in northern Gaza at around 6 a.m local time Saturday (11 p.m. ET Friday). Five children, her nieces and nephews, also died.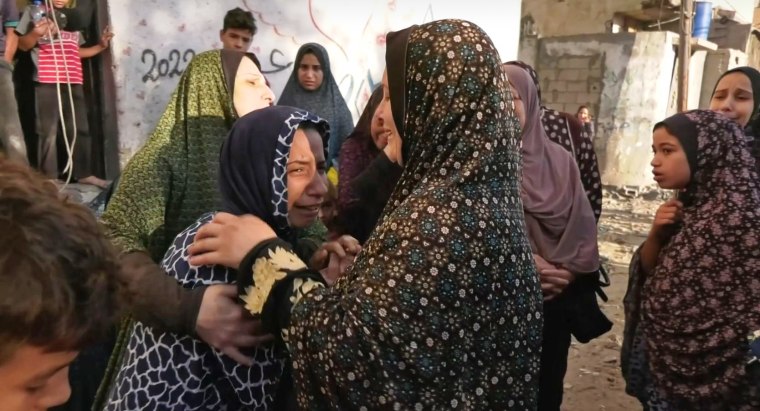 As she was sleeping in the building next door, Habil said she had dreamt that something bad was going to happen to them. Her dream became a living nightmare.
She said she woke to find that multiple buildings including at least one occupied home had been destroyed.
Follow live coverage from NBC News here.
The Israel Defense Forces did not directly respond to NBC News' questions about whether it targeted the building where her family was staying and if so, why. The IDF said in a statement that it "takes feasible precautions to mitigate civilian harm" as it attacks Hamas.
As rescue crews, supplemented by men and young boys from the camp, frantically searched through the rubble for survivors, Habil stood nearby as the occasional shout of prayer went up when someone was found alive. The ash-covered residents were then transferred to stretchers and taken for treatment, before the search resumed.
Surrounded by other grieving people, the tears streaming, at one point Habil started slapping her own face repeatedly, until someone pulled her arms to stop her and other women came forward to comfort her.
"Oh God, I'm going to die without them," she shouted. "They're dead. They're dead. I have no one."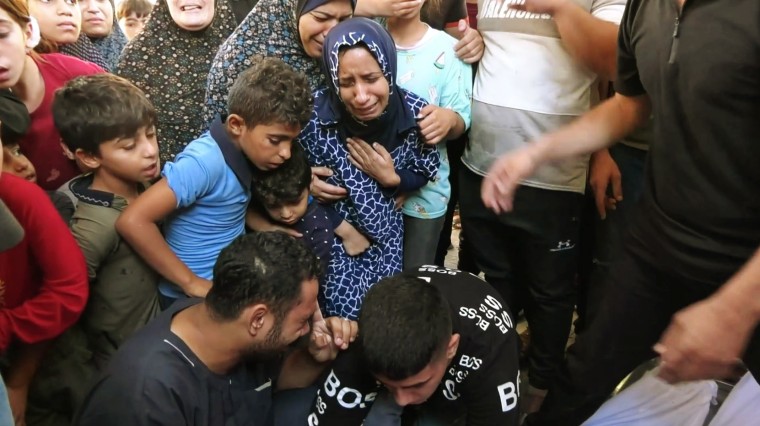 Israel has issued repeated warnings for civilians to evacuate northern Gaza since Hamas militants launched its massive multipronged terrorist attack on Israel on Oct. 7.
As a result, more than 1 million Palestinians, or just under half of Gaza's population, have made their way south amid airstrikes and heavy bombardment on all parts of the enclave, ahead of a highly anticipated ground assault by Israeli forces.
Tanks and tens of thousands of troops have massed at the border, but the Israel Defense Forces have acknowledged there are still hundreds of thousands of Palestinian civilians in northern Gaza, which would complicate any ground attack.
Some have been unwilling or simply unable to leave the north, and the order has been criticized by aid groups and branded "impossible" by the United Nations.
By early Saturday it was too late for Habil's family.
After her neighbors helped her fix her hijab, some women walked with Habil to a nearby hospital around 2 miles away, where the bodies of her family members had been taken.
"What can I do, now that they're gone?" she said.
Lawahez Jabari reported from Jerusalem, and Doha Madani reported from London.