The world responded to the earthquake Sunday, with Pope Francis praising rescuers, France saying it's ready to pitch in and Spain sending search-and-rescue crews at the behest of Moroccan officials.
"I pray for the injured, for those who have lost their lives, so many of them, and for their relatives," Pope Francis told crowds in St. Peter's Square.
The Royal Moroccan Armed Forces revised the quake-related death toll, now 2,122, and the number of injured, now 2,421.
Nonprofit groups have also responded to the devastation, with José Andrés announcing today that food trucks from his organization, World Central Kitchen, were setting up shop in hard-hit remote areas.
Given blocked roads and mountainous terrain, food would still often be delivered to those in need on foot, he said.
This liveblog has now ended. You can follow the latest updates here.
Latest on the Morocco earthquake
At least 2,122 people have been killed and 2,421 have been injured, at least 1,400 critically, in Friday night's magnitude 6.8 earthquake in the Moroccan High Atlas Mountains southeast of Marrakech.
No Americans have been reported killed, and the U.S. State Department described the number of injured U.S. citizens as "small."
The world responded, with Pope Francis offering prayer, France offering assistance and Spain sending search-and-rescue crews.
Chef José Andrés said food trucks from his nonprofit organization, World Central Kitchen, were being set up in remote locations in Morocco hard hit by the earthquake, where they will be used to prepare food for those in need.
NBC News crews are on the ground and reporting from Morocco.
U.S. Embassy still says a 'small' number of U.S. citizens were injured and none known killed
This afternoon, the U.S. State Department again described the number of U.S. citizens injured in the earthquake as "small" and said it still did not know of any Americans' deaths.
Officials are communicating with local authorities and are ready to provide "appropriate consular assistance" to citizens, it said in a statement.  
Alerts to keep U.S. citizens up to date are being published on the U.S. Embassy Rabat's website.
United Kingdom deploys search-and-rescue teams to Morocco
The U.K. government is sending 60 search-and-rescue teams to Morocco, along with equipment and medical teams, the foreign ministry announced today.
Teams will be sent out immediately on planes provided by the Defense Ministry. Search-and-rescue teams have specialized equipment to help extract people from the rubble of collapsed buildings, including seismic listening devices and concrete cutting and breaking equipment, the foreign ministry said.
King Charles issued a statement of condolence on behalf of himself and his wife addressed to King Mohammed VI. He said they were deeply shocked to hear reports of the "devastating loss of life."
"We both have countless found and special memories of our visits to your country and I cannot describe to you the depths of our sadness and sorrow at the suffering of all those affected by this appalling tragedy," his statement said.
PHOTOS: Mourning in Morocco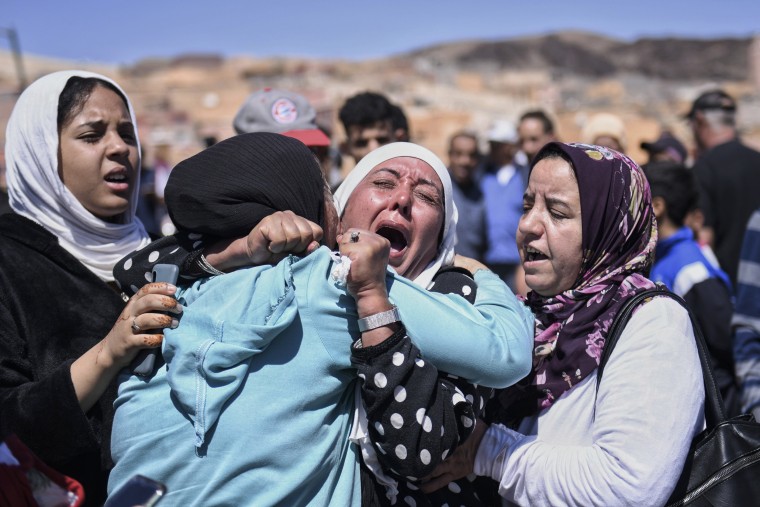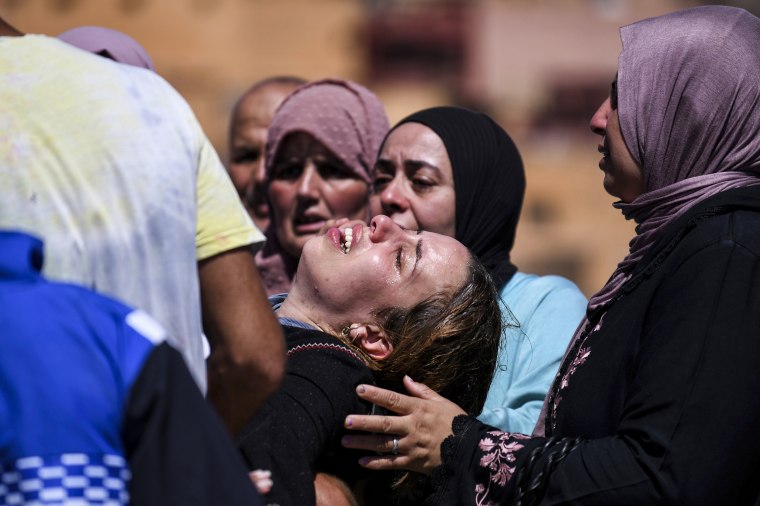 Death toll revised upward
Morocco has revised its earthquake death toll.
The total number of deaths resulting has reached 2,122, and the number of injured is 2,421, the Royal Moroccan Armed Forces said on X.
José Andrés setting up food delivery in remote areas
José Andrés, the Spanish American chef, restaurateur and philanthropist, said his not-for-profit organization, World Central Kitchen, is stationing food trucks in Morocco to deliver meals to people in hard-hit areas.
Aftershock rattles Morocco
A 3.9-magnitude aftershock rattled Moroccans today as they prayed for victims of the country's strongest earthquake in more than a century and worked to rescue survivors while soldiers and workers took water and supplies to mountain villages in ruins. 
The same areas were shaken again by a 3.9-magnitude quake, according to the U.S. Geological Survey. It wasn't immediately clear whether the temblor caused more damage or casualties, but it was most likely strong enough to rattle nerves in areas where damage has left buildings unstable and people have spoken of their fears of aftershocks.
Pope Francis offers prayers for quake victims
Pope Francis has offered his prayers and expressed solidarity with those affected by the earthquake in Morocco.
"I would like to express my closeness to the dear people of Morocco, hit by a devastating earthquake. I pray for the injured, for those who have lost their lives, so many of them, and for their relatives," he told crowds in St. Peter's Square today.
"I thank the rescuers and all those who are working to alleviate the suffering of the people. May everyone's complete support sustain the population at this tragic time. We stand with the people of Morocco," he added.
In a remote mountain village, destruction and a desperate search
MOULAY BRAHIM, Morocco — The roads to get to this remote village are narrow, winding and treacherous — in some places blocked by boulders and rubble.
Throughout this village you can see homes that are either destroyed or partially collapsed. This village was home to 3,000 people, but residents here tell us 40 were killed Friday night, part of the huge national toll.
The rescue effort is extremely complicated, with the devastation spread throughout remote villages like Moulay Ibrahim rather than concentrated in one area. Yet residents are leading the effort, digging by hand in a desperate search for survivors.
Rubble in historic Marrakech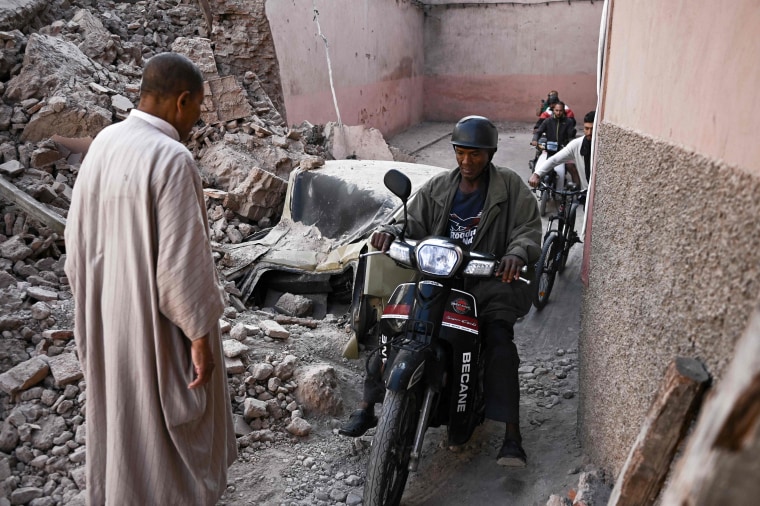 A cat sits near a damaged building in the old quarter of Marrakech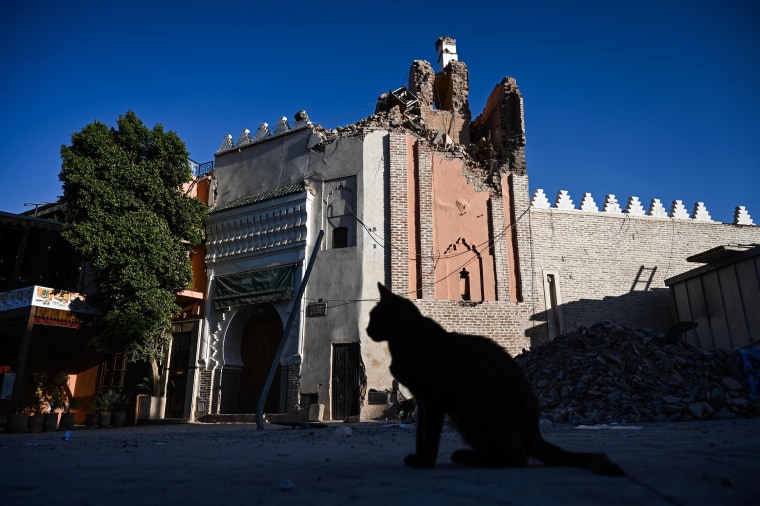 Neighboring Spain sending rescuers and aid
NEW DELHI — Spain said this morning it was immediately sending search-and-rescue teams to help find survivors after a formal request from its maritime neighbor.
"I can confirm that Morocco has officially requested rescue and rescue aid from Spain," Foreign Minister José Manuel Albares said in a statement from India's capital, where he was attending the G20 summit. He said he had received a call from his counterpart in Rabat requesting the aid earlier in the morning.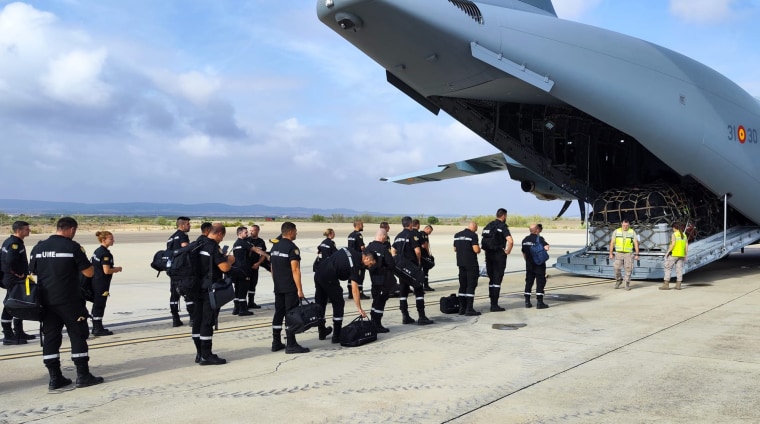 "Once again, I would like to convey all the condolences and solidarity of the Spanish Government and the Spanish people to Morocco and the Moroccan people, and especially to the almost one million Moroccans who live with us on a daily basis in so many parts of Spain," Albares said.
Rescuers searching the rubble
Rescue workers are scouring the rubble in Marrakech and nearby mountain villages for remaining survivors.
With many of the injured in critical condition and the most affected areas remote and hard to get to, the death toll may continue to rise.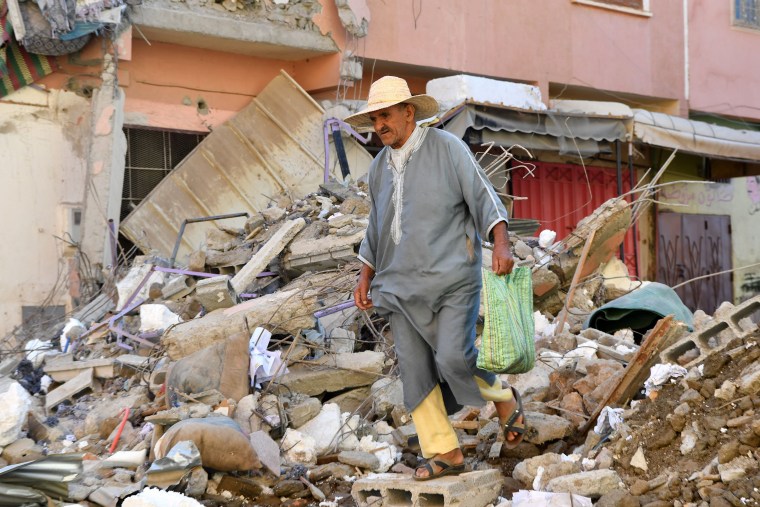 Morocco's men's soccer team donates blood
The official account for Morocco's men's national soccer team has posted video of players donating blood after the earthquake.
The team, known as the Atlas Lions, became national icons with a deep run in last year's World Cup.
It had been scheduled to play Liberia yesterday in a qualifier for the Africa Cup of Nations tournament, but the game was canceled in the wake of the earthquake.
A damaged hotel outside Marrakech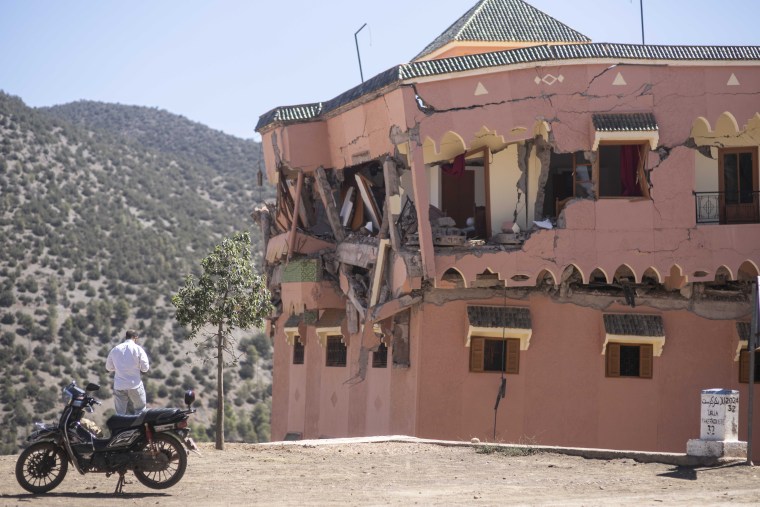 France says it's ready to help
France says it is in touch with Moroccan authorities and is ready to deploy resources such as search-and-rescue teams on short notice.
French foreign ministry spokesperson Anne-Claire Legendre said this morning that Morocco has not yet requested international assistance, adding that authorities will first evaluate the situation before they request the help they need.
No French citizens have been repatriated from Morocco after the earthquake, Legendre told franceinfo radio.
American in Morocco recalls apartment shaking, community response
Author TaNesha Barnes said last night's earthquake was like nothing else she had ever felt. The walls of the American's Marrakech-area apartment complex came alive and shook throughout what she described as an achingly long temblor.
Afterward, neighbors, all physically unharmed, gathered outside and pretty much stayed there amid frightening aftershocks. Barnes said the community she now calls home has been a rock for those who need help recovering from the temblor. "People are stocking up to help other people," she said in a Zoom interview last night.
"There's a sense of love, prayer and sharing," said Barnes, the CEO of Mwasi Creative Community, which aims to help Black Americans heal from traumatic and often racist and discriminatory experiences through retreats in Morocco.
Marrakech was lit by entire neighborhoods moving outdoors in the wake of Friday's quake. The response has only strengthened her resolve that it is the place for her healing community.
"We stayed outside," Barnes said. "All of our Moroccan friends called as if we were family to make sure we were OK."
Residents flee homes in village near epicenter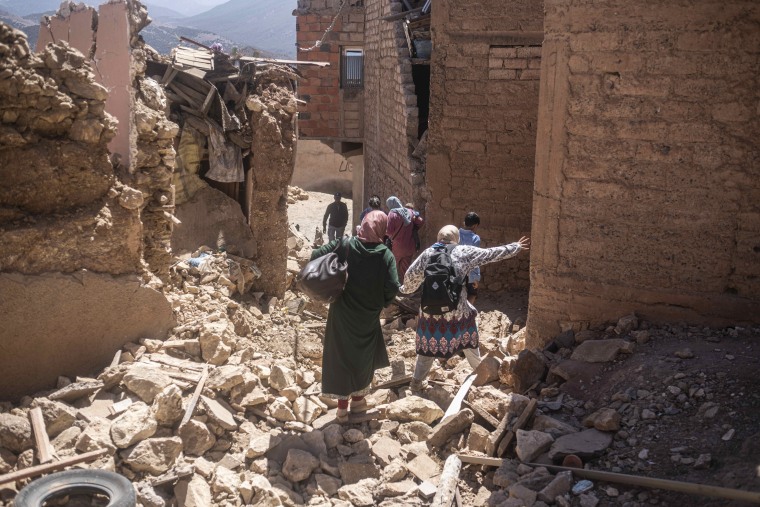 Many in Marrakech sleep outside after deadly earthquake
MARRAKECH, Morocco — While the airport in Casablanca felt like business as usual, crowded but calm with tourists and traveling families, the impact of the earthquake became apparent as soon as we reached the outskirts of Marrakech.
At Rond Point de la Palmeraie, the main traffic circle at the entrance to the city, hundreds of people were sleeping on the sidewalks and grass along the road. The rows of people sleeping stretched the length of the boulevard driving into the city. Some people appeared to be sleeping on just mats with blankets over them, while others had more substantial supplies. Some makeshift kiosks were selling food and drinks in parking areas along the way.
Just a few minutes down the road, though, a line of people was waiting to get into a nightclub, and across the street, the patio of the McDonald's was packed.
We haven't seen any signs of damage yet, but we're not in an area with the older, more affected buildings.
Map of earthquake epicenter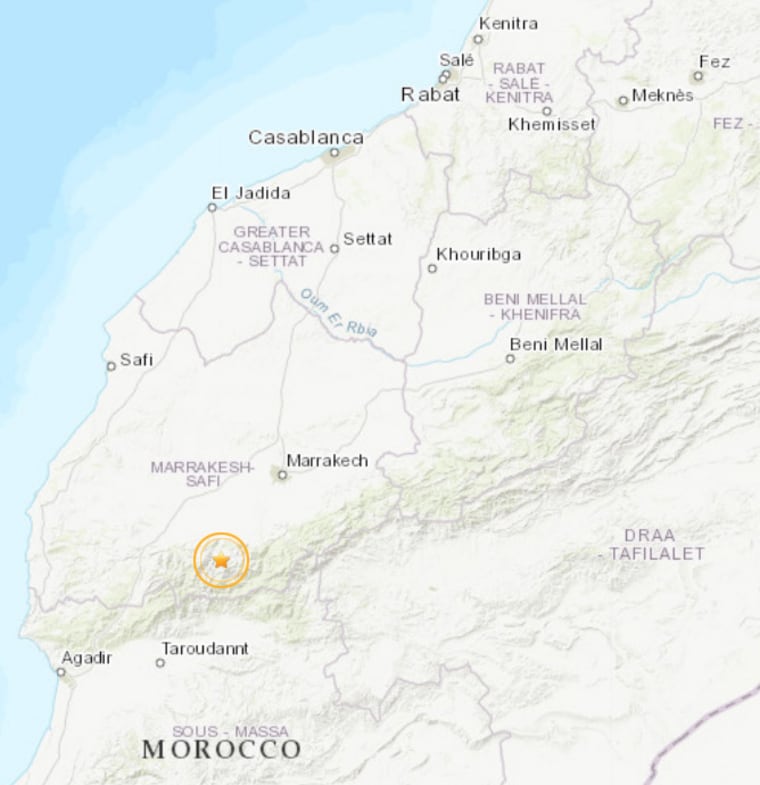 Number of deaths remains around 2,000 as officials focus on recovery
The number of deaths connected to last night's 6.8-magnitude earthquake remained officially at 2,012 early today, with 2,059 people believed to be injured, 1,404 of them critically, according to the Royal Armed Forces.
Residents of Marrakech, one of the kingdom's six major cities, slept outdoors overnight, fearful of another major quake and discomforted by aftershocks. Other townspeople wandered aimlessly through streets littered with debris. Some buildings were destroyed or severely damaged, while others survived and stood proud amid the rubble.
Searchers continued to find victims in the High Atlas Mountains. The epicenter of the temblor was near the range's ski resort town of Oukaïmeden, about 50 miles south of Marrakech, according to the U.S. Geological Survey.