MOSCOW — Russia's foreign ministry has cited a factual error in the indictment against Paul Manafort as proof the allegations are "cooked up" and not part of a "serious investigation."
Manafort, President Donald Trump's former campaign manager, and his business associate, Rick Gates, are accused of charges including conspiracy against the U.S., money laundering, being an unregistered foreign agent and seven counts of failure to file reports of foreign bank and financial accounts.
But the spokeswoman for Russia's foreign ministry, Maria Zakharova, pointed out that the 31-page indictment wrongly describes Yulia Tymoshenko as a former president of Ukraine.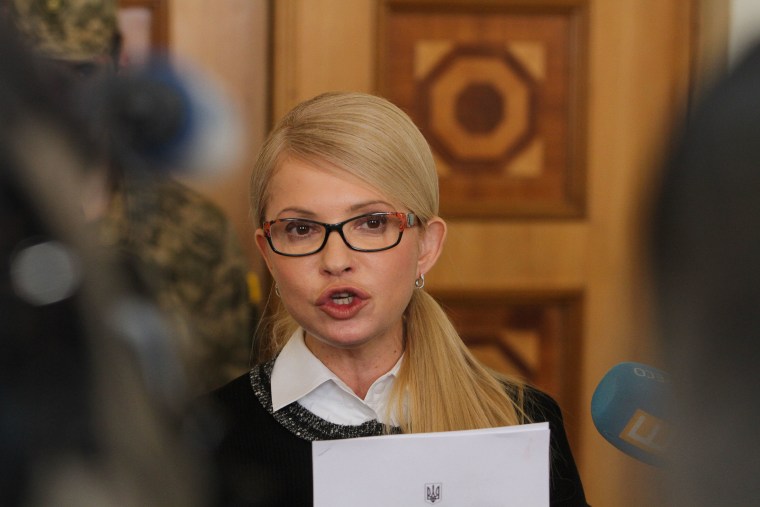 In fact, Tymoshenko twice served as the country's prime minister, before being jailed in 2011 on embezzlement charges that the U.S. and others said were politically motivated.
"I liked a lot the bit that, it turns out, according to the recent findings of American enforcers, the Ukrainian president before [Viktor] Yanukovych was Yulia Tymoshenko," Zakharova told the state-owned Russia 1 television station Monday. "We did not know that, but there you go."
She suggested that the mistake undermined the rest of the indictment.
"This is a very important moment showing the way how, once again, this document had been made, cooked up," Zakharova added. "You understand when you talk about serious investigation one cannot allow things like that."
The Manafort indictment says he and Gates "lobbied multiple members of Congress and their staffs about Ukraine sanctions, the validity of Ukraine elections, and the propriety of Yanukovych's imprisoning his presidential rival, Yulia Tymoshenko (who had served as Ukraine president prior to Yanukovych)."
The indictments against Manafort and Gates say that both men generated tens of millions of dollars as a result of their lobbying work in Ukraine.
In addition, George Papadopoulos, who had been a foreign policy adviser to Trump during the campaign, pleaded guilty to making false statements to the FBI.
They are the first people known to be charged and Papadopoulos the first to plead guilty in the investigation by special counsel Robert Mueller into the Trump campaign's alleged ties to Russia and Moscow's interference in the election last year.
Russian President Vladimir Putin and other high-ranking government officials have repeatedly denied that Moscow meddled in the vote.
Alan Kaytukov reported from Moscow. Alexander Smith reported from London.