JERUSALEM — Israeli Prime Minister Benjamin Netanyahu told NBC News his country is not heading toward civil war, a specter raised by Israel's president amid the deep divisions and mass protests following new legislation that severely weakens the Supreme Court.
"There won't be civil war, I guarantee you that," Netanyahu said during an interview Monday. "When the dust settles, people will see this was necessary." 
In a wide-ranging interview one week after his law passed through parliament, Netanyahu also defended the presence of far-right ministers in his Cabinet after criticism from President Joe Biden and said a potential U.S.-brokered peace deal between Israel and Saudi Arabia would be "a pivot of history."
Netanyahu has faced six months of unprecedented mass protests by demonstrators who believe that, by weakening the Supreme Court, he is removing one of the few checks on the government's power and is endangering Israeli democracy.
The prime minister argues he is carefully rebalancing Israel's three branches of government to move power away from unelected judges, who he says have taken too much authority for themselves, and back into the hands of elected politicians.
The argument has left Israel deeply divided, with President Isaac Herzog warning in March of the danger of "a real civil war." A poll published last week by Israel's Channel 13 found 56% of Israelis worried their country's political crisis could escalate into civil war.
Netanyahu acknowledged the divisions but said he believed the recent legislation — which removes the court's ability to strike down government actions as "unreasonable" — was "worth it."
"I think people's fears that have been stoked and whipped up, I think, will subside, and they'll see that Israel is just as democratic as it was before and even more democratic," he said.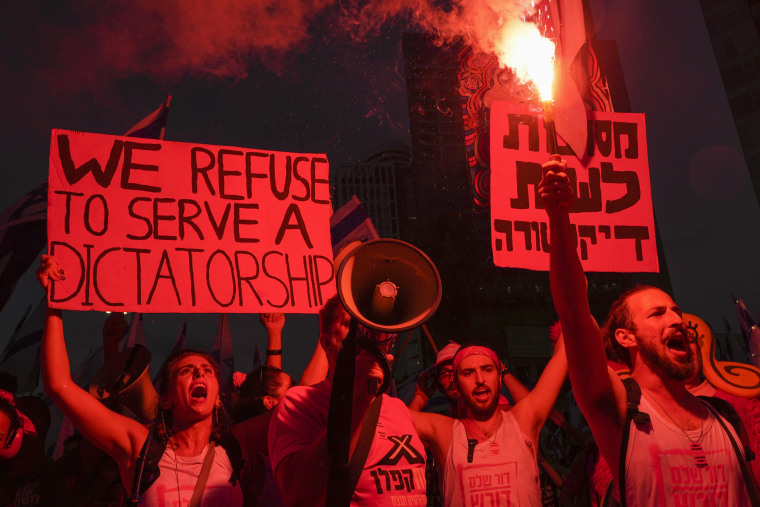 Demonstrators, Israeli opposition parties and close allies have said they fear the new legislation is merely the first step on a slippery slope away from democracy in Israel. 
In an interview with CNN in early July,  Biden criticized the presence of far-right politicians in Netanyahu's Cabinet, calling them some of "the most extremist members" he had ever seen.
Israeli National Security Minister Itamar Ben-Gvir was convicted in 2007 of inciting racism and supporting a terrorist organization. Finance Minister Bezalel Smotrich earlier this year called for a Palestinian village to be "wiped out" — a comment he later apologized for after criticism by the United States. 
Netanyahu's new comments come after months of demonstrations against efforts by his government, the most right-wing ever, to overhaul the judiciary and limit the Supreme Court's power. 
Himself on trial in three corruption cases, the Israeli prime minister dismissed allegations that his legal woes had motivated the judicial changes, calling the claims "nonsense."
Still, his government's effort has roiled Israel, with businesses closing in solidarity with the protesters and former senior officials openly opposing the moves. A significant number of military reservists have joined the protests, an alarming development for the nation's national security.
"I think it's unfortunate that you've had reservists that are being lined up for something that involves a political debate," Netanyahu said, adding that their involvement "politicizes the military." 
The three parts of the reform plan are removing the "reasonability test," the elimination of the override clause, and changing how judges are appointed. The first part of the package of bills passed July 24 and removes justices' rights to overrule Cabinet ministers' decisions for being "unreasonable."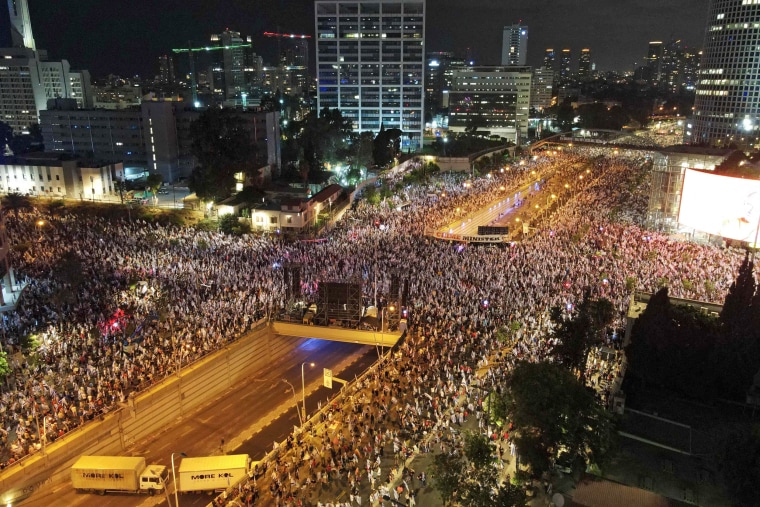 "The way that reasonableness is done in Israel has no parallel in any democracy, not in America or in any other parliamentary democracy," said Netanyahu, who has been forced to vacate the appointment of a close ally who had criminal convictions because of that judiciary power.
There two other proposed changes could soon come before the Knesset, the Israeli parliament. 
The first would allow the Knesset to override any decision by the court with a simple majority, and the last part of the reform package would effectively give the ruling parties control over appointing judges. Judges in Israel currently are appointed by a panel that includes a mix of political appointees, lawmakers and members of the legal profession. 
During the interview with NBC News, Netanyahu tried to quell fears that the judiciary changes had harmed the close relationship between the United States and Israel, which relies on Washington for military, security and intelligence cooperation. 
"I think that the relationship is sound," he said. "I think the dust will settle, and, it'll turn out to be the case, through changing governments and administrations, Israel is the best ally of the United States and the United States is the irreplaceable ally of Israel."
The judicial overhaul could still be overturned. 
A good governance group has filed a petition to the court that has argued the judicial change was illegal and, ironically, it could be up to the judiciary to decide whether it can stand.
Raf Sanchez reported from Jerusalem, and Phil McCausland from New York.