TEL AVIV — Across the street from the Israeli Ministry of Defense, where Prime Minister Benjamin Netanyahu was telling the nation in a speech to prepare for a long and hard war in the Gaza Strip, the chanting was loud, relentless and urgent.
At a demonstration near the ministry's imposing tower Saturday, two people with megaphones repeated "Bring them home now!" for at least 20 minutes. A hundreds-strong crowd echoed, "Now!"
As Israel intensifies its ground operation against Hamas and bombards Gaza from the air, it is simultaneously working to defend those actions to a world outraged by a spiraling humanitarian crisis. But perhaps the most acute pressure on Netanyahu comes from the families of the 240 Israelis still being held hostage.
Their imprisonment since the Hamas attack on Oct. 7 is one factor fueling the Israeli anger against the country's embattled leader. In addition to blaming Netanyahu for failing to protect Israelis from the assault, many think he has not been sufficiently proactive, sympathetic or communicative with families of the captives. A growing number also disapprove of prioritizing a military campaign in Gaza over the hostages' safe return.
Michael Levy, whose younger brother, Or, 33, is believed to be among those held hostage, said he fears his brother could be killed or injured in the crossfire.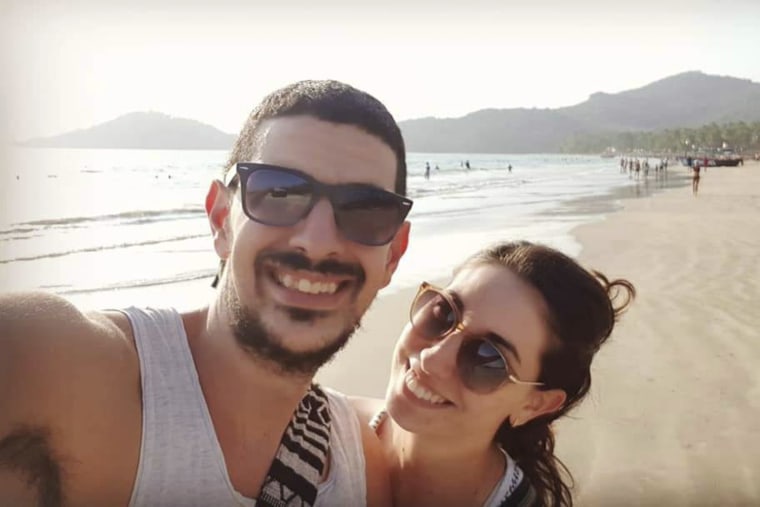 "How can you not?" Levy, 40, told NBC News at the demonstration. "I know that my brother and the other hostages are inside."
Most Israelis want to see Hamas destroyed to ensure it never carries out another massacre — even if that requires a military operation killing thousands of Palestinians. That's according to Israeli polling that backs up interviews conducted by NBC News journalists on the ground.
But people's priorities appear to be changing to favor liberating the hostages, even if that means a prisoner swap with Palestinian detainees or a pause in Israel's military aggression.
In the week after the attack, 65% of Israelis supported an "extensive" ground operation, according to a poll by the newspaper Maariv. But another poll Thursday found that 49% favor waiting, which the newspaper attributed to the growing support for freeing the hostages.
The Hostages and Missing Families Forum campaign group has become an international powerhouse, hosting news conferences, briefing journalists and meeting with President Joe Biden and other world leaders.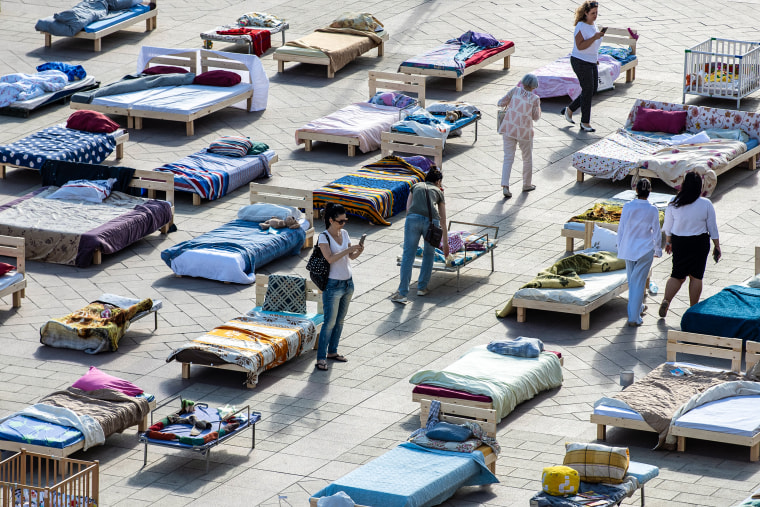 Members of the group have turned the square outside the Tel Aviv Museum of Art, opposite the Defense Ministry, into a protest space. They commissioned public art, such as a Shabbat table with 240 empty chairs, and erected a 20-foot-long wall plastered with the faces of the missing people. Critics decry Netanyahu for having met with the family members only twice.
Israel Defense Forces spokesman Daniel Hagari said at a briefing Tuesday that the Israeli government and military "will continue to make every effort, and take advantage of every opportunity, to return them back home." 
Netanyahu has said the same, but divisions between him and his security and intelligence services are coming to the surface. On Sunday, Netanyahu openly accused them of failing to warn him about the risk of attack — before he deleted the post on X and issued a rare apology.
The vast majority of Israeli Jews, 87%, have confidence in the IDF, according to a poll last week by the Israel Democracy Institute, a Jerusalem-based think tank. Another poll the institute released Tuesday found that only 7% of Jews trusted Netanyahu above the military.
Meanwhile, the White House advised Israel last week to delay a ground invasion to allow more time for hostage negotiations. That was buoyed by the release of four captives, though a former U.S. official with knowledge of the negotiations said Sunday that the talks had stalled after Hamas demanded fuel deliveries into Gaza.
Israel has stopped short of announcing a full-scale invasion, giving families hope there is time to delay an offensive that could put their relatives in greater danger. However, after the country sent ground troops to Gaza on Friday, the families' campaign group said it was "the worst" night since their loved ones were taken. 
The "first mission" should be to bring them home, said Ayelet Samerano, 52, whose son, Jonathan, 22, is among those taken.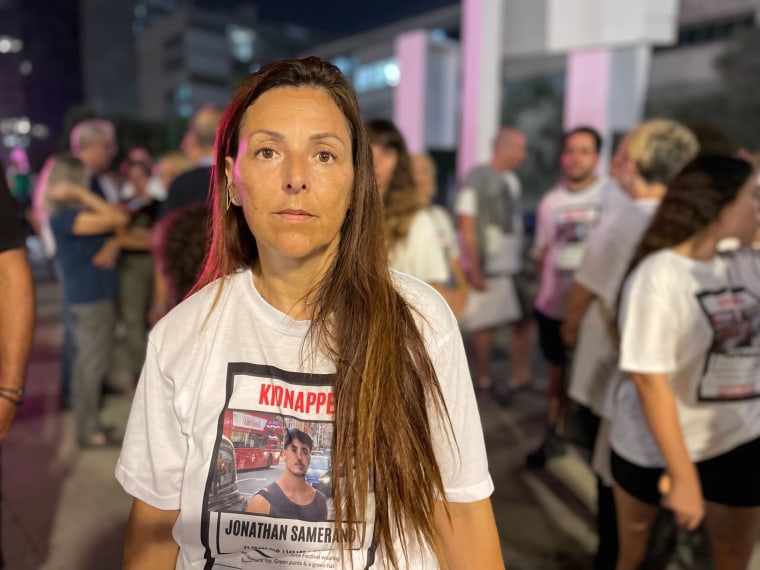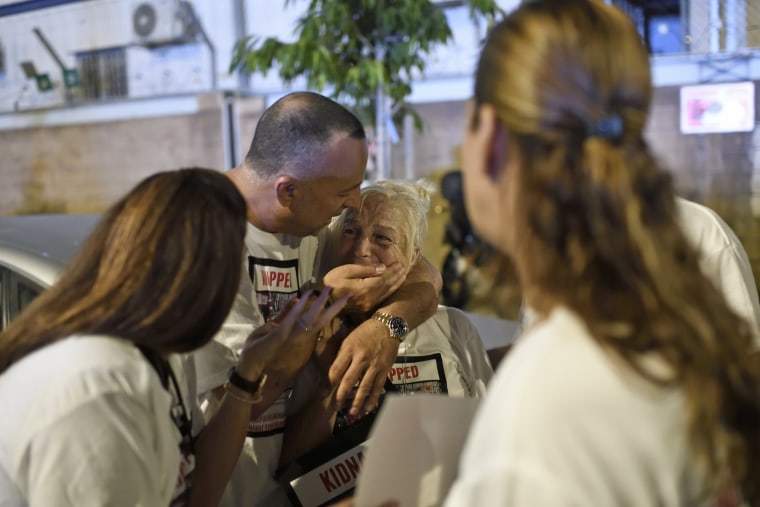 He and two friends tried to flee in a car from the Supernova music festival, where 260 people were killed, only to encounter Hamas militants who opened fire and killed his two companions. His mother said video showed him being taken away alive.
Ayelet Samerano's preferred plan is to swap the hostages for Palestinian prisoners held in Israel — an idea that has gained traction in recent days. The Israeli human rights group B'Tselem says around 5,000 Palestinians are being held on "security grounds," including 147 minors.
Forty-three percent of Israelis support that course of action, according to Tuesday's Israel Democracy Institute poll. It has precedent: In 2011, Israel released more than 1,000 Palestinians and Arab Israelis in exchange for Gilad Shalit, a kidnapped IDF soldier.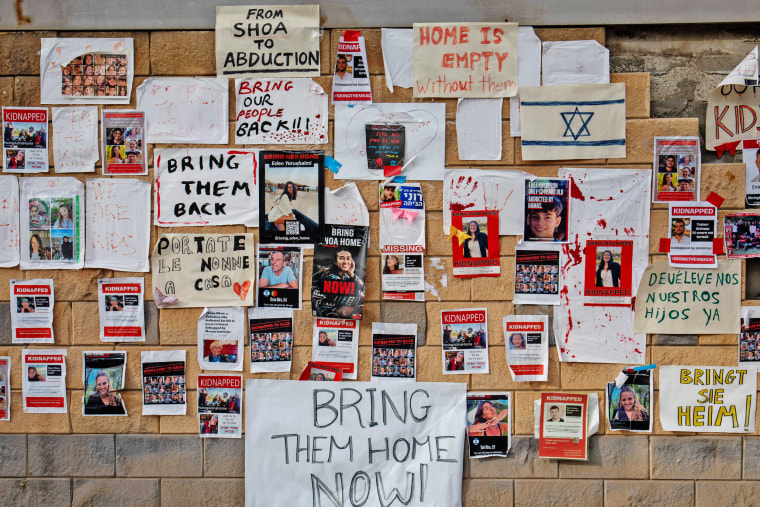 At Saturday's protest, signs read, "PRISONER EXCHANGE NOW!" But not everyone backs a pause in violence; some in the crowd said defeating Hamas would be the best way to bring the hostages home. 
That case was apparently strengthened Monday when IDF soldiers freed a fellow soldier, Pvt. Ori Megidish. The next day, neighbors celebrated outside Megidish's home in Kiryat Gat, a small city in central Israel, dancing in the streets, handing out candy and holding up newspapers announcing her return. "She's OK!" a neighbor said. "It will be OK, everything!"
But Michael Levy and others are not convinced, particularly because Hamas has said Israeli airstrikes have already killed around 50 hostages. He wishes there were more apparent urgency from the government.
"All we ask is for them to talk to us and tell us," he said. "Maybe they are," but right now "it feels like they are doing nothing."