Ukrainian president Volodymyr Zelenskyy posted a video of himself visiting Snake Island — the tiny Black Sea outpost that became a symbol of Ukrainian resistance — to mark the 500th day of the war with Russia. 
"Snake island. The free island of free Ukraine," Zelenskyy said in a caption alongside a video, which shows him traveling to the island and laying a bouquet of flowers at a memorial.
"I am grateful to everyone who fought here against the occupiers. We commemorated the heroes who gave their lives in this battle — one of the most important during the full-scale war," he said.
It was not immediately clear when the video was made.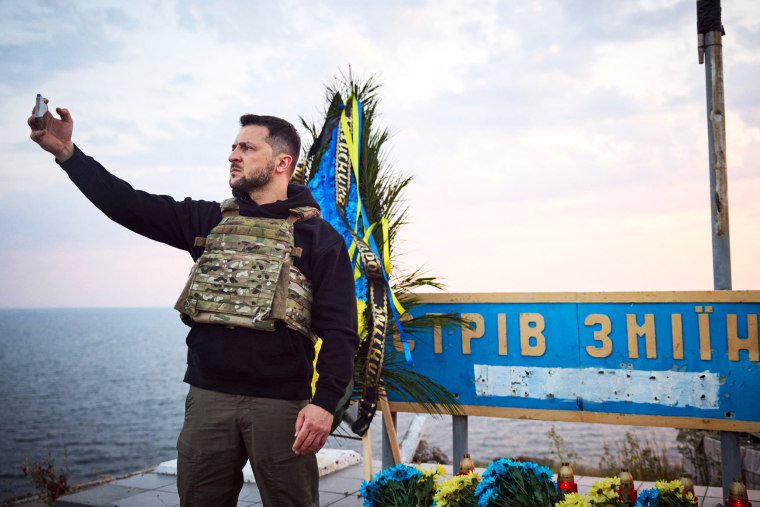 The island took on almost mythological status for Ukraine's resistance, when officials in the country released an audio recording of a conversation between Russia's flagship Moskva and Ukrainian soldiers defending the island.
Released on Feb. 25, 2022, the day after Russian President Vladimir Putin launched his invasion, it captured a member of the crew demanding the surrender of Ukrainian troops. The reply, "Go f--- yourself," came back.
NBC News was unable to verify the recording, which was widely circulated and commented upon, but Ukraine celebrated the story with patriotic fervor afterward, issuing a postage stamp in commemoration.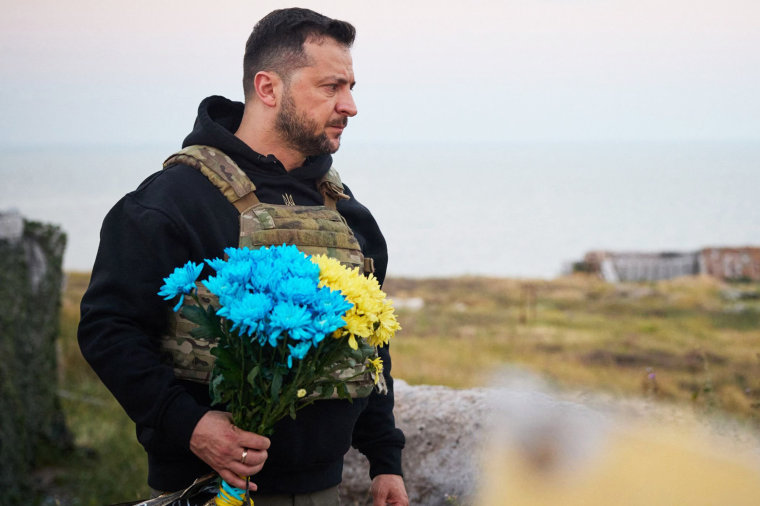 Ukrainian troops captured on the island were later freed in a prisoner exchange and the Moskva, a guided missile cruiser carrying a crew of 510 sank on April 14, 2020. U.S. officials said at the time that it was struck by two Ukrainian Neptune anti-ship missiles. Moscow said the vessel sank after a fire. 
Two months later, Snake Island was recaptured by Ukraine.
"Today here we commemorated all our heroes, our warriors that fought for this island and liberated it," Zelenskyy said in a voiceover over the video. "Even though this is a small piece of land in the middle of our Black Sea, it serves as an evidence that Ukraine will get back all parts of its territory."
The video was posted as Zelenskyy continues a diplomatic tour across Europe to rally support for Ukraine's bid to join NATO before the organization's leaders meet in the Lithuanian capital Vilnius next week for a two-day summit next week to offer more help in modernizing Ukraine's armed forces.
Turkish President Recep Tayyip Erdogan, who has previously styled himself as a mediator between Moscow and Kyiv, said that Ukraine "deserves" NATO membership, at a news conference with Zelenskyy Friday. 
Ahead of the NATO summit, the U.S. said that it would provide Ukraine with cluster munitions, a move that President Joe Biden described as a "difficult decision."
Two-thirds of NATO members have banned the munitions, which have a track record of causing many civilian casualties, but the U.S. sees their delivery as a way to help bolster Ukraine's offensive and push through Russian front lines.
Meanwhile, Russia's Defense Ministry released video on its Telegram channel showing Defense Minister Sergei Shoigu inspecting troops and overseeing the training of new servicemen at the Southern Military District in Rostov, where the Wagner Group rebellion began late last month.
It is one of the first times that Shoigu has been seen publicly since Yevgeny Prighozin's failed mutiny in which his private army of fighters attempted to march on Moscow to demand Shoigu's removal from power. 
The ministry did not say when the video was made, but it showed Shoigu is in military fatigues inspecting soldiers at a shooting range and viewing tanks. 
Inside Ukraine, Britain's Defense Ministry said in an intelligence update Saturday, that the country's forces had made "steady gains" around the eastern city of Bakhmut, which was the scene of some of the most intense fighting of the war before Russia claimed control of it in May.
The update posted to Twitter said that Russian defenders were likely struggling with "poor morale, a mix of disparate units and limited ability to find and strike Ukrainian artillery," adding that after a "lull," fighting in Bakhmut was again "some of the most intense fighting along the front." 
The Russian leadership would see it as "politically unacceptable to concede Bakhmut," though there are "highly likely few additional reserves to commit to the sector," according to the update.
Won with the help of Prigozhin's Wagner Group, the city is one of Putin's limited victories over the last year.