LONDON — Britain is to expel 23 Russian diplomats allegedly operating as undeclared intelligence officers after Moscow ignored a midnight deadline to explain how its nerve weapon was used in the attempted assassination of a former double agent on U.K. soil.
Russia's response to Britain's requests "demonstrated complete disdain for the gravity of these events," Prime Minister Theresa May said in Parliament on Wednesday. "They have treated the use of a military grade nerve agent in Europe with sarcasm, contempt and defiance."
The expulsions — the largest in three decades — "will fundamentally degrade Russian intelligence capabilities in the U.K. for years to come," May said. The diplomats have been given a week to leave the U.K.
The spy drama gripping Britain reached a climax with the prime minister detailing how she planned to retaliate against Moscow for its alleged role in the poisoning of Sergei Skripal and his daughter in Salisbury last week.
"There is no alternative conclusion other than that the Russian State was culpable for the attempted murder of Mr. Skripal and his daughter — and for threatening the lives of other British citizens in Salisbury," she said.
Russia has denied any involvement and said it was not responding to May's ultimatum until it received samples of the military-grade nerve agent Novichok, which Britishinvestigators say was used in the attack.
The Russian Embassy in London said the expulsion of diplomats was "totally unacceptable, unjustified and shortsighted."
"All the responsibility for the deterioration of the Russia-U.K. relationship lies with the current political leadership of Britain," it said in a statement.
"Everything that is done today by the British government is absolutely unacceptable and we consider this a provocation," Russian Ambassador Alexander Yakovenko told Sky News outside the Foreign Office.
He added that Russia was "not ready to talk in the way of ultimatums."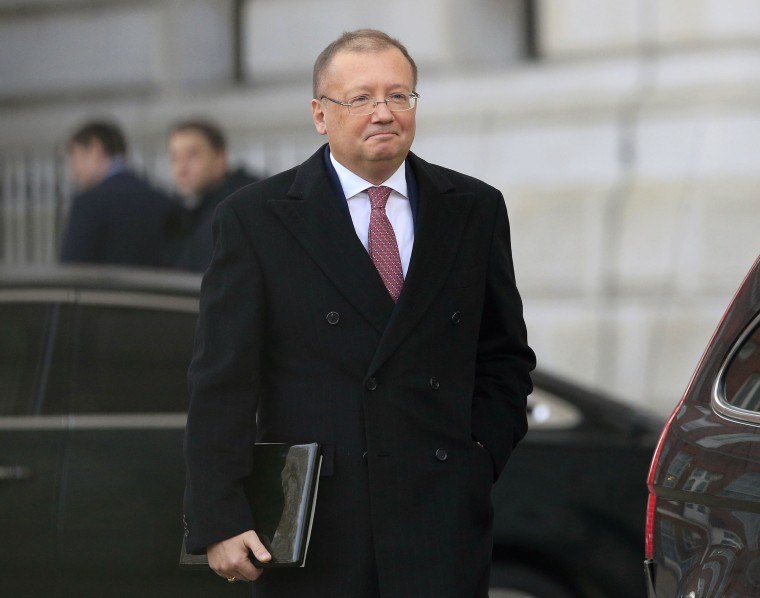 May also announced that she would authorize officials to detain those suspected of hostile state activity at the U.K. border — a power until now only permitted in relation to those suspected of terrorism.
She said Britain would also freeze Russian assets where there was evidence that they may be used to "threaten the life or property of U.K. nationals or residents."
Britain will bring the full force of law enforcement against corrupt elites, May said. "There is no place for these people — or their money — in our country," she added.
May said Britain had suspended all planned high-level contacts with Russia, and revoked an invitation to Russian Foreign Minister Sergey Lavrov to visit the U.K.
The prime minister also announced that no U.K. minister or member of the royal family would attend this summer's soccer World Cup in Russia.
The measures surpass the U.K.'s response to the killing of Alexander Litvinenko, an ex-spy and Putin critic who died in London in 2006 after drinking green tea laced with radioactive polonium-210.
A public inquiry found that the killing of Litvinenko had probably been approved by Putin, though Moscow denied responsibility for the killing. In response Britain expelled four Russian diplomats, imposed visa restrictions for officials and suspended security service cooperation.
Britain has briefed NATO allies on the nerve agent attack in Salisbury, and fellow alliance members called on Russia to address Britain's questions, including "complete disclosure of the Novichok program."
May said she had spoken to President Donald Trump, German Chancellor Angela Merkel and French President Emmanuel Macron, who all agreed to "cooperate closely" in response to the killing and to "stand up for the rules-based international order which Russia seeks to undermine."
Britain has also notified the Organization for the Prohibition of Chemical Weapons about Russia's alleged use of a nerve agent so it can independently verify the U.K.'s analysis, May said.
In Geneva, Britain told the U.N. Human Rights Council that the use of the military grade nerve agent in an attempted assassination breached international law and should serve as a warning to the international community.
"The council and the United Nations General Assembly have decried Russia's violations of international law with alarming regularity," British Ambassador Julian Braithwaite told the council. "Its reckless behavior is an affront to all this body stands for."
The president of the E.U., Donald Tusk, condemned the attack on Skripal and said he was ready to put it on the agenda of next week's European Council meeting.
The Foreign Office updated its travel advisory Wednesday for British citizens visiting Russia, warning them to avoid commenting on politics.
"Due to heightened political tensions between the U.K. and Russia, you should be aware of the possibility of anti-British sentiment or harassment at this time," it said.