The Saudi man cannot believe his ears.
"You told him that the Israelis are right and that you want to do business with them?" he asks in response to the suggestion that perhaps, after years of open animosity, Israel isn't the enemy Saudi Arabia once believed them to be.
"The enemy is the one who doesn't appreciate you standing by him, who curses you day and night — more than the Israelis," his father-in-law retorts, referring to the Palestinians.
The scene is from the Ramadan TV drama "Exit 7" broadcast by the Saudi-controlled MBC Group. The program, along with another MBC soap about a Jewish midwife in fellow Gulf monarchy Kuwait, has sparked controversy in a region that has long championed the Palestinian cause and vilified Israel, and speculation that Saudi Arabia is trying to promote closer ties with the Jewish nation.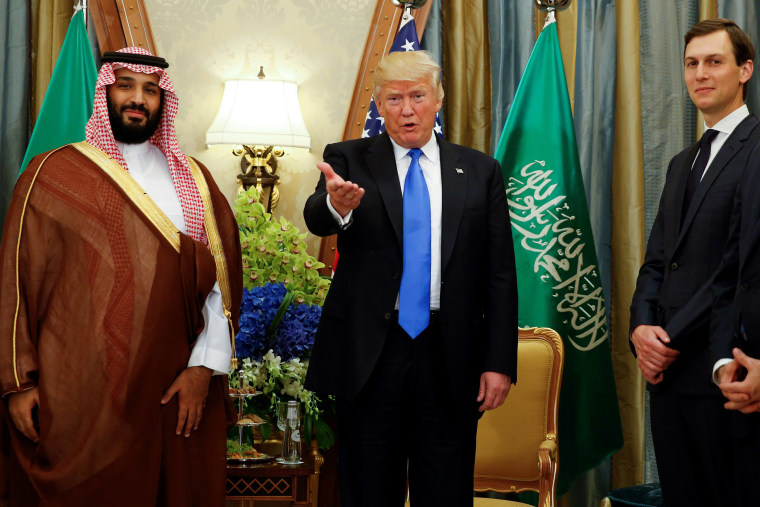 For a Saudi-controlled broadcaster to have a character advocate for the normalization of relations with Israel is "unheard of," according to Hassan Hassan, a program director at the Center for Global Policy think tank in Washington, D.C.
"To hear that on Saudi TV is just shocking," he said.
Saudi Arabia, long a pro-Palestinian bastion and a source of vehement anti-Israeli sentiment, continues to officially support the Palestinian right to a state, and has no diplomatic ties with Israel, with no embassy or consulate in the country. Israel has peace deals with only two Arab countries — Egypt and Jordan — where it has fortified embassies.
However, relations between Israel and Saudi Arabia have quietly warmed in recent years as they have been pushed together by their common enemy, Iran, and an ally in the Trump administration.
In January, Israel's interior ministry said that it will now allow Israelis to travel to Saudi Arabia for religious or business visits, provided the visitor holds an invitation to the kingdom from an official.
Some Saudi analysts said the country had witnessed a rise in nationalism in recent years, particularly among the young, some of whom tend to be less concerned with the Israeli-Palestinian conflict.
The timing of the television series has thus fueled speculation that the content could serve a political agenda. It has also prompted cries of outrage from Palestinians who take it as a sign that their Arab brothers are forsaking their national struggle, at a time when Israeli Prime Minister Benjamin Netanyahu is pushing to annex parts of land they hope will form part of a future Palestinian state.
Palestinian Minister of Culture Atef Abu Saif demanded last week the cessation of dramas that "serve the occupation" and "offend the Palestinian cause."
"Some Arab satellite channels aired on the month of Ramadan, some series that offend the Arab national narration of the conflict in the face of the theft of Palestine and distort history," he said.
Ramadan is peak TV season for many of the world's 1.8 billion Muslims and amid the coronavirus pandemic, audiences were expected to be bigger than ever with millions stuck at home.
In 2018, Saudi authorities took the controlling stake in the MBC group, which is one of the biggest broadcasters in the region, according to Reuters.
Some analysts said it was possible that Saudi officials wanted to send a message to their people.
"Official attitudes are shifting and the soaps may be a way of trying to nudge public opinion to follow them and shift in the same direction," said Kristian Coates Ulrichsen, a fellow for the Middle East at the Baker Institute for public policy at Rice University.
"Any message or storyline that emerges through these Ramadan soaps carries a degree of official approval," he added.
MBC did not immediately respond to requests for comment.
The beginning of the thaw in Israeli-Saudi relations can be traced to 2011 when both began to see Islamism and Iran as a much bigger threat than each other, according to Ulrichsen.
Then, with the Trump administration's rise to power, Saudi officials have taken into account its full throated-support for Israel's right-wing government when attempting to ingratiate themselves in Washington, he added, pointing to reports that Saudi Crown Prince Mohammed bin Salman met Jewish leaders in New York in 2018.
However, in the past the Gulf kingdom has tied formally normalizing relations with Israel to achieving a peace settlement for the Palestinians.
Analysts said this position appeared not to have changed — in part, perhaps, because a commitment to the Palestinian struggle appears to still run deep in the psyche of much of the Saudi population.
Abdulaziz Alghashian, a Saudi lecturer of international relations at the University of Essex, said he thought dramatizing debate about the Israeli-Palestinian conflict served as a litmus test to gauge where Saudis stand on the issue — rather than as a government strategy to sway minds.
"At this point, the only thing that is normalized is the discourse of Saudi normalization with Israel," he said.
And it's plausible that things may just get worse for the Palestinians — which in turn may test any desire in Riyadh to thaw relations further.
Netanyahu is pushing for the extension of Israeli sovereignty over parts of the Israeli-occupied West Bank — a move that the United Nations has said would "deal a devastating blow" to the prospects of an independent Palestinian state, said Yossi Mekelberg, a professor of international relations at Regent's University London.
"Whether governments in the Gulf see it as a high priority or not, many people within their countries will see this as an affront," he said.
"Annexation might serve the coalition but it's not going to serve relations in the Gulf and with Egypt and Jordan."