Exasperated Republican senator Lindsey Graham pleaded with President Donald Trump on Tuesday to stop repeating his widely debunked claim that millions of so-called "illegals" cost him the popular vote.
"To continue to suggest that the 2016 election was conducted in a fashion that millions of people voted illegally undermines faith in our democracy," Graham, of South Carolina, told reporters in a hallway of the Dirksen Senate Office Building in D.C. "It's not coming from a candidate for the office, it's coming from the man who holds the office. So I am begging the president, share with us the information you have about this or please stop saying it."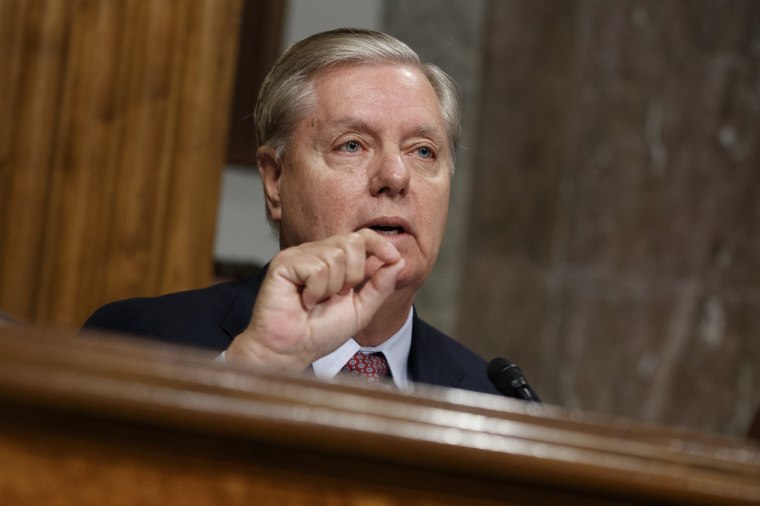 Graham, who along with Senator John McCain, R-Ariz., has been one of Trump's more outspoken Republican critics, said the new president needs to put this issue to rest — for his own good.
Related: Trump Again Makes Debunked Claim: 'Illegals' Cost Me Popular Vote
"As a matter of fact I'd like you to do more than stop saying it," he said. "I'd like you to come forward and say having looked at it I am confident the election was fair and accurate and people who voted voted legally. Cause if he doesn't do that, this is going to undermine his ability to govern this country."
There are no signs that Trump intends to do that. White House spokesman Sean Spicer said Tuesday afternoon that Trump has "believed for a long, long time" that illegal immigrants voted in the presidential election, but declined to share evidence that supports Trump's belief.
When asked if Trump was planning to launch an investigation, Spicer said, "We're here on day two. Let's not prejudge what we may or may not do in the future."
Trump reached the White House by winning the Electoral College, but he lost the popular vote to Hillary Clinton by a whopping 2.9 million votes, according to the certified final election results from all 50 states and the District of Columbia.
Graham spoke out a day after Trump reportedly spent the first 10 minutes of his bipartisan meeting with congressional leaders at the White House claiming once again that 3 to 5 million people who shouldn't have been allowed to vote cast their ballots for Clinton.
It's a false claim that Trump began making back in November when it became clear that he was losing the popular vote to Clinton.
"By repeating false and unsubstantiated voter fraud allegations as the cause for losing the popular vote, President Trump is dangerously attacking the legitimacy of free and fair elections and the foundation of our democracy," California Secretary of State Alex Padilla, a Democrat, said.
There are not "alternative facts," he added.
"They are corrosive lies without any evidence," Padilla said. "Even leaders in the President's own party agree there is no evidence to support his claims since they were irresponsibly made back in November."
But in an interview Tuesday with NBC's Hallie Jackson, Trump supporter Rep. Steve King, R-Iowa, insisted "there is data out there" to back up the president's claim — but said he believes the figure was closer to 2.4 million.
King said he came up with the figure by doing "an extrapolation calculation on how many illegals could have or could be voting in the United States."
"So it's plausible the number, three million sounds like it's a plausible number to me," he said.
Senate Majority Leader Mitch McConnell (R-Kentucky) would not answer whether he agreed with Trump, but said "the notion that election fraud is a fiction is not true."
"It does occur," he told NBC's Kasie Hunt. "There are always arguments on both sides about how much, how frequent, and all the rest."
Still, said McConnell, "most states have done a better job on this front."
So far, just Kansas Secretary of State Kris Kobach — a Republican and political ally — has said Trump might have a case. And he has repeatedly cited a 2014 analysis by professors at Old Dominion University that was widely criticized by other scholars.
Among those panning the Old Dominion analysis was the Cooperative Congressional Election Study at Harvard University, which supplied some of the data.
The National Association of Secretaries of State, which includes many Republicans, also took issue with Trump's claim.
"We are not aware of any evidence that supports the voter fraud claims made by President Trump, but we are open to learning more about the Administration's concerns," the group said in a statement. "In the lead up to the November 2016 election, secretaries of state expressed their confidence in the systemic integrity of our election process as a bipartisan group, and they stand behind that statement today."