WASHINGTON — The House voted Wednesday evening to refer a Democratic-sponsored resolution to expel Rep. George Santos, R-N.Y., to the Ethics Committee.
By referring the matter to the House Committee on Ethics, which has been investigating Santos since early March, Republicans for now avoided a vote on the resolution itself, which was introduced Tuesday by Rep. Robert Garcia, D-Calif.
The referral, approved Wednesday in a 221-204 vote, required only a simple majority to pass. No Republicans voted against the motion, and seven Democrats voted present, including all five Democratic members of the Ethics panel.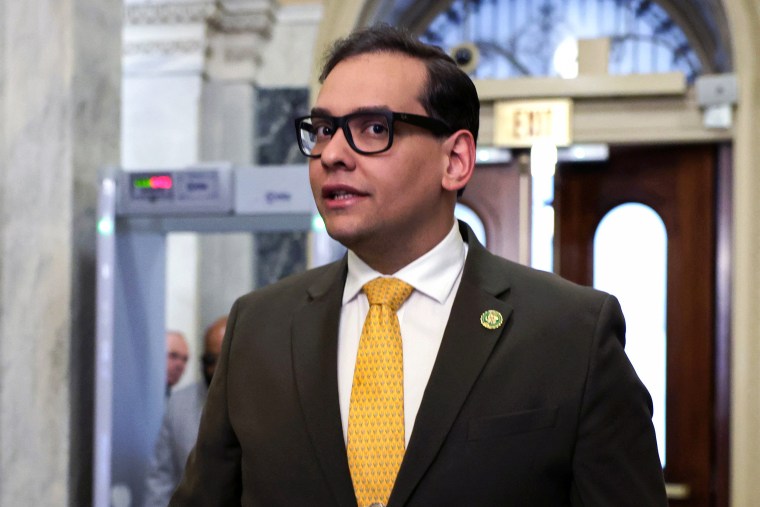 After the vote, Santos said that he believed the chamber had made "the right decision" and that he intended to defend himself.
"I look forward to seeing the process play out," he told reporters on Capitol Hill. "And if the Ethics Committee finds a reason to remove me, that is the process."
Santos said he has not yet appeared before the panel.
As Santos was speaking to reporters, Reps. Jamaal Bowman and Alexandria Ocasio-Cortez, both D-N.Y., could be heard taunting him.
"You gotta go!" Bowman repeatedly shouted, also telling him to "resign."
Santos proceeded to yell back at the two Democrats, telling reporters he could no longer speak because "there's a deranged member here."
Because the expulsion resolution was privileged, Republican leaders were required to schedule a vote by Thursday. House Majority Whip Tom Emmer, R-Minn., sent out a notice Wednesday telling lawmakers that they would vote on a motion to refer the resolution to the Ethics panel around 5 p.m.
House Speaker Kevin McCarthy, R-Calif. — who said last week that he would not back Santos' re-election bid — said Tuesday night that he preferred the referral approach rather than a floor vote to expel Santos from Congress.
Garcia called McCarthy's approach "a cop-out" at a news conference Wednesday morning. "This is already in the Ethics Committee," Garcia said. "We want an actual vote on the expulsion."
Rep. Dan Goldman, D-N.Y., a former federal prosecutor, suggested that the Ethics Committee would not act on the resolution and would instead defer to the Justice Department, which last week charged Santos in a 13-count indictment.
"Prosecutors are going to ask the Ethics Committee to pause and let their prosecution go first," he said. "That's what I did for 10 years. That is the nature of how these things work. And traditionally, the Ethics Committee will defer to the Department of Justice for criminal prosecution, and Kevin McCarthy knows that."
Goldman said the tactic was a way for Republicans to avoid accountability over the expulsion measure.
Last week, Santos pleaded not guilty at a Long Island courthouse to the federal indictment unsealed by the Justice Department. He was charged with seven counts of wire fraud, three counts of money laundering, one count of theft of public funds and two counts of making materially false statements to the House of Representatives, according to the Justice Department. He is due in court again June 30.
Santos, who had previously admitted that he lied about his background, has called the charges a "witch hunt" and said he would not resign.
In March, the Ethics Committee opened an investigation that it said would determine whether Santos "engaged in unlawful activity with respect to his 2022 congressional campaign; failed to properly disclose required information on statements filed with the House; violated federal conflict of interest laws in connection with his role in a firm providing fiduciary services; and/or engaged in sexual misconduct towards an individual seeking employment in his congressional office."