WASHINGTON — Miah Cerrillo, a fourth grader at Robb Elementary who survived the shooting after smearing her dead classmate's blood on herself and pretending to be dead, shared her story with members of Congress Wednesday.
"We were just watching a movie," the 11-year-old testified in a prerecorded video, saying her teacher went to go lock the door of her classroom and made eye contact with the gunman.
"She went back in the room and she told us, 'Go hide,' and then we went to go hide behind my teacher's desk and behind the backpacks, and then he shot through the window."
Miah said she witnessed the gunman say "good night" and shoot their teacher in the head. "He shot some of my classmates and the whiteboard," she said.
Miah described how she put her friend's blood all over herself, "stayed quiet" and retrieved her dead teacher's phone to call 911. When asked if she feels safe at school after the massacre, Miah shook her head. "I don't want it to happen again," she said.
Other survivors and family members of victims from the recent mass shootings in Uvalde, Texas, and Buffalo, New York, also testified before the House Oversight and Government Reform Committee on Wednesday at a hearing focused on the epidemic of gun violence.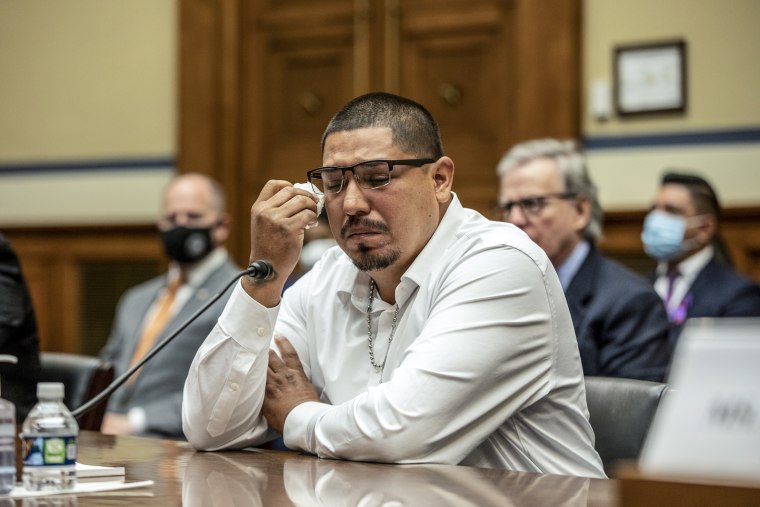 During Miah's testimony, Rep. Robin Kelly, D-Ill., dabbed her cheeks with a tissue and held back tears. Rep. Jackie Speier's, D-Calif., mouth was wide with disbelief. Miguel Cerrillo, Miah's father, appeared in person and made brief remarks as he wiped away tears. Rep. Jim Jordan, R-Ohio, left the room before the emotional testimony.
The mother of Lexi Rubio, a fourth grade student who was among the 19 children killed in Uvalde, told Congress how she frantically searched for her daughter after learning about what was unfolding at Robb Elementary School.
"Bus after bus arrived, but she wasn't on board. We heard there were children at the local hospital, so we drove over to provide her description. She wasn't there. My dad drove an hour and a half to San Antonio, to check with University Hospital. At this point, some part of me realized she was gone," Kimberly Rubio said in video testimony, sitting next to her husband, Felix, before the committee.
Rubio recalled heading back to Robb Elementary, getting rid of her flip-flops and running barefoot for a mile to the school, saying she her husband didn't have their car. Later, at the civic center, they got confirmation: Their daughter had been shot and killed.
"We do not want you to think of Lexi as just a number," said her mother, who was crying throughout her testimony. "If given the opportunity, Lexi would have made a positive change in this world. She wanted to attend St. Mary's University in San Antonio, Texas, on a softball scholarship. She wanted to major in math and go on to attend law school. That opportunity was taken from her. She was taken from us."
Rubio concluded, "Somewhere out there, a mom is hearing our testimony and thinking to herself, 'I can't even imagine their pain,' not knowing that our reality will one day be hers — unless we act now."
Dr. Roy Guerrero, Uvalde's only pediatrician who also helped treat victims and happens to be Miah Cerrillo's longtime doctor, also testified. He told lawmakers about how he raced to the hospital and found Miah covered in blood, with her shoulder bleeding from a shrapnel injury.
At the hospital, he said he also found two of the children who were killed. Their "bodies had been so pulverized by the bullets fired at them, decapitated, whose flesh had been so ripped apart that the only clue as to their identities were the blood-spattered cartoon clothes still clinging to them."
"I chose to be a pediatrician. I chose to take care of children. Keeping them safe from preventable diseases, I can do. Keeping them safe from bacteria and brittle bones, I can do," Guerrero said. "But making sure our children are safe from guns, that's the job of our politicians and leaders. In this case, you are the doctors and our country is the patient. We are lying on the operating table, riddled with bullets like the children of Robb Elementary and so many other schools. We are bleeding out and you are not there. You are sitting in your office filling out the paperwork so you can get paid."
The first panel of witnesses to testify Wednesday also featured Zeneta Everhart, mother of Zaire Goodman, 20, who was shot in the neck and survived the Buffalo shooting; and Lucretia Hughes, whose 19-year-old son was killed in 2016 while playing dominoes at a party.
"Let me paint a picture for you: my son Zaire has a hole in the right side of his neck, two on his back, and another on his left leg, caused by an exploding bullet from an AR-15," Everhart told lawmakers. "As I clean his wounds, I can feel pieces of that bullet in his back. Shrapnel will be left inside of his body for the rest of his life. Now I want you to picture that exact scenario for one of your children."
"Lawmakers who continuously allow these mass shootings to continue by not passing stricter gun laws should be voted out," Everhart added.
The witnesses begged members of Congress to take legislative action to try to prevent future mass shootings. The parents of Lexi Rubio, for example, said they want stronger background checks, bans on assault rifles and high-capacity magazines and to raise the age to purchase these weapons from 18 to 21 years of age.
Committee Chairwoman Carolyn Maloney, D-N.Y., criticized Republicans in her opening statement for blaming gun violence on mental illness, video games, family values and doors — but not on guns. The U.S., she said, "does not have a monopoly on mental illness, video games or any other excuse. What America does have is widespread access to guns."
Ranking Member James Comer, R-Ky., expressed opposition to any gun violence prevention measures, saying "knee-jerk reactions to impose gun restrictions are not the answer." He suggested that the effort by some progressive Democrats to "defund the police," and what he described as "soft on crime prosecution," have led to the rise in gun violence.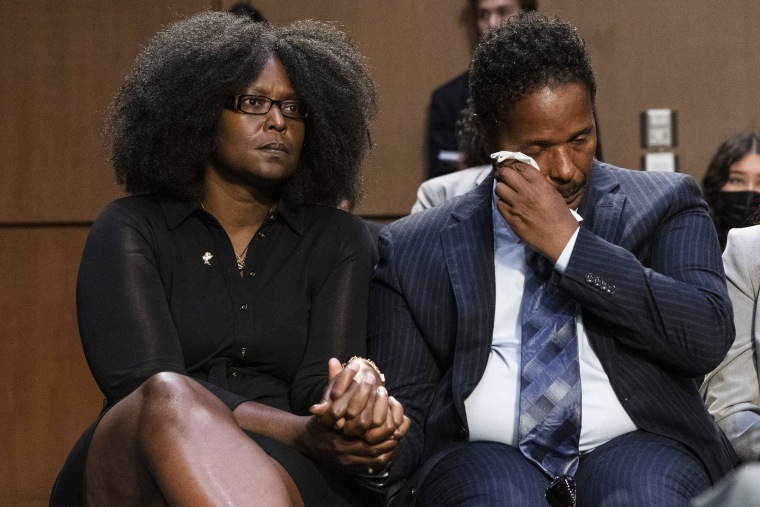 The second panel of witnesses featured testimony from New York City Mayor Eric Adams; Buffalo Police Commissioner Joseph Gramaglia; Everytown for Gun Safety Senior Vice President for Law and Policy Nick Suplina; National Education Association President Becky Pringle; and Community Justice Action Fund Executive Director Greg Jackson Jr.
The hearing comes after yet another weekend of mass shootings across the country that left at least 12 people dead. Over Memorial Day weekend, at least nine were killed and more than 60 people were injured in mass shootings.
President Joe Biden has been pleading with Congress to take legislative action to address the spate of gun violence, saying in a prime-time speech from the White House last week that Republicans' opposition to various proposals is "unconscionable."
Lawmakers in both the House and Senate have been working separately on potential measures to address the issue.
The House is expected to vote Wednesday on a package of bills advanced out of the House Judiciary Committee last week. The Protecting Our Kids Act would create new federal offenses for gun trafficking and "straw purchases" and raise the legal age to buy a semi-automatic rifle from 18 to 21. It would also provide incentives for states to pass red flag laws, which would allow authorities to confiscate guns from people deemed to be risks to themselves or others.
While many Democrats favor an assault weapons ban, which Biden has repeatedly endorsed, it would have no chance of passing the evenly divided Senate.
A bipartisan group of senators has been negotiating a plan that they hope would garner the support of at least 10 Republicans, which Democrats would need to overcome the 60-vote filibuster to pass legislation.
Sen. Chris Murphy, D-Conn., a leader of the group, said he hopes they reach an agreement "by the end of the week."
Senate Minority Leader Mitch McConnell, R-Ky., who has blessed Sen. John Cornyn's, R-Texas, participation in the talks, said Tuesday, "Trying to get a bipartisan outcome here that makes a difference and hopefully sometime this week we'll come together."