Memphis-area officials voted Wednesday to reinstate Justin J. Pearson to the Tennessee Legislature after Republicans expelled him last week for protesting gun violence on the chamber floor.
The seven members of the Shelby County Board of Commissioners present for the vote unanimously approved reinstating Pearson at a special meeting in Memphis. Board members suspended the rules to allow for an immediate vote.
After the vote, Pearson addressed the commission with an enthusiastic speech.
"Nashville thought they could silence democracy," he said to cheers from supporters who had filled the chamber. "But they didn't know the Shelby County Commission ... and its fearless leaders."
He added that he had a "message for all those people in Nashville who voted to expel us": "You can't expel hope. You can't expel justice."
The event began with a prayer recited by Pearson's father, a preacher, before commissioners quickly voted. Democrats hold a 9-4 majority on the 13-seat board, although only seven members attended Wednesday's special meeting.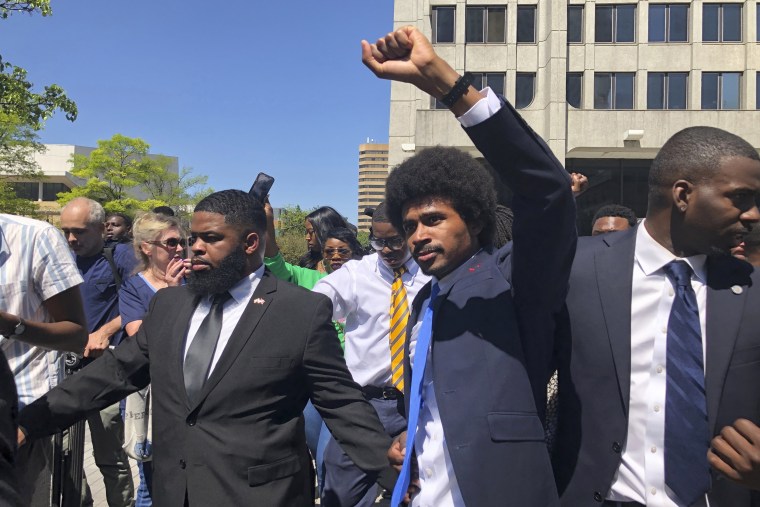 Ahead of the vote, hundreds of protesters marched through the streets of Memphis on their way to the building that houses the Shelby County Board of Commissioners.
Pearson and fellow Democrat Justin Jones, who are Black, were expelled Thursday in unprecedented state House votes that drew national attention to racial and political dynamics in the state's legislative body.
Pearson, in a New York Times essay published moments before the board's meeting was scheduled to kick off, expressed a desire to return to the Legislature.
"I will continue to fight with and for our people, whether in or out of office," he wrote.
"Mr. Jones has since returned to the House after a vote by the Nashville Metropolitan Council. I'm hoping the Shelby County Board of Commissioners similarly puts me back in the House on Wednesday," Pearson wrote.
Jones, Pearson and state Rep. Gloria Johnson had led supporters in chants calling for restrictions on guns after a shooting at a Nashville school killed six people, including three 9-year-old children. The three technically broke House rules by speaking when they were not recognized to. Jones and Pearson addressed protesters with a bullhorn.
Johnson, who is white, narrowly survived her vote — a result she has suggested was related to her race — while Pearson and Jones did not.
The Shelby County Board of Commissioners voted two days after the Nashville Metropolitan Council voted unanimously to reinstate Jones to his seat in the Legislature. The council suspended its rules to allow an immediate vote instead of holding an extended nomination period.
Cameron Sexton, the Republican House speaker, seated Jones to his old position and has committed to seat whomever Shelby County officials appoint to fill Pearson's vacancy, including Pearson.
Under state rules, elections for both seats must still be held. The rules dictate that Gov. Bill Lee, a Republican, must schedule a primary for Jones' and Pearson's seats within 60 days and a general election within 107 days. Jones and Pearson have said they will seek re-election.
The expulsions were a historic event in the Legislature. Since the Civil War, Tennessee House members have voted to expel a member only twice — one after an investigation into sexual misconduct allegations and another after a bribery conviction. Similarly, the Tennessee Senate voted last year to expel a sitting member for the first time — Katrina Robinson — after she was convicted of federal wire fraud charges.
Unlike in those instances, Jones and Pearson were expelled for violating House rules. 
Democrats across the U.S. — including the White House — have signaled broad support for Jones and Pearson. 
President Joe Biden has called the "Tennessee Three" — a moniker that includes Johnson — and has invited them to visit the White House while slamming the expulsions of Jones and Pearson as "shocking, undemocratic, and without precedent." Vice President Kamala Harris traveled to Nashville on Friday to meet with the three legislators.