LOS ANGELES — Michael Avenatti, the attorney for porn star Stormy Daniels and one of President Donald Trump's chief antagonists, has been arrested on suspicion of felony domestic abuse, multiple senior law enforcement officials told NBC News on Wednesday.
Officers in West Los Angeles responded to an incident involving Avenatti, and he was detained in the process of taking an incident report, the sources said. He was booked into jail but released on $50,000 bond Wednesday evening.
The Los Angeles Police Department said in a tweet later on Wednesday, "We can confirm that today LAPD Detectives arrested Michael Avenatti on suspicion of domestic violence."
The department said it was "an ongoing investigation and we will provide more details as they become available."
Avenatti released a statement Wednesday denying the allegations.
"I wish to thank the hard working men and woman of the LAPD for their professionalism they were only doing their jobs in light of the completely bogus allegations against me," he said in the statement. "I have never been physically abusive in my life nor was I last night. Any accusations to the contrary are fabricated and meant to do harm to my reputation. I look forward to being fully exonerated."
He also spoke to reporters after his release, saying he has been an advocate for women's rights his entire career.
"I am not going to be intimidated from stopping what I am doing," Avenatti told reporters Wednesday evening. "I am a father to two beautiful, smart daughters. I would never disrespect them by touching a woman inappropriately or striking a woman."
Avenatti did not take questions and went to his car.
In a tweet Thursday morning, Avenatti seemed to blame Trump supporter and conspiracy theorist Jacob Wohl for his arrest.
"First Mueller and now me. When we are fully exonerated I am coming for you Jacob Wohl aka Surefire," Avenatti tweeted about the former hedge fund manager who has been accused of playing a central role in a smear campaign against special counsel Robert Mueller.
Avenatti did not have a court appearance set yet. The LAPD's West Los Angeles Division, which took the report, will take the case to the Los Angeles County District Attorney's Office to decide the next steps.
TMZ and BuzzFeed News had first reported that Avenatti was arrested on suspicion of domestic violence. Early reports indicated the incident involved Avenatti's estranged wife, Lisa Storie-Avenatti, but her lawyer released a statement to NBC News denying those accounts.
"Ms. Storie-Avenatti was not subject to any such incident on Tuesday night," the statement said. "Further, she was not at Mr. Avenatti's apartment on the date that this alleged incident occurred. My client states that there has never been domestic violence in her relationship with Michael and that she has never known Michael to be physically violent toward anyone. My client requests that the media respect her privacy and that of the parties young son."
The LAPD did not disclose the identity of the reporting party or the exact nature of the injuries.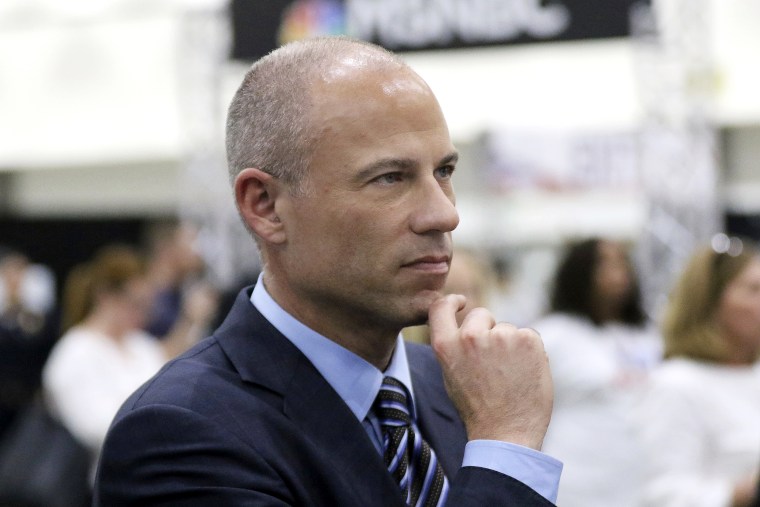 Avenatti became a well-known fixture on cable news for representing Daniels, whose real name is Stephanie Clifford. She claims she had a sexual relationship with Trump in 2006, which he has denied, and was paid hush money to keep silent.
The Vermont Democratic Party said in a statement late Wednesday that it was canceling events over the weekend at which Avenatti was to speak and would refund all ticket sales.
Blankstein reported from Los Angeles, Clark and Madani reported from New York.