WASHINGTON — President Donald Trump, posing beside tall stacks of paper meant to represent regulations holding back American industry, touted his administration's deregulatory efforts Thursday and said there's more to come.
"In 1960, there were approximately 20,000 pages in the code of federal regulations. Today there are over 180,000 pages," Trump said at a White House event. "We're getting back below the 1960 level, and we'll be there fairly quickly."
The president then stood between one pile of papers, labeled "1960," and the other, much larger stack labeled "Today," and cut a piece of red tape stretched between the two with gold scissors.
The Trump administration said that it has withdrawn or delayed nearly 1,600 planned regulatory actions to date, according to a biannual report that the White House released on Thursday.
Trump boasted that he had far exceeded the promises that he made on the campaign trail to deregulate the country. In January, he put out an executive order requiring that two regulations be eliminated for every one regulation that is issued.
"I am proud to announce that we beat our goal by a lot. Instead of eliminating two old regulations, for every one new regulation, we have eliminated 22 — that's a big difference," Trump said.
Some regulatory experts say that Trump may be overstating his accomplishments, depending on the yardstick it is using to measure deregulatory actions.
"If he said 'eliminated' 22 regulations for each one, that's almost surely incorrect," said Cary Coglianese, a law professor and political scientist who studies regulation at the University of Pennsylvania.
The president appears to be counting regulations that the administration has delayed or proposed to withdraw as already being eliminated, Coglianese explained. The White House did not respond to a request for comment on the issue.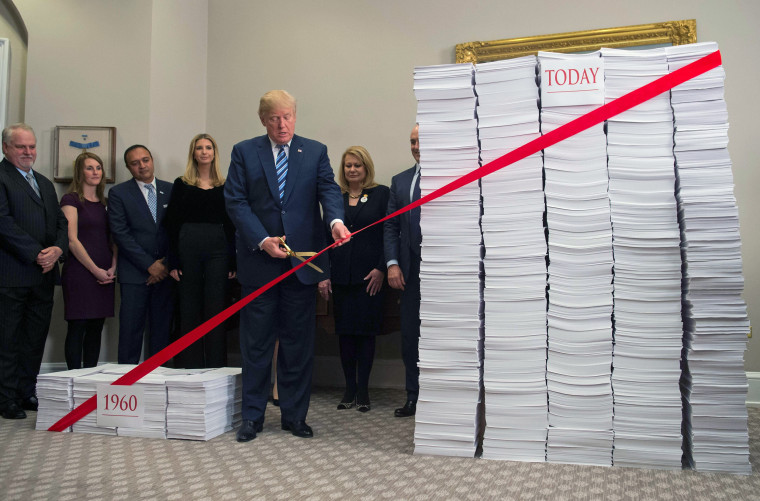 Trump claimed that his deregulatory agenda has fueled the country's economic growth. "The never-ending red tape in America has come to a sudden, screeching, and beautiful halt," he said. "Because of our regulatory and other reforms, the stock market is soaring to new levels."
Susan Dudley, a regulatory expert at George Washington University, says that there's some indication that the White House's deregulatory push is helping to increase business confidence. "I do think there's something to the idea that the business optimism we've seen — indicated in GDP growth, hiring etc. — is fueled in part by an expectation of less regulation and a greater attention to the impacts of regulations on the books," said Dudley, a former George W. Bush official.
But there are far greater forces fueling this year's stock market gains, says Coglianese. "The stock market always does well following presidential elections, and key market indicators that are positive had long positive trends before Trump won," he said.
Trump promised to continue the deregulatory push in the second year of his administration. "I want every cabinet secretary, agency head, and federal worker to push even harder to cut even more regulations in 2018, and that should just about do it," he said. "I don't know if we'll have any left to cut."
His remarks raised alarm among advocates who have been lobbying against the administration's regulatory rollbacks, arguing that they undermine critical consumer safety, public health, and environmental protections.
"Trump wants to take our country back to a 1960s level of regulation. I don't think any Americans are nostalgic for burning rivers, haze you can't see through, exploding cars and cars with no seat belts. But apparently President Trump is," said Amit Narang of Public Citizen, a consumer advocacy group.