After more than a year of pandemic lockdowns that upended movie making, Hollywood celebrated the best films of the past year at the 93rd Academy Awards where stars gathered together at Union Station in Los Angeles, with some parts also taking place at the Dolby Theatre.
The event was maskless, but abided by all the same Covid-19 safety protocols that Hollywood film sets follow, including vaccinations, testing, distancing and masks when the cameras are off.
Here are all the top moments and monumental wins of Hollywood's biggest night.
And the winner of biggest controversy going into the Oscars is ...
For all the accolades, best picture favorite "Nomadland" has delivered one of the few Oscars controversies this awards season — all over its depiction of Amazon.
The Chloé Zhao-directed drama chronicles the struggles of Fern (Frances McDormand), an aging widow who lives out of a van and drives across the American heartland in search of seasonal work. As a member of Amazon's "camperforce," Fern often gets "good money" from the temporary work packaging orders at one of the tech giant's Texas warehouses, where she is seen trading breezy banter with her co-workers.
The retail giant granted permission to the crew to film those scenes on location, leaving "Nomadland" open to suspicions that Zhao would have to put the daily grind inside the warehouse in soft focus.
The depiction also doesn't quite match up with the dangerous conditions described in the pages of the 2017 nonfiction book by Jessica Bruder of the same name, which inspired the film. Amazon continues to be at the center of controversy off screen over its efforts to crush unionization attempts by its workers and allegations of unsafe working conditions in its fulfillment centers.
"One could easily come away from the movie having a benign view of the toll Amazon takes on its workers, including the temporary ones," ProPublica reporter Alec MacGillis wrote in the Los Angeles Times.
Daniel Kaluuya lands supporting actor award for 'Judas'
Daniel Kaluuya just won the best supporting actor trophy for his galvanizing portrayal of Black Panthers leader Fred Hampton in Shaka King's "Judas and the Black Messiah."
Kaluuya was previously nominated for his breakout role in Jordan Peele's horror-comedy "Get Out."
In his acceptance speech, Kaluuya said he shared his honor with co-star and fellow nominee LaKeith Stanfield, who portrayed FBI informant William O'Neal.
He also paid tribute to Hampton, who was killed during a police raid in 1969: "What a man. What a man. How blessed we are we lived in a lifetime where he existed."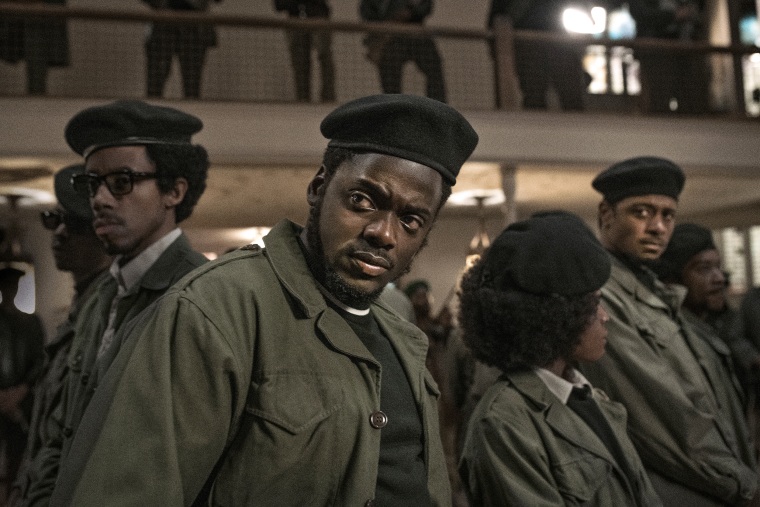 'Another Round,' a paean to being drunk, wins international feature Oscar
"Another Round," the charming but bittersweet tale of a group of buddies who start experimenting with low-level drunkenness every day of their lives, won the Oscar for best international feature film.
The dramedy, directed by Thomas Vinterberg and Mads Mikkelsen, was Denmark's submission in the category.
In his acceptance speech, Vinterberg paid tribute to his late daughter, Ida, who died in a car accident in 2019. Vinterberg appeared to fight back tears as he said he made this movie for her, "as her monument."
"You're part of this miracle," Vinterberg said, later adding: "This one is for you."
Can the Oscars always be like this?
For years we've been subjected to lackluster Oscars host after host (sorry, Ellen and everybody else), and in the wake of 2020 and continuation of its wrath into 2021, the Academy Awards seemed to have finally tweaked its norms and abandoned having a host altogether.
Which, for the record, is the best and right choice.
This year, the broadcast began with Regina King walking in from the pre-show setting to the stage where she did not waste time reminding us that politics and art are not separate entities, but two very important forces that intersect, thank you kindly.
So yes, Regina King is the greatest and all of us should live to make her proud.
And secondly, it's about time: It's about time somebody who had something interesting and truthful to say kicked off the Academy Awards. And it's about time we cut the nonsense of monologues and weird pseudo-roasting and returned to when the Oscars were basically just a fancy lunch.
Because guess what: They're still interesting! They're more interesting! The show moves better! Nobody needs to politely clap at bad jokes! Everybody just gets to give their speeches and move on, making room for who's up next.
For the first time, the Oscars feel like a decent way to spend the evening. And I am living for the steps and tables, and will scream until my throat is sore if we ever return to the way things were.
'The Father' wins best adapted screenplay
Christopher Hampton and Florian Zeller won best adapted screenplay for their film "The Father" about a man who refuses all assistance from his daughter as he ages. 
At a maskless Oscars, a few actors keep theirs on
As Regina King proudly declared that the Oscars would be a maskless event, a few nominees kept their masks on.
Both Zendaya and Frances McDormand could be seen donning masks.  
The nominees are spaced and socially distanced. King said everyone was tested and many are vaccinated. Clearly some attendees aren't as comfortable as others yet, as they, too, adjust to a new normal indoors.
Best original screenplay goes to Emerald Fennell
Emerald Fennell, the writer of the audacious #MeToo-era revenge thriller "Promising Young Woman," nabbed the first award of the night: best original screenplay.
You might recognize Fennell from "The Crown." She plays Camilla Parker Bowles.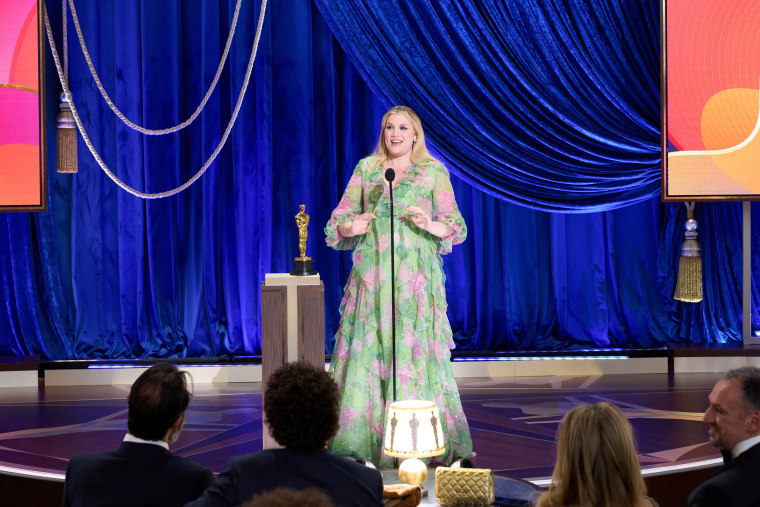 The show is off to a strong start!
In the opening minutes of the ceremony, Regina King strode confidently through Union Station in Los Angeles, accompanied by a swanky soundtrack and stylish opening credits. She took the stage and faced the crowd of nominees, who are seated in tiered booths and at cocktail-style tables.
King nodded to the Derek Chauvin verdict, saying in her opening remarks: "I have to be honest, if things had gone differently this past week in Minneapolis, I might have traded my heels for marching boots."
I'm cautiously optimistic the show will be fun. Here's why.
It's been a rough few years for Oscars aficionados. The ratings for the telecast have slumped. The nominees are often overshadowed by streaming TV shows, video games, TikTok clips. The conventional wisdom is that Hollywood's marquee awards show is edging toward irrelevancy.
But this year, I'm cautiously optimistic that the ceremony could make for some fun viewing — or, at the very least, give folks at home a welcome distraction from the Sunday scaries.
The main reason is that the producers of the show, including the innovative director Steven Soderbergh, have been given greater latitude to experiment with the format. The producers have promised a more intimate event that conjures the "joy of cinema" for pandemic-weary viewers at home.
If tonight's show channels the effortless cool of Soderbergh's "Ocean's Eleven" trilogy, we're in for an interesting night. But if not — well, there's always next year.
Best original song nominees get the pre-show treatment and it totally rules
Typically, the best original song nominees are presented over the course of the Oscars broadcast. However, in order to give each performance equal time, songs were featured as part of the pre-show broadcast, with four of the five nominees having been pre-recorded on the Dolby Family Terrace of the Academy Museum of Motion Pictures.
The fifth? Performed in Iceland, which makes sense considering it was "Húsavík" from "Eurovision: The Story of Fire Saga."
The thing is, it totally works. Not only is each song and performer free of having to perform under serious time constraints, there's finally a way for us to find a mainline to the feelings behind each.
Plus, instead of waiting for a live show to inevitably go a little bit wrong, we've been given a front row to talent without their raw nerves, which means we're allowed to just ... listen. And, of course, Google where to buy the sweaters worn by the children's choir in Iceland. (After the Oscars are over, I swear.)
Chloe Zhao's red carpet look (hopefully) embodies the future of formal
I know the red carpet is a welcome beacon after a year-plus of the absolute opposite, but Chloe Zhao's Oscars choice has reaffirmed that one day, in a post-lockdown world, the definition of what formal means may finally change.
Clad in Hermes and a perfect white sneaker, the "Nomadland" director made getting dressed up look cool, comfortable and a means to self-express — while avoiding blisters. Made even more perfect by her French braids and minimal makeup, may her look inspired us all to wear what we'd like, especially since it's impossible not to look incredible doing it.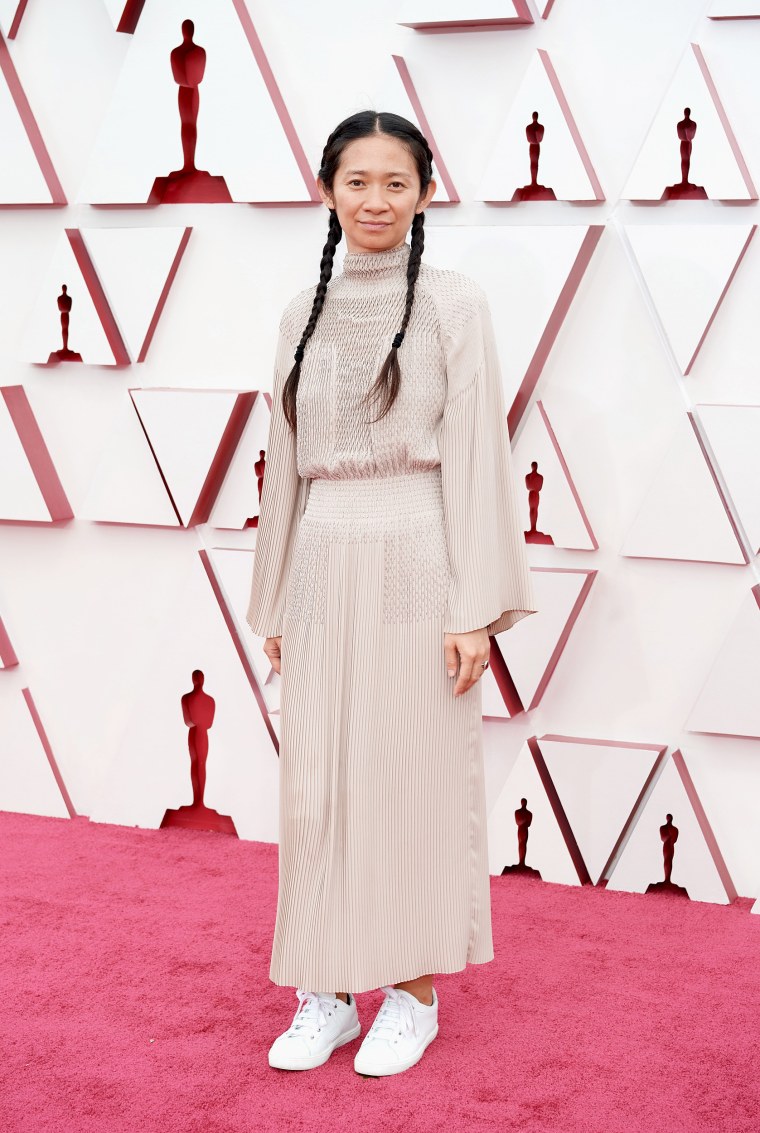 Men bring undeniable style to the Oscars ceremony
Men are making incredible fashion statements on the Oscars red carpet, starting with actor Coleman Domingo.
Domingo, who stars in the Oscar-nominated film "Ma Rainey's Black Bottom," brought heat with this tailored hot-pink suit with sparkles in all the right places.
Actor Leslie Odom Jr. dressed in a gold and black suit — possibly hoping to add a matching gold Oscar trophy to the outfit by the end of the night. Odom is nominated for two Oscars for his work in "One Night in Miami."
LaKeith Stanfield, who is nominated for best actor in a supporting role for his interpretation of Bill O'Neal in the film "Judas and the Black Messiah," gave fans a glimpse of his '70s-inspired black and white suit before showing up on the red carpet.
Viola Davis remembers co-star Chadwick Boseman on the red carpet
While speaking to Giuliana Rancic on the Oscars red carpet, best actress nominee Viola Davis remembered her "Ma Rainey's Black Bottom" co-star Chadwick Boseman.
Boseman, who died last year of cancer, is nominated posthumously for best actor.
Rancic asked Davis how it felt that Boseman was being honored with a nomination.
"It feels right only because I know him," Davis replied. "He was authenticity on steroids."
Davis added that sometimes we "honor people who were not really nice or the persona doesn't match the person," saying that was not the case with Boseman.
"This artist did not mistake his presence for the event," Davis said. 
Davis is the most nominated Black woman in the history of the Oscars, according to Entertainment Weekly. In addition to her nomination tonight, she has also been nominated for "Fences," "The Help" and "Doubt."
If she wins tonight, she will be the second Black woman to win best actress, joining Halle Berry, who won in 2002 for "Monster's Ball."
Some of the most memorable lewks of Oscars past
Celebrities are already bringing fine fashion to the red carpet. It's a welcome bright spot after a year many of us spent in soft pants. 
We're eagerly awaiting — nay, hoping for — some wild outfits. Tonight brings to mind some real stunners from years past, including Bjork's albatross dress. And who could ever forget Cher's spider dress, one of many designed by her friend Bob Mackie?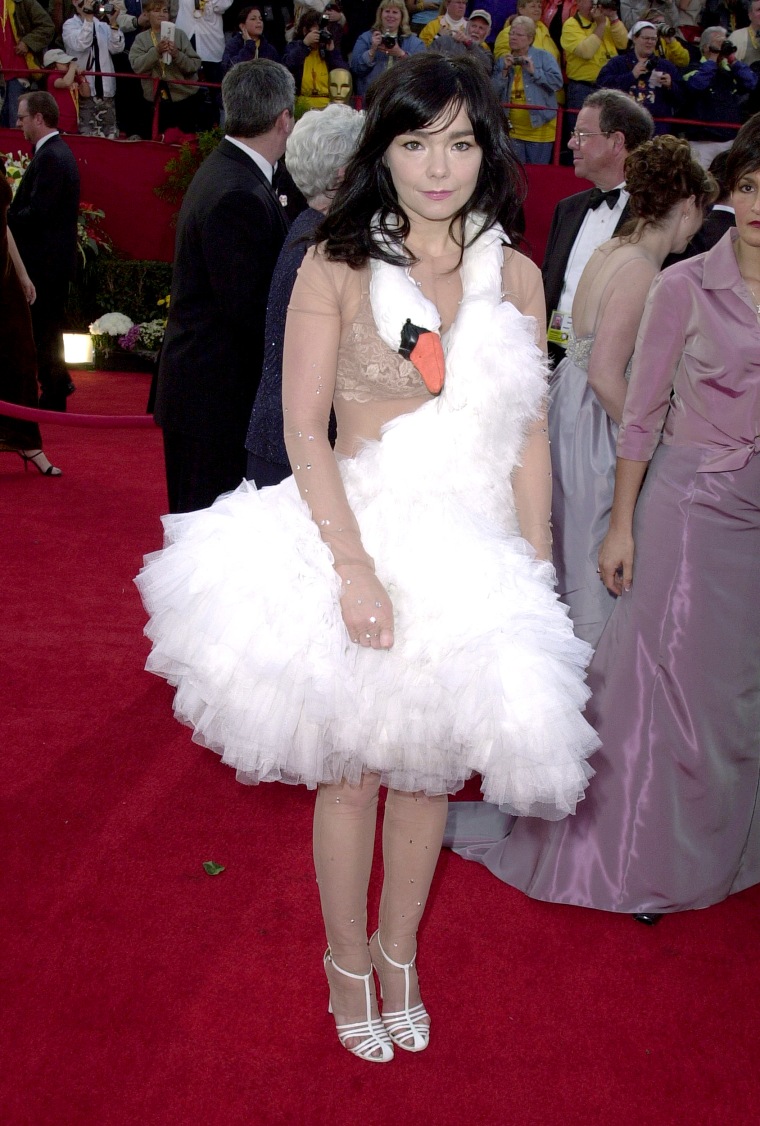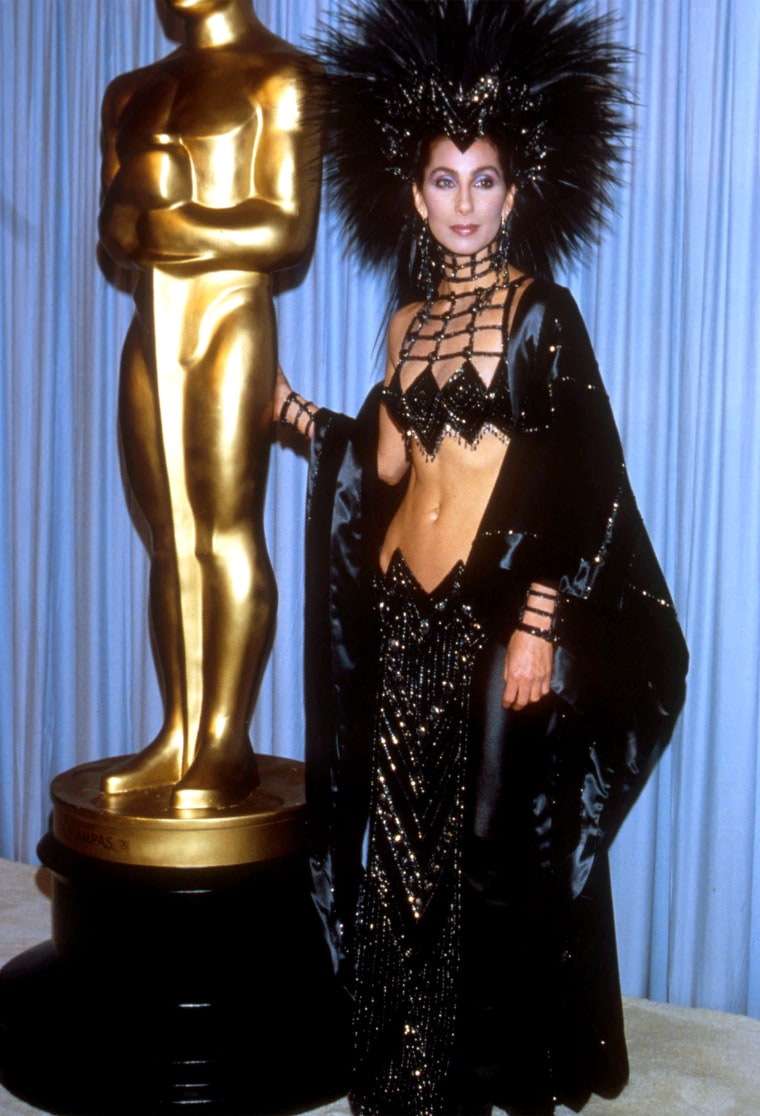 NBC's bloggers make their predictions for best picture
When we asked our team of live-bloggers to submit their predictions for best picture, I assumed everybody would pick the odds-on favorite: Chloé Zhao's "Nomadland," the elegiac road drama that has nabbed the top honors at most of the pre-Oscars awards shows.
But as it turns out, my colleagues were split between "Nomadland" and Lee Isaac Chung's "Minari," a tear-jerking portrait of a family of Korean immigrants chasing the American Dream.
Here's where we stand:
Nicole Acevedo, reporter: "Minari"
Daniel Arkin, reporter: "Nomadland"
Amanda Covarrubias, editor: "Nomadland" 
Anne T. Donahue, blogger: "Nomadland"
Ben Kesslen, reporter: "Minari"
Matthew Marshall, social media: "Nomadland"
Kalhan Rosenblatt, reporter: "Minari"
Ethan Sacks, reporter: "Nomadland"
Joy Wang, editor: "Nomadland"
We'll find out who picked the right horse when the Oscars wrap up ... many, many, many hours from now.
The fashions are rolling in ...
This young star from "Minari," which was nominated for several of tonight's biggest awards, is pretty adorable. Admit it.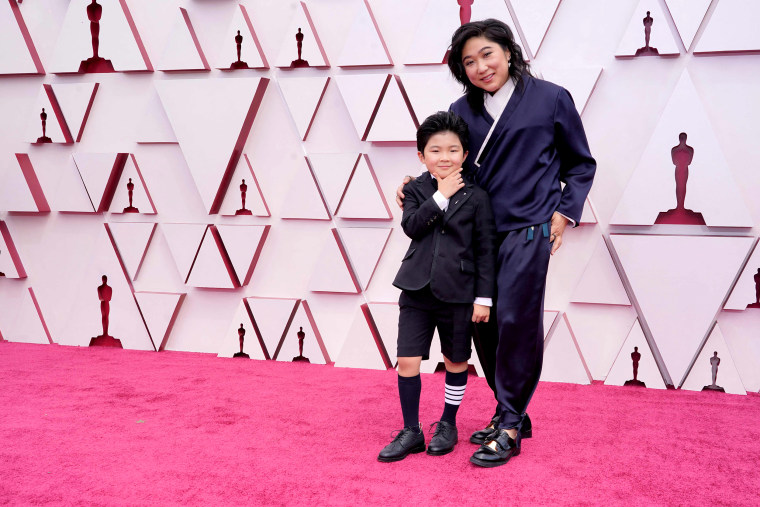 Follow along with the full list of nominees
Can't remember if your favorite animated short made the cut? 
Check out the full list of nominees here. 
We'll be updating the list throughout the event with all the latest winners.
Here's how to watch the awards show tonight
The live show will air on ABC and be livestreamed on the ABC app starting at 8 p.m. ET.
If you're thinking April seems a little late for the Oscars, you're right. It was originally supposed to air Feb. 28, but the ceremony was postponed because of Covid-19. 
For the first time part, of the show will be held at Los Angeles' Union Station, along with its usual venue, the Dolby Theatre, but there aren't a lot of details otherwise. Thanks to the pandemic restrictions, only nominees, their guest and presenters are permitted to attend, according to an email from David Rubin, president of the Academy of Motion Picture Arts and Sciences, per USA Today.
Find everything you need to know about the awards show here.
The Oscars are nearly here! Are you tuning in or turning it off this year?
After a year of work-from-home loungewear, are you putting on your finest formal outfit to celebrate the 93rd Academy Awards? Or are you part of the declining viewership that dismisses awards shows as elitist cultural slogs? 
Whichever view you hold, NBC News THINK sees you.
What to watch for during tonight's ceremony
Hollywood will hit pause on a pandemic-triggered existential crisis Sunday night as it honors some of the finest movies released in 2020 and the early months of 2021 — an eclectic crop of small-scale dramas that got chances to shine in a year without blockbusters.
"Mank," David Fincher's ode to Tinseltown's storied past, leads the pack of contenders with 10 nominations — but "Nomadland," Chloé Zhao's portrait of the itinerant life in the American West, is favored to scoop up the best picture prize.
Here's a look at some of the key storylines at the 93rd Academy Awards.