The feel-good road-trip drama "Green Book" drove through a cloud of controversy to score a surprise best picture victory at the 91st Academy Awards on Sunday, edging out top competitors like Netflix's "Roma" and Marvel's "Black Panther." The film's big win came as a shock at the end of a brisk, host-free night filled with historic milestones for diversity and representation.
Spike Lee, a revered 33-year film veteran, won his first competitive Oscar — best adapted screenplay — for his fiery docudrama "BlacKkKlansman." Two technical artists behind the culture-conquering Marvel epic "Black Panther" — costume designer Ruth Carter, co-production designer Hannah Beachler — became just the second and third black women to earn non-acting Oscars.
But the triumph of "Green Book," co-starring Mahershala Ali as a black pianist and Viggo Mortensen as an Italian-American chauffeur who guides him through the segregation-era Deep South, was sure to trouble its detractors. The film, which also won best supporting actor for Ali and best original screenplay, has been criticized by some as a retrograde and simplistic take on American race relations.
"Roma," Alfonso Cuarón's sweeping, poetic portrait of 1970s Mexico City, notched awards for the his direction and cinematography; it also claimed the best foreign-language film prize. Cuarón and his fellow Mexican auteurs Alejandro Iñárritu and Guillermo del Toro have monopolized the best director category for five of the last six years. Cuarón, for his part, is the first director to win an Oscar for handling the cinematography on his own film.
Cuarón's black-and-white, semi-autobiographical passion project was a watershed moment for its distributor, Netflix, giving the streaming giant its first-ever best picture nomination. (Netflix has nabbed only one Oscar for a feature-length film: last year's best documentary winner "Icarus.")
"Bohemian Rhapsody," a crowd-pleasing but critically reviled biopic of Queen frontman Freddie Mercury, racked up four trophies, the most of the night. It conquered a trio of technical categories — editing, sound mixing and sound editing — and won best actor for its star, Rami Malek. In a prescient move, the ceremony kicked off with a medley of Queen ballads sung by pop star Adam Lambert.
"We made a film about a gay man, an immigrant who lived his life unapologetically himself," said Malek. "We're longing for stories like this. I am the son of immigrants from Egypt. I'm a first-generation American, and part of my story is being written right now."
"Rhapsody," a massive box-office success, pulled off its string of wins despite the recent scrutiny on its original director, Bryan Singer, who was fired in the middle of production. Singer, best known for helming some installments in the "X-Men" franchise, faces multiple allegations of sexual assault, which he has denied.
The emotional climax of the night may have been Lee's triumphant celebration on the main stage of the Dolby Theatre. The filmmaker, clad in his signature purple suit, jumped into the arms of the presenter (and his long-time collaborator), Samuel L. Jackson. In his rousing acceptance speech, Lee read off notes and called on the audience to "mobilize" ahead of the next presidential election.
"The 2020 election is around the corner. Let's all mobilize. Let's be on the right side of history. Let's do the right thing! You knew I had to get that in there," Lee said, referring to the title of his era-defining 1989 race relations drama. "BlacKkKlansman," a true-life tale about a black cop who infiltrates a chapter of the Ku Klux Klan, is loaded with allusions to President Donald Trump and ends with footage of the 2017 riots in Charlottesville, Virginia.
In one of the biggest surprises of the ceremony, veteran English actress Olivia Colman landed the best actress award for her portrayal of the mercurial Queen Anne in the off-kilter royalty farce "The Favourite." Colman's unexpected win denied Glenn Close ("The Wife") her first Oscar.
"It's genuinely quite stressful," Colman, visibly shocked and giggling, said in her acceptance speech. "This is not how I wanted it to be," she added as the camera cut to a shot of Close in the crowd. Close, a seven-time nominee, seemed to graciously smile.
"Vice," Adam McKay's scabrous takedown of former Vice President Dick Cheney, received a single Oscar, for makeup and hairstyling. "A Star Is Born," Bradley Cooper's swooning musical melodrama, walked away with just one award, too — best original song, for the hit Grammy-winning single "Shallow." The intimate duet between Cooper and Lady Gaga on the Oscars stage seemed to dazzle the crowd and inspired a slew of memes.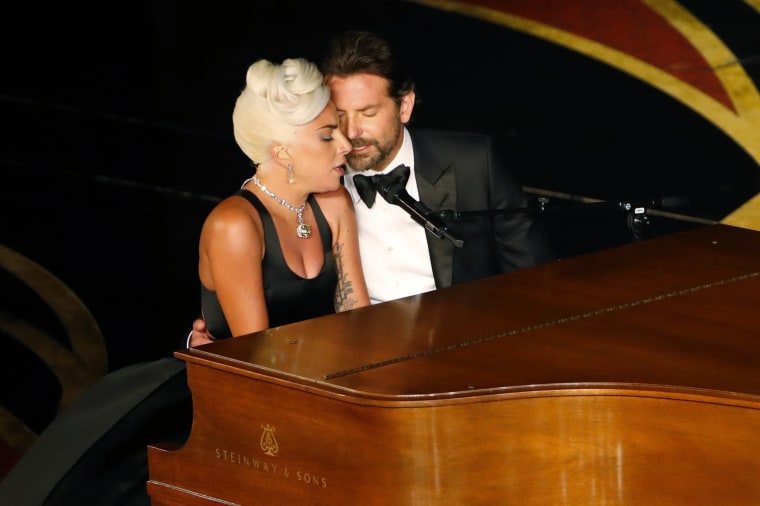 Regina King, a Hollywood veteran who earned some of the best reviews of her career for her turn as a devoted mother in Barry Jenkins' "If Beale Street Could Talk," won the best supporting actress prize — the first award of the night.
"I'm an example of what it looks like when support and love is poured into someone," King said, appearing to fight back tears.
The ceremony was an altogether fast-moving affair — and that likely came as a relief to executives at ABC, the network that airs the show, who were keen on avoiding an excessive length. The show's running time of just over three hours may have been partly due to the lack of a host.
The comedian Kevin Hart, originally tapped to emcee the night, stepped aside amid a furor over his old homophobic tweets. The producers of the show decided to move forward without a host, relying instead on A-list presenters like Tina Fey, Amy Poehler and Maya Rudolph, who helped kick things off with some barbs about the film academy's recent series of public relations stumbles and misfires.
"There is no host tonight, there won't be a popular movie category and Mexico is not paying for the wall," Rudolph quipped.