After being surrounded by mud and placed on virtual lockdown amid a stormy weekend, those exiting Burning Man faced a little more hardship Monday night — an 8-hour wait to get out.
Organizers lifted a virtual lockdown for the annual Burning Man festival Monday, allowing attendees' annual "exodus" to begin after a weekend of rain and mud isolated the Nevada desert venue.
Monday is traditionally the day most people leave the weeklong celebration of countercultural music and arts, but this year the green light for departure unlocked a venue beset by impassable roads, muddy tents, and a shelter-in-place recommendation.
Following the 2 p.m. announcement that festivalgoers could leave by car, vehicles lined up at the main gate, and the wait to get out was said to be more than 5 hours.
By late evening, organizers said the wait was eight hours. They suggested patrons stay until the end of the night's annual "burn," in which a 40-foot wooden man is torched, to leave.
Sgt. Nathan Carmichael of the Pershing County Sheriff's Office said he didn't believe a significant number of patrons would stay for the customary end-of-event burning in effigy, given their isolation in rain and mud for a weekend of what was supposed to have been a major party.
"There's a very large line of people trying to leave right now," he said Monday afternoon.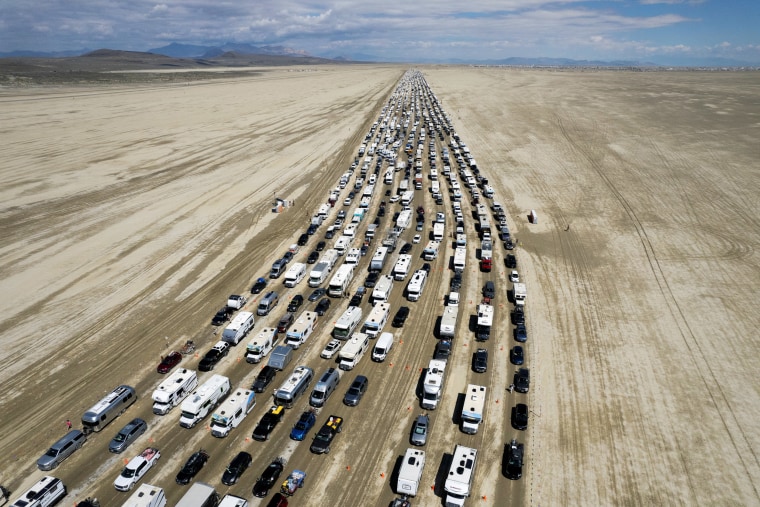 One death was reported by authorities Saturday, and on Monday the person was identified as Leon Reece, 32. Deputies were called to the area Friday at 6:24 p.m. but were delayed by the first round of heavy rain, according to a sheriff's statement.
The man was declared dead at the scene once first responders arrived, the sheriff's office said. His cause and manner of death had not been determined.
Carmichael said a toxicology report still needed to be completed. But there were no obvious signs of trauma, he said, speaking for a coroner's office that exists under the purview of Sheriff Jerry Allen.
"No indication it's the weather," he said. " He had no stab wounds or bullet wounds."
Organizers on Monday said roughly 64,000 of the more than 70,000 estimated to be on-site Saturday remained at the venue Monday afternoon.
The 3,900-acre event on an ancient, dry lakebed that's part of the federally protected Black Rock Desert near the town of Gerlach, had rarely faced such a challenge, and organizers urged patrons to conserve food and water and wait for mud to dry out.
The venue floor, known as the Playa, is usually crowded with a dazzling, laser-lit array of DJ stages, floats, art cars, and steampunk characters on strange, peddle-powered conveyances. A sufficient number of food vendors usually fills demand for eats, but not this time, said festivalgoer Paul Reder.
"There's no vendors for food," he said. "There's a bunch of really nice people that are sharing what they have." 
Indeed, a festival that celebrates individuality has also been built on a community of fans and volunteers under an ethos of inclusion and giving.
"The sense is that people help each other out," Reder said. "People, you know, help each other with housing, with food supplies. This is going to end very soon, and the gates will open and we'll all be on our way home."
In lifting the ban on vehicle movement, organizers urged anyone trying to leave on foot to get a ride, and said they have people would be available to help.
Organizers had warned that the process of driving out was expected to take hours, even if organizers adhere to rules published by the U.S. Bureau of Land Management, which oversees the terrain.
"During Exodus, BRC will employ a metered release protocol, which will ensure that no more than 800 vehicles per hour exit onto CR [county route] 34 from Gate Road," the agency's documentation on permitting states.
Some four-wheel-drive vehicles with off-road tires were allowed to exit before Monday, organizers said, but many if not most of the vehicles permitted to be on the Playa were under a no-driving order because organizers feared they would get stuck in the mud and block others. The Bureau of Land Management allows 33,000 vehicles at the venue.
Faced with a weekend in mud-lined tents and possible water and food shortages, some attendees opted to walk the more than five miles to a passable road.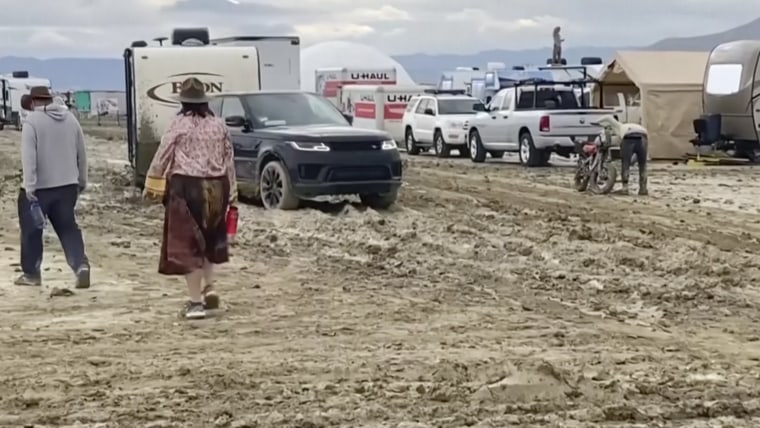 Among them were celebrity DJ Diplo, born Thomas Wesley Pentz Jr., and comedian Chris Rock, who got a ride in a fan's pickup truck after they made the miles-long hike to blacktop, the DJ said in a video posted to X, the social media platform formerly known as Twitter.
The predominant gateway for celebrities, a temporary airport conceived as a destination for private jets and chartered helicopters, was shut down by Saturday, after the first wave of heavy rain struck overnight.
On Monday, organizers said their Black Rock City Airport was back in business, with their contract air service, called Burner Express Air, providing its exclusive flights out.
Among those who stayed put was Claudia Peschiutta, a supervising editor for NPR's "Morning Edition." She said on-air Sunday that the situation wasn't that dire, although she said she learned to live with an inch or so of mud in her boots.
The event's CEO, Marian Goodell, fended off gloomy headlines, proclaiming Sunday that, "There is no cause for panic."
The burning in effigy of a 40-foot wooden man, the origin event of the festival founded in 1986 on a San Francisco beach, would happen Sunday night after it was postponed Saturday, Goodell said in an interview Sunday.
But rain continued to come in waves Sunday, thanks to a fall-like low-pressure system off the Northern California coast, and the burn was put off once more.
Organizers hoped a chance to see the iconic event, rescheduled for 9 p.m. Monday, might persuade some attendees to stay instead of adding to the line of vehicles at the exit.