At some point, most of us have had "drink more water" on our to-do list. But most of us also know that increasing your daily water intake is easier said than done. As we spend more time at home, keeping a pitcher full of water nearby makes things more convenient and can encourage us to drink more throughout the day. But there are also other steps that we can take to help.
Our first plan of attack? Make it less boring. After all, you've never forgotten an iced latte or glass of lemonade at the start of work, right? By infusing water with fruit, veggies and herbs like mint and rosemary you'll have a beverage your taste buds actually enjoy, making it more likely you'll sip more frequently.
The second step: Invest in some items that will make the whole thing a no-brainer, like drinking water reminder apps, smart water bottles and more. By taking advantage of a smart product designed to help you hit your recommended water intake, you'll keep your goal front of center and sip more throughout the day (instead of trying to guzzle all 64 ounces before you go to bed), without having to add yet another thing to your mental to-do list.
Here's a water bottle worth having in the cabinet. It comes with an infuser to hold sliced fruit, veggies and herbs for all-natural (and sugar-free) flavor. Suddenly the beverage known for being the most boring gets a little more interesting — and the bottle solves the issue of sucking up pulp and herbs while you sip. Plus, making your own flavored water at home is a money saver. A smarter choice for your health and your bank account.
Sometimes we're sipping our water bottle on the go, other times we prefer a nice glass of ice water at home. Plus, don't forget that other beverages like coffee and tea count towards your daily fluid intake. Enter Ulla. The tracker that you can place on any bottle, cup or to-go mug so that you get credit for every single sip. The tracker knows when you take a drink, and begins to blink after your cup of choice sits stagnant for 40 minutes, reminding you to take a sip. If you struggle to make drinking water throughout the day a habit, and are easily sucked into work, zoom meetings and errands, this tracker will help encourage you to hydrate regularly (without having to think about it).
Another way to keep water interesting? Make it fizzy. Unfortunately buying packs of seltzer can be pricey (not to mention a pain to lug up the stairs to your apartment). Luckily for you, SodaStream solves both of those problems by enabling you to whip up some carbonated water in your kitchen whenever the craving hits. And the fizzy beverage may indeed be effective at aiding hydration: a study conducted by the company found that that SodaStream users consume 43 percent more water than non-users. Plus, it's lightweight and wireless — which means we'll be bringing it out on our patio for refreshing sparkling water, or a bubbly cocktail mixer during virtual happy hour. SodaStream recently partnered with sparkling water brand bubly to create fruit-flavored drops you can add to the fizzy water, too.
This isn't your standard bottle of water. It glows to remind you to take a drink! A sensor inside the bottle measures how much water you're drinking and sends that data to a companion app that will suggest ways to improve your water drinking habits over time. The BPA-free and food safe bottle even syncs with your phone to help you find it if you've misplaced it.
If you love UV sanitizing devices, this might be your next bottle. LARQ's bottlecap is equipped with UV-C LED lights that are designed to purify up to 99.99 percent of contaminates in your water. The bottle is set to self-clean every two hours and its double-walled vacuum insulation keeps drinks cold for 24 hours or hot for 12 hours.
This 32-ounce Hydro Flask features durable stainless steel and double wall vacuum insulation to keep your water cold. It's equipped with a wide mouth and features a flexible straw lid so you can easily sip throughout the day. It's also dishwasher-friendly and comes in a variety of colors, including cobalt, hibiscus and more.
The Life Bottle holds one gallon of water, making it possible to hydrate all day without multiple trips to the kitchen. It comes with time measurements, from morning to evening, so you can easily assess your progress. Although it's quite bulky, you can fill it up once at the start of your day and likely don't need to worry about refilling it again.
Sometimes all it takes to implement a new habit is having it front and center — like that basket of fruit on the counter or setting your gym clothes out the night before. The same can be said for having a big jug of freshly-filtered water sitting on your counter or in your fridge, ready to pour into a glass. This "smart" pitcher is power-activated so it instantly filters a one-gallon (or 16-cup) carafe without the painful drip by drip process of your standard water pitchers. Added bonus: It removes 10 times more contaminants, including over 99 percent of lead, according to the brand. The one-gallon dispenser is perfect for the counter, while the half-gallon (8 cup) dispenser fits in the refrigerator door.
Many of us fail to have a bottle of water on hand when we need it most — when we're outside being active on a hot day. But we get it: the last thing anyone wants to do when riding their bike, heading out on a weekend hike or spending the day at the beach is lug around a cumbersome bottle. That's where the Vapur comes in handy. Dubbed the "anti-bottle," it's made of a flexible material that lays flat when it's empty. So once you drink the water, you can fold it up and store it in a pocket or bag without adding any bulk to your load. You can also opt for a detachable hose, perfect for hands-free hydrating during your run or hike.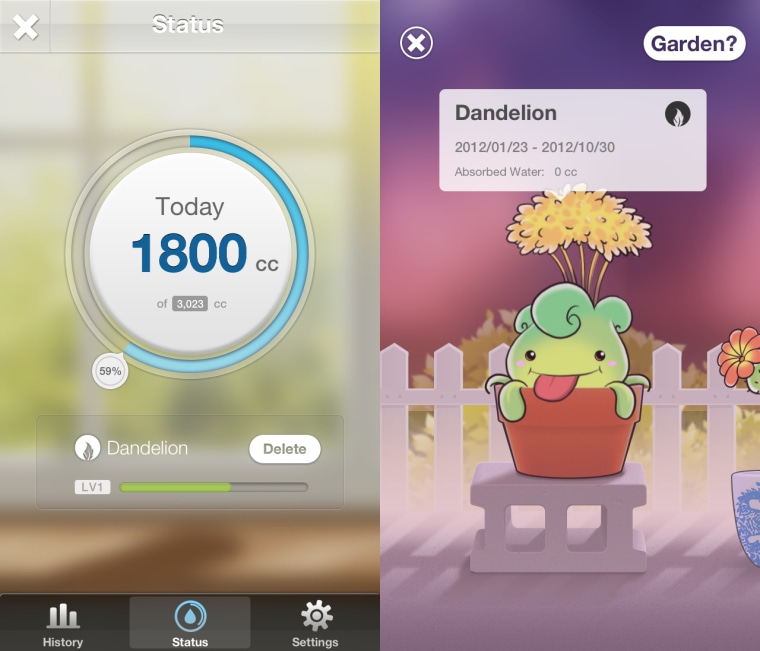 We love turning our goals into games. We have weekly step challenges with our friends, use an app to wager money against our health goals and now we're using our water intake to indulge our green thumb. Whenever you log a glass, the app uses it to water your virtual plant. If you can't seem to make drinking water a habit for your own health, keeping your adorable windowsill plant alive may be just the motivation you need. Download it for free on Android.
More shopping guides and recommendations
Want more tips like these? NBC News BETTER is obsessed with finding easier, healthier and smarter ways to live. Sign up for our newsletter and follow us on Facebook, Twitter and Instagram.