When you're stuck at home all day, the line between snacks and meals is getting blurrier so it's more important than ever to choose filling and nutritious options. Your best chance of getting through the day without distracting hunger is to choose a protein- and fiber-rich snack. Snacks that contain whole food sources of protein and fiber (say, from some combo of nuts, veggies, fruits, beans, eggs, or yogurt) offer a winning formula that keeps you full for hours. Plus, if your snack is dominant in protein- and fiber-rich food sources, these healthful ingredients are likely crowding out less healthful ones, namely added sugar and refined grains. Here are some pointers for picking a healthy, high protein, high fiber snack, along with some tasty options that fit the parameters.
What to look for in a healthy snack
At least 3 grams of fiber (you need around 25-38 grams per day)
5 or more grams of protein (for reference, a boiled egg has about 6 grams)
No more than 6 grams of added sugar (about 1 ½ teaspoons, but lower is better)
Wholesome ingredients, like beans, nuts, seeds, fruits, veggies, eggs, yogurt, and cheese
No artificial sweeteners, like sucralose or aspartame (the stuff in the yellow and blue packets)
No artificial colors or preservatives (often clues that something is overly processed)
Be 'calorie aware'
It's not necessary to tether yourself to a calorie counting app, but it's a good idea to be calorie aware and to energize (another way of saying consume calories) in line with your activity and needs. There's a wide range of calorie needs, and your requirements may vary depending on the day (maybe you had a light lunch or maybe you participated in a killer workout or you might have a long stretch before dinner). Be realistic about your needs and goals. A good snack range is between 100 to 300 calories. Here are some ideas to get you off and running.
Healthy snacks at grocery store
In a pinch, you can find plenty of snacks that offer hunger-taming amounts of protein and fiber for grab-and-go eating.
You'll score 4 grams of fiber and 5 grams of protein in this restaurant style tortilla chip. The first ingredient is whole great northern beans, which provide the protein and fiber punch. Dip a serving of chips into some jarred, no added sugar salsa to boost the nutrition content while sticking close to the 130-calorie count from the chips.
Or, stash a a mini guac from Wholly Guacamole in your office fridge to pair the chips with some plant-based fats.
This is like string cheese's sophisticated cousin, with a nutty, full-bodied flavor that happens to deliver 7 grams of protein per snack-size package. Pair it with a cup of strawberries to hit your fiber targets, or serve it with some grain and seed crackers, like these Mary's Gone Crackers.
A bar made from whole food ingredients can tide you over in a pinch. These bars get protein from eggs and fiber from nuts, so they're about the next best thing to a DIY snack. Each RXBAR has 12 grams of protein and 5 grams of fiber, and they're sweetened with dates instead of added sugar. For a lighter snack that's just as tasty and portable, their kiddie version supplies 7 grams of protein and 3 grams of fiber for fewer calories.
A snack pack of almonds might be just what you need to get through a hangry afternoon. The 250-calorie snack-size portion supplies 5 grams of fiber and 9 grams of protein. You can pair the bag — either all of it or just half of it — with a fruit or veggie of your choice for a more balanced, protein- and fiber-rich snack.
Healthy snacks you can make at home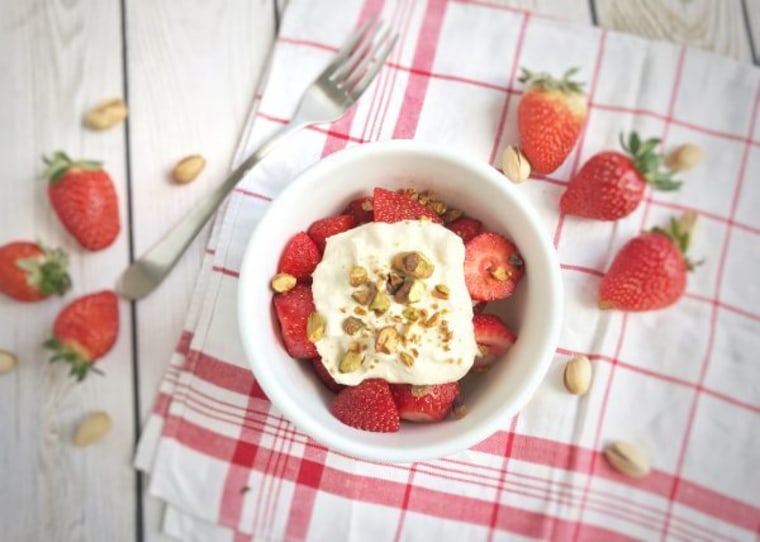 Love it or hate it, you can't argue with tofu's versatility. Here, it channels lemon crème sauce, yet it's vegan, dairy- and gluten-free. Serve it atop strawberries (as shown) and you'll get 5 grams of protein and fiber. Top with nuts and you'll get even more of both nutrients.
Smoothie shop smoothies can be a great way to amp up your fruit and veggie intake, but their calorie counts are often closer to a meal than a snack. If you have a blender handy, you can make this luscious treat, which has 9 grams of protein and 4 grams of fiber for just 100 calories. And don't forget about canned pumpkin once the weather warms. Pumpkin puree is an all-star staple that bumps up the nutrition in smoothies and other dishes.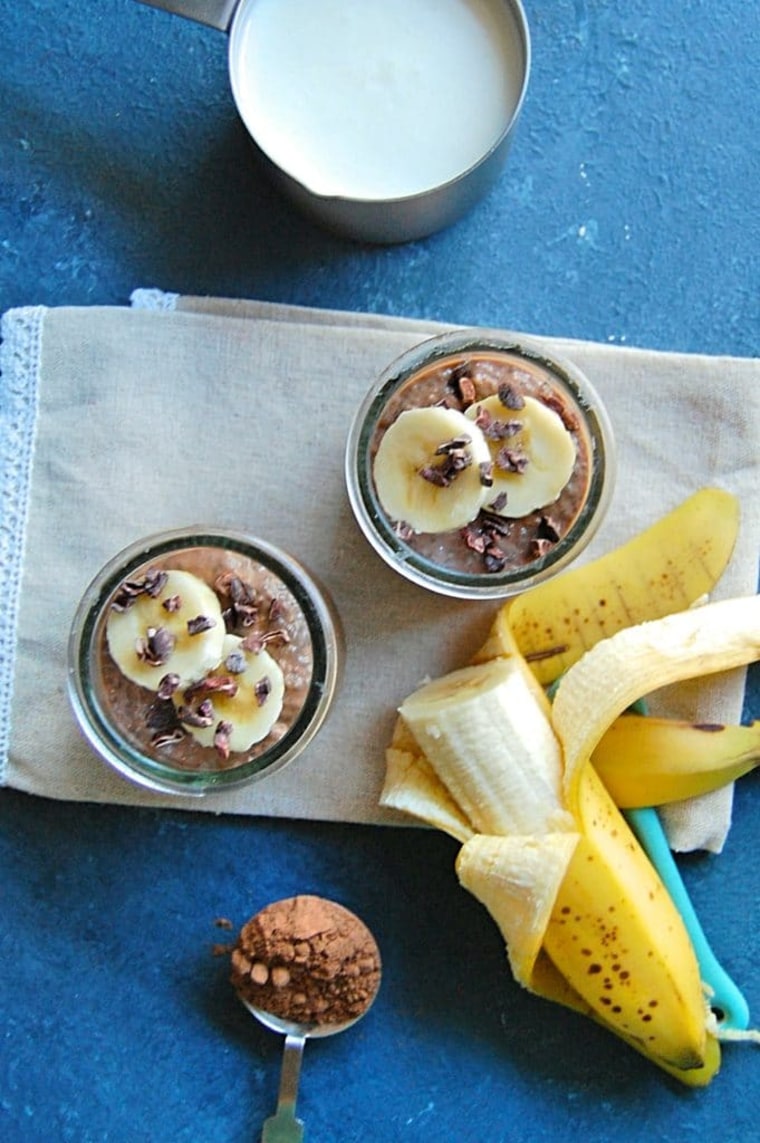 This chocolate treat might become your new snack hero. It checks all the boxes! Chocolate? Check! Naturally sweetened? Check! Protein and fiber? Check, check with 8 grams and 9 grams respectively. It's also great for your gut since it contains both pre- and probiotics.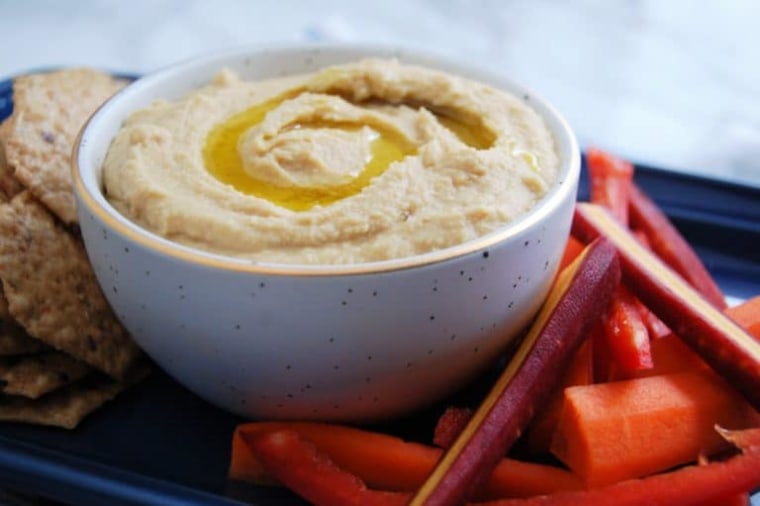 You can buy hummus from the store (no shame!) or you could easily whip up your own flavorful version, like this one. A serving has 4 grams of fiber and 5 grams of protein, but you can boost both further depending on the dipper you choose.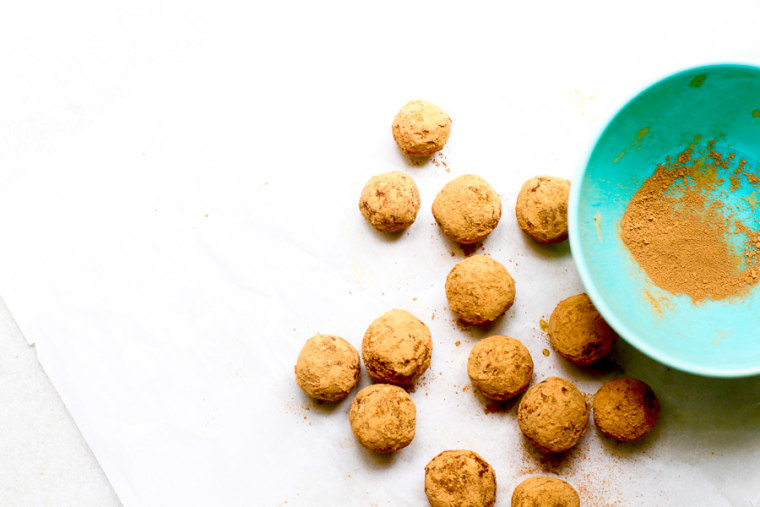 They may sound like a treat, but these no-added-sugar bites are made with wholesome ingredients, like almonds and dates. A snack like this — with both 5 grams of protein and fiber — is the perfect way to satisfy a sweet tooth and chase away hunger. Bonus: The cocoa dusting has brain-boosting antioxidants.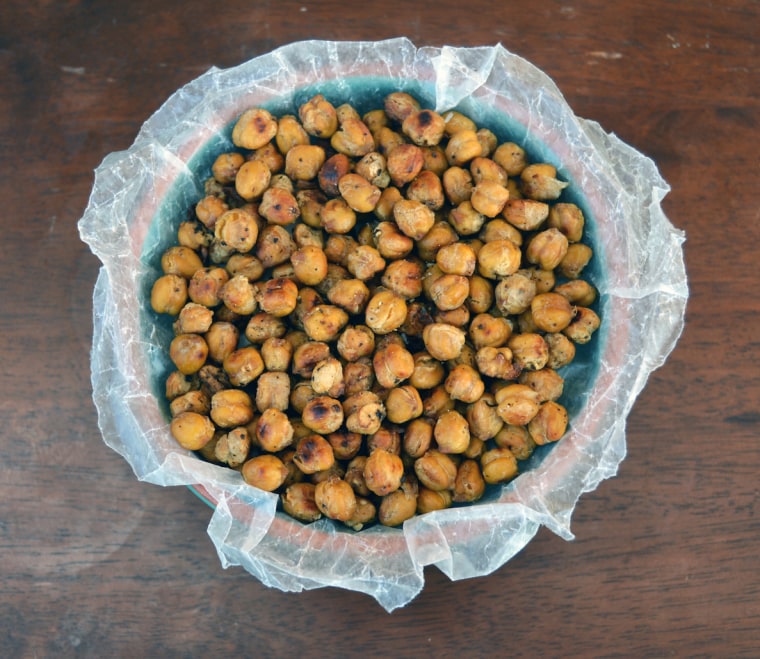 You can buy 'em in a bag, but roasted chickpeas are also really easy to make from scratch. This recipe has two seasoning suggestions, but feel free to get creative. (Smoked paprika is a personal fave.) Once roasted, these nibbles are a perfect crunchy snack on their own, but they also play well with others; use them instead of (or in addition to) nuts in trail mixes. A serving has 5 grams of both protein and fiber.
Ever heard of ants on a log? This is the grown up version, with protein-packed egg salad smothered over a celery log. Two stuffed stalks have 3 grams of fiber and 8 grams of protein, plus loads of veggie goodness.
MORE FROM SAMANTHA CASSETTY, RD
Want more tips like these? NBC News BETTER is obsessed with finding easier, healthier and smarter ways to live. Sign up for our newsletter and follow us on Facebook, Twitter and Instagram.