I have my share of parenting fails (too much screen time and an inconsistent bedtime routine to name a few), but packing a healthy, satisfying lunch for my daughter isn't one of them. I thank my assortment of bento boxes for consistently inspiring me to bring my early-morning A game (an achievement for this decidedly non-morning person).
Packing lunches seems to scratch a creative itch, and with all those perfectly-portioned boxes to fill, it makes it infinitely easier to crank out lunches that are nutritionally balanced and fun to eat — not to mention pretty to look at. (You can see my cucumber turkey boats in the picture to the left — one of my early bento successes that my daughter still requests to this day.)
Whether you brown-paper-bag it or use a bento-style lunch box, NBC News BETTER's nutrition columnist, Samantha Cassetty, RD, agrees that a packed lunch is most often a better way to go: "Packing school lunch puts you in charge of the foods you feed your child, and a meal made at home can be lower in sodium, added sugars and saturated fat than what you might find in a school meal."
I tapped Cassetty, along with dozens of parent friends, to share some of our favorite bags, bins and boxes that you, your kids and even the environment will love.
Lunch bags
First things first: The lunch bag. Almost all the parents I polled said they let their kids pick out their own lunch bag or lunch box each year, most often one that features their favorite TV or movie characters, hobbies or animals. Make that part of your back-to-school shopping list — and something you can do together. But if you're like me and have a messy kid, try you might to steer them towards something more like this:
Neoprene Lunch Bag
If you're looking for a lunch box that cleans up quickly, try one of the soft and flexible neoprene lunch bags like these from Built and Funkins — they're water and stain-resistant, wash and dry quickly and come in a variety of patterns and colors to suit almost any child.
Bento-style boxes
Rubbermaid Lunchblox
For a bento-style box with a lower price point, the moms and dads I quizzed swear by Rubbermaid's Lunchblox set. The modular containers snap together so you can add or subtract depending what's on the menu that day. Added bonus: At less than seven bucks, you'll be less likely to fly off the handle if your kids' lunch stuff ends up stranded in the lost and found.
Planetbox Rover and Shuttle
Whenever I ask parents to name to their favorite bento-style lunch box, Planetbox is one that consistently ranks at the top of the list. (Shout out to my friend Nicole for the parent pro tip on this one years ago!) The stainless steel box is slim and sleek, easy to pack, cleans up like a dream in the dishwasher and is virtually indestructible. My daughter's Planetbox is six years old and still going strong. There are three different options: The Rover with five compartments, the Launch with three, and the Shuttle with two compartments. All boxes come with a case and magnets, but you can buy individual items and accessories separately on their Web site.
Lunchbots Bento Trio and Cinco
Another fan favorite for both parents and kids alike: Lunchbots. These bento-style boxes come in a variety of sizes, including a 3-compartment and a 5-compartment version that are perfect for packing balanced, healthy lunches. Like the Planetbox, they're made of stainless steel and easy to clean in the dishwasher. Lunchbots fit in most standard lunch boxes and bags.
OmieBox
On Sundays, I make big batches of Instant Pot meals and stash them in the freezer which makes things infinitely easier on hectic mornings. The downside of a hot lunch is the extra side containers I need to pack along with it, making things bulky and heavy. This problem has been solved with the OmieBox, which is part bento box, part thermal container. The OmieBox comes in six colors and features a stainless steel thermal container to keep hot foods hot and double-insulated boxes to keep cold items fresh.
Bentology Lunch Bag and Box Set
If you're looking for a one-stop lunch solution, this Bentology set fits the bill. It features the lunch bag, bento box and ice pack (along with a water bottle holder) in over 20 different colors and designs your kids will love.
Reusable sandwich and snack bags
If you're worried about plastic (and even paper) ending up in a landfill — or worse, our oceans — consider buying washable, reusable sandwich and snack bags. Here are highly rated picks from our parent panel:
Lunchskins 2-pack reusable sandwich and snack bags
These sandwich and snack bags are lightweight and can be washed and dried in the dishwasher along with the dinner dishes.
Stasher Reusable Silicone Food Bag
Stashers are non-plastic bags for sandwiches and snacks that provide an air-tight seal and are easy to rinse clean.
Disposable snack bags
Often, class trips, field days and other events call for lunch, snack and sandwich bags that can be tossed in the trash. Here are our favorite parent-approved (and eco-friendly) picks:
Lunchskins disposable snack bags
With fun prints like red apples and blue sharks, these 100 percent recyclable and compostable lunch bags have an adhesive strip that allows you to seal in sandwiches and other food items to keep them fresh. There's even a section on the bag to add a love note or a word of encouragement.
If You Care Unbleached Sandwich Bags
These unbleached paper bags are perfect for sandwiches and other snacks. They can also be used in the microwave.
Water Bottles
Planetbox Capsule and Booster
A big selling feature of the Capsule and Booster water bottles is an easy-to-use, leak-proof cap. And if you struggle to keep your water bottles clean and mold-free, these bottles are straw-free and feature pieces that can be washed and dried separately in the dishwasher.
Klean Kanteen 12oz Stainless Steel Sport Bottle
This 12 oz. sports bottle is made for kids 4+ and is on the smaller side so it's a perfect spill-proof bottle to stash in a lunch bag that won't weigh your child down.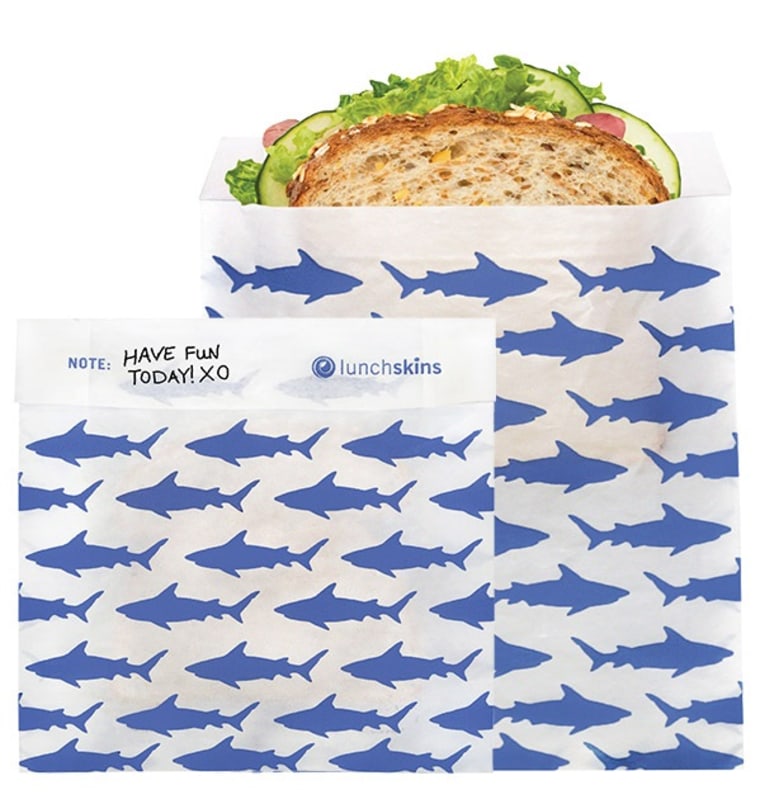 A Lunch Packing Tip from a Nutritionist
Now that you've got your gear squared away, what are some good guidelines for packing those lunches? Focus on easy-to-eat whole foods — think: whole grain breads and crackers, lean protein and dairy and plenty of fresh fruits and vegetables. And as much you want to treat your kids, go easy. Cassetty says she favors "whole fruit over juice, and instead of a treat each day, you might consider packing a cookie on occasion and more routinely delighting your little one with special notes." We're willing to bet a daily pep talk, silly knock-knock joke or a simple "I love you" is just the kind of sweetness your kid needs.
MORE TIPS AND TRICKS FROM A NUTRITIONIST
Want more tips like these? NBC News BETTER is obsessed with finding easier, healthier and smarter ways to live. Sign up for our newsletter and follow us on Facebook, Twitter and Instagram.